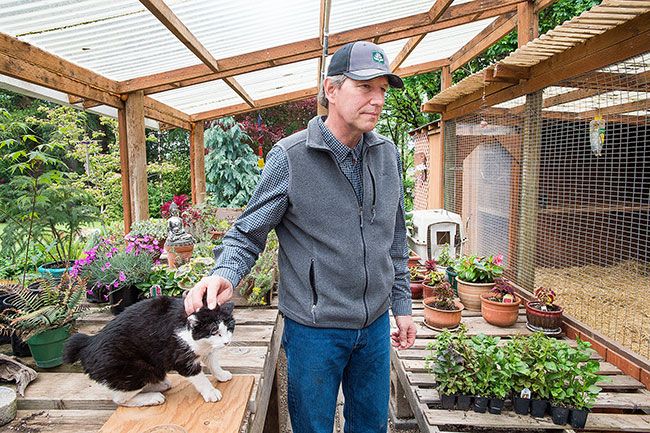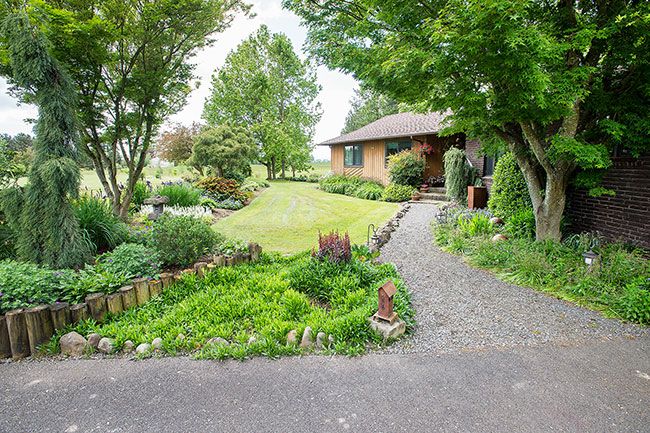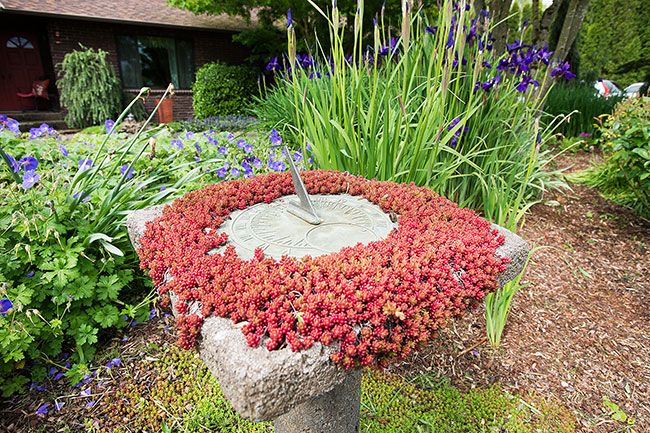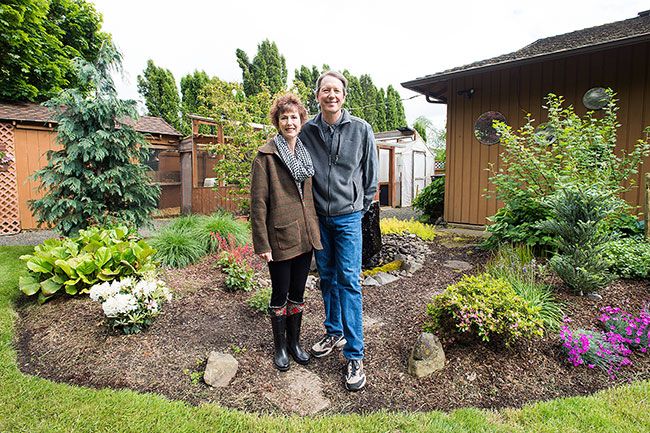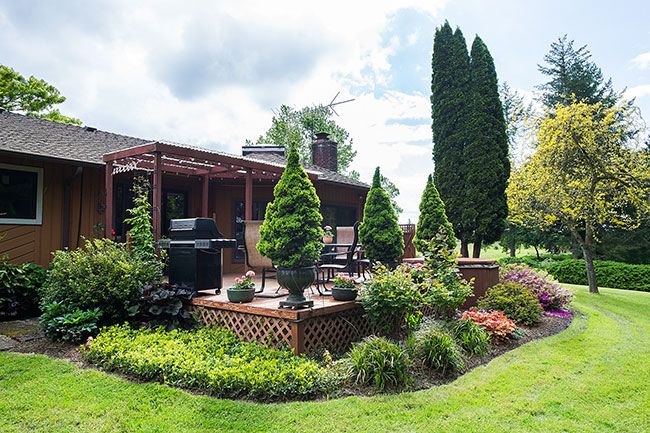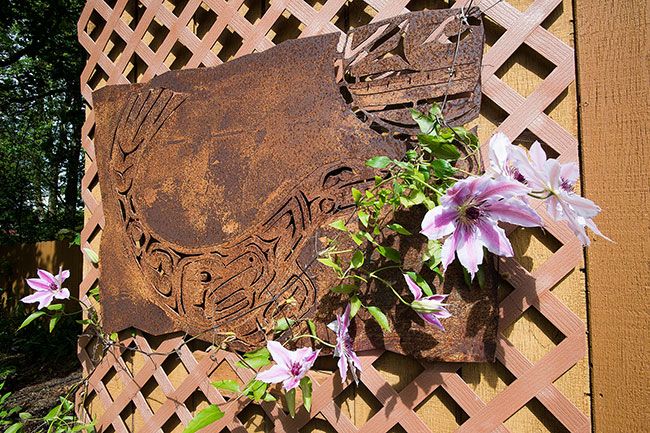 Stopping By: Tending the Castle garden
The "grandfather tree," a venerable Douglas fir so large it would take at least half a dozen children to link their hands around it, stands watch over the Castle place.
So do an array of native plants and the most recently developed ornamentals, all lovingly tended by John and Edwina Castle. They have been planting and tending and shaping their garden for 28 years.
When they moved to the 7.5 acre tract, which lies between McMinnville and Dayton, it was virtually a blank canvas.
But John, a horticulturist by trade and gardener by passion, soon set about changing the landscape. And he was joined by Edwina, a botanist turned dance teacher.
They began painting it with the colors of their choosing — the purples of spring iris, whites of mock orange, pinks of rhododendron, blues of hydrangea, and the yellows and oranges and reds of flowers too numerous to name.
They added every variation of green imaginable, from the palest seafoam to the deepest evergreen, in solids, stripes and variegated pattterns. The landscape features lacy little leaves almost too small to notice, juxtaposed against the prehistoric-looking leaves of hostas and everythying in between.
And all of that is surrounded by emerald sweeps of lawn.
The Castles also cultivate a bountiful vegetable garden, featuring tomatoes, cucumbers, peppers and other plants, all started from seed. The tomatoes continue producing into the fall, thanks to the shelter of a spacious greenhouse.
"Gardening is the best way to get the best ingredients," John said. He and his wife produce more than they can manage fresh, giving them plenty to can for off-season consumption.
Here and there, bushes and trees produce fruit as well. The Castles have even tried growing olive trees. They water-cured and brined their first crop last year, and proclaimed it tasty.
John and Edwina met during assignments at the Oregon State University greenhouse during their college years.
He'd grown up in Redlands, California, where he mowed lawns and tended golf courses. He moved to Oregon for its inviting climate, explaining, "I'm a fan of green and lush."
A native Oregonian, she started out at the University of Oregon, then transferred to Oregon State.
After marrying Edwina, John took a job at Broadmead Nursery and she opened Gallery Ballet & Tap. They settled on their small piece of paradise, keeping five acres in grass hay, leaving 2.5 acres for their gardening endeavors.
"It's changed a lot since we came here," he said, remembering trees that have been replaced, beds that have been dug and re-dug, plants that have been propagated.
"A lot of it has been serendipity," he said.
"As a nurseryman, I get the latest, the coolest and the misfits others don't want," he said. He brings the latter home and finds places for them.
Sometimes they fail. Either they don't thrive or they don't fit the space. But many times, these orphans become treasures.
Castle and his wife started planting close to their house — the area they'd see the most, so would have the most impact.
"We never meant to be too detailed or too formal," John said. As he ages, he said, he's considering ways to reduce maintenance needs.
Starting from the house, he and his wife began working outward. They added undulating beds in front and to the side of the house, built a large greenhouse to the south and planted flowering shrubs at the edge of the backyard, near the treeline.
They kept the tall trees, including the Grandfather tree that delineates the north edge of their property. The trees provide shade and attract birds and other wildlife.
At the entrance to the backyard, a pair of golden chain trees stand guard inside a large planter. Their branches drip with bright yellow blossoms in late spring.
Behind them are two small greenhouses, one for starting, the other for hardening plants before they go into the ground.
Dewdrop the cat holds sway in the second greenhouse, which abuts a chicken coup. In this case, feline and feathers live in harmony.
The chickens produce eggs to accompany the garden produce the Castles prepare for dinner. They give the gardeners something more, as well — fertilizer to feed their ornamental plantings.
The Castles have planned their garden so that something is blooming or preparing to bloom at all times. They love spring, when new growth is starting. But late summer and fall are John's favorites, because there's so much color.
The garden is dotted with surprises — whimsical sculptures, mirrors or tinkling fountains. A dragon keeps slugs away and gazing balls reflect flowers.
A pair of antique airplanes, about a foot long each, hang near the big greenhouse. They remind visitors that John is both a pilot and the son of a pilot.
John tries to work in the garden daily. And every day, all around him, things change. There's new growth, new blooms, new plants.
The area the Castles once used as a compost heap now contains a bed of irises, roses, geraniums and foxgloves. This spring, a copper beech is flourishing in a spot once occupied by a huge, old oak that toppled during one of last year's storms.
More changes are in store. "In 30 or 40 more years, I'll get it right," John said.
Starla Pointer, who is convinced everyone has an interesting story to tell, has been writing the weekly "Stopping By" column since 1996. She's always looking for suggestions. Contact her at 503-687-1263 or spointer@newsregister.com.