Search launched for missing Sheridan horse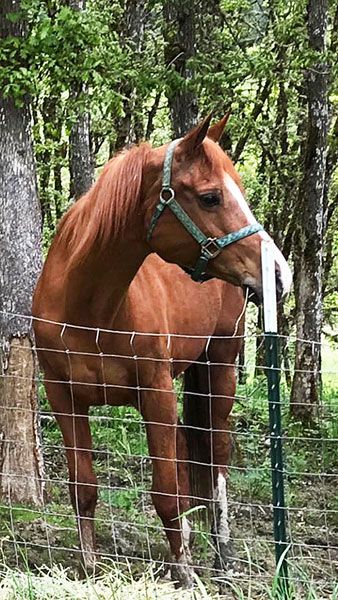 SHERIDAN — A Sheridan woman is offering $100 for information leading to the recovery of her missing horse.
Charity Morgan said the horse, an 8-year-old Sorrel Arabian mare named Roxy, was last seen May 27 near Moriah Lane. Morgan's young son was riding the horse when it was spooked by a snake, throwing him off.
The horse is fully tacked with a saddle and bridle. One of its hind legs has markings, and it has a bit of missing hair on the right side of its buttocks.
Morgan notified the Yamhill County Sheriff's Office. She also notified Stolen Horse International, a non-profit that hosts a website for lost-and-found horse listings.
"My son is heartbroken, and we as a family can't rest until she is home and safe," Morgan said. "There have been reports of her calling out whinnying, within the last week, up Canyon Road in Sheridan."
Morgan said there are predators in the area that could harm Roxy, so she's concerned about her welfare.
She's organized search teams that have combed the area on horses and four-wheelers. A stud horse has also been enlisted, and Morgan has mentioned bringing in a helicopter.
Stolen Horse International Inc. received the first online report on its website on June 8. Its team has begun distributing the information via social media groups and e-mail.
Leads and updates will be posted on a website established under Roxy's name and report number, NR005256, at NetPosse.com. The site, found at www.netposse.com/view_report.asp?reportid=5256webpage, includes a printable flier.
"Circulating the flier for Roxy as well as the NetPosse.com alert nationwide is imperative, as she could be anywhere by now," Debi Metcalfe, founder of Stolen Horse International, said in a press release. "These fliers are one tool that bring home many horses, and must be posted in as many public places as possible."
Anyone with information on the missing horse is urged to contact Morgan at charitymorgan21@yahoo.com or 909-910-7255.