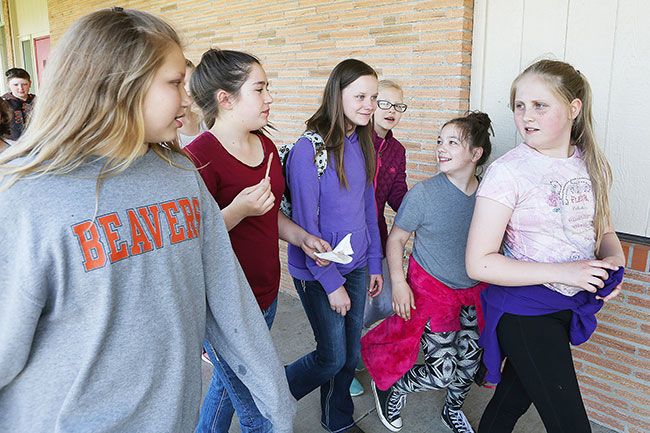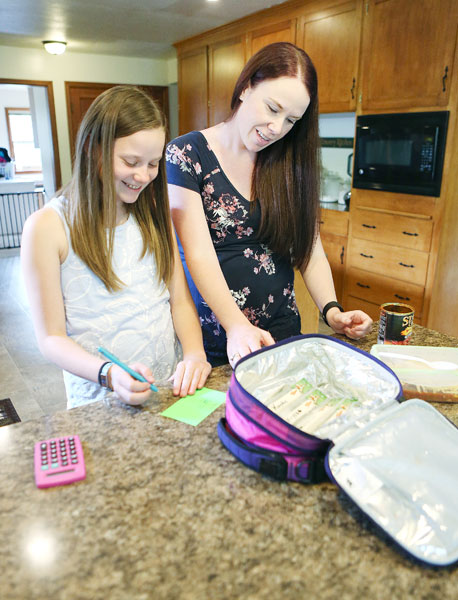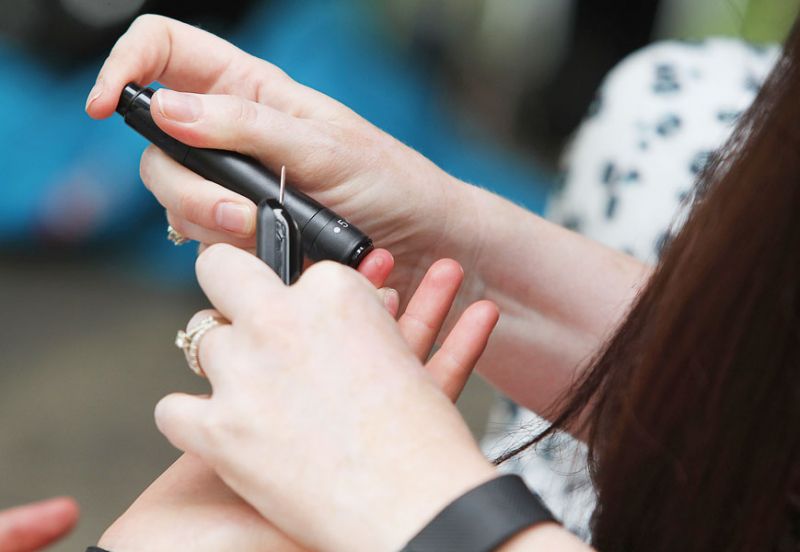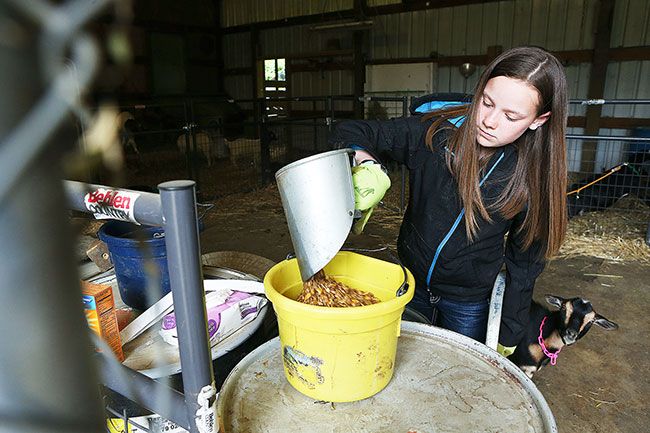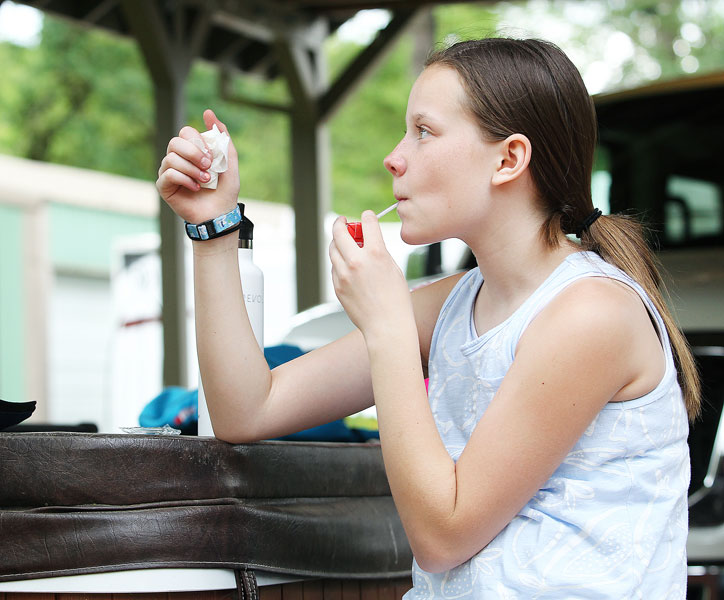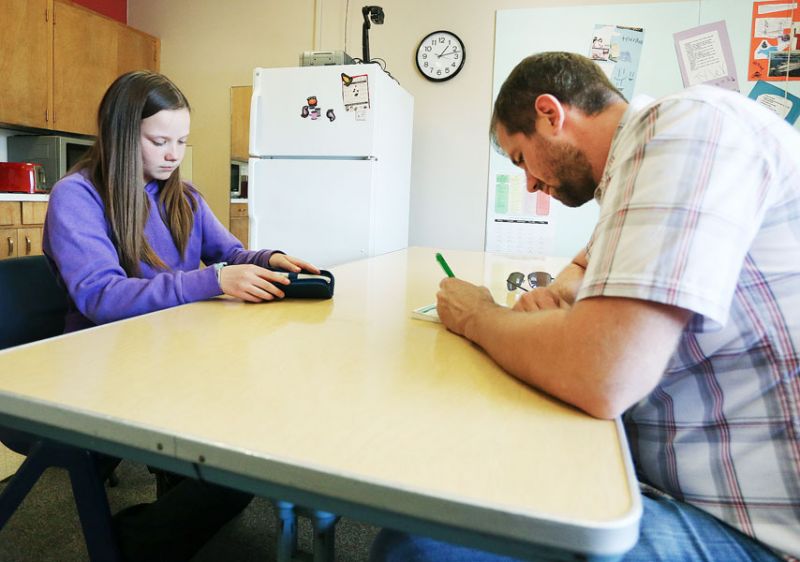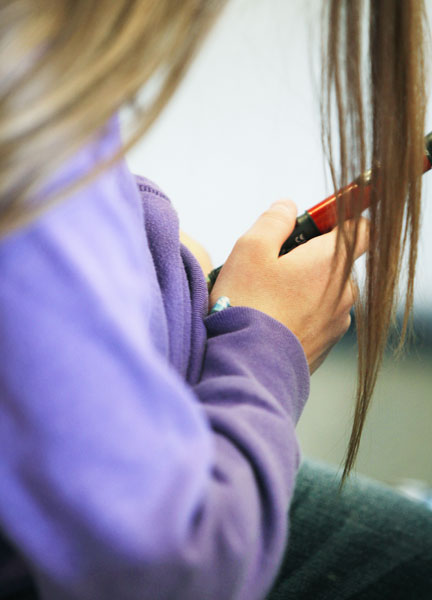 Stopping By: A canine for Kaylee
The older girl's service dog, trained to raise an alarm when a diabetic's blood sugar is too high or low, sniffed the sixth-grader and immediately started barking.
The English Labrador Retriever was right. Kaylee's blood sugar tested high.
"We were blown way," her mother said.
Now Kaylee is getting used to managing the condition, which has caused her pancreas to quit producing insulin. She has to inject herself with insulin and watch her food consumption in order for her body to use sugars to create energy.
And she is hoping to get a service dog to help her with that. "Technically, a dog could save my life," said Kaylee, a student at Yamhill-Carlton Intermediate School.
Her parents, Kelly and Ben Williams of rural Yamhill, are researching diabetic service dog programs.
They've started a fundraising page on the YouCaring website, "Diabetic Alert Dog for KAYLEE." They hope to raise enough for a down-payment of $2,500 to $3,500 — enough to get her on a waiting list.
They estimate it will cost about $20,000 for the dog and $3,000 for pet insurance. Donations can be made at www.youcaring.com/kayleewilliams-827545.
Kaylee, second oldest of the family's six children, has always been happy, active and positive, her parents said. She's athletic as well, playing both volleyball and basketball at school.
She's a good student who enjoys reading and theater. She donned a beard to play a rabbi in last year's school production of "Fiddler on the Roof."
After school, she participates in 4-H. She's raising both market and dairy goats.
She's nice, too, her mother said.
"Everyone loves Kaylee," Kelly Williams said. "She has lots of friends.
"She's a great leader. She's one of the most caring people I know. And she doesn't let things get her down."
But over recent months, Kaylee seemed less energetic than usual. She lacked stamina and began to lose weight. She drank lots and lots of water, and used the bathroom frequently, leading her mom to suspect a bladder infection.
On the weekend of April 29, she went to her grandparents for an overnight visit. Her grandma posted a happy photo on her Facebook page. When her parents saw the picture, though, the noticed how thin and tired their daughter looked.
Kaylee came home and took her things to her bedroom, located on the lower floor of the house. As she headed back to the main level, she found herself unable to climb the stairs.
"I was too weak," she said, recalling that frightening moment.
Deeply worried, her parents took her to the hospital emergency room. Doctors ran a variety of tests, including a lung X-ray. They gave fluids through an IV line.
"Kaylee was a champ," her mother said of how well she handled all the exams.
Soon Kaylee was in an ambulance speeding toward Providence St. Vincent Hospital in Portland. She said she was too tired to remember much about the trip, but she wouldn't mind doing it again just for fun.
She stayed in the hospital four days. During that period, doctors stabilized her condition and taught her and her parents how to manage her disease.
"We didn't know about Type 1 diabetes," her dad said. Her mom recalled, "We kept asking, 'Are you sure?'"
They had heard about the more common form, Type II, which has an onset later in life. Type II may be manageable through diet, exercise and weight control, but Type 1, which has been called juvenile diabetes due to its early onset, always requires injection of insulin.
"Once they explained it, Kaylee's symptoms made sense," her dad said.
Kaylee missed school for almost a month after her diagnoses. Although she was able to go for a day here and there, she did most of her work from home as she adapted to her new routines.
She has to keep close watch on her blood sugar. She must prick her finger five times a day to test the level, "or more, if I'm feeling 'off,'" she said.
The acceptable range is 80 to 180. Something in the middle is best.
She and her parents can often predict whether a test will show that her blood sugar is fluctuating.
When it's low, she gets the giggles. When it's high, she loses energy and may turn grumpy — very un-Kaylee like behavior.
If her blood sugar is too high, she has to give herself a shot of insulin, adjusting it so she receives the right amount. Alternatively, she could exert some energy to work off the excess sugars, her dad said.
If it's too low, she needs a snack or some juice. In extreme cases, she might need a shot of a glucagon medication, which quickly raises blood sugar levels.
After snacking, she said, "I start feeling normal."
If her blood sugar count gets way off, she may not be able to think clearly. In that case, she may not realize she needs a shot or snack.
That's one of the reasons Kaylee wants a service dog. It would notice something was wrong long before anyone else would, giving her time to correct the problem or get help.
Her parents want that, too. "We can't be there all the time," her mom said, "but a dog can."
To keep her blood sugar as stable as possible, Kaylee needs to monitor her diet closely.
She can eat pretty much whatever she wants, she said, but she needs to keep track of her intake, especially when it comes to carbs.
She has to calculate the amount of insulin she receives according to the amount of carbs, maintaining a steady ratio.
"I look on the package, or look foods up on an app," she said. The app, Calorie King, tells her the amount of carbs in various amounts of food, so she sometimes has to weigh servings.
As her mother said, "We have to do a lot of research."
They also pack lunches for Kaylee to take to school, as well as snacks to keep in her backpack along with her testing supplies.
Kaylee loves it when she discovers a carb-free food. "Cheese sticks are free!" she exclaimed.
However, her dad noted, she can't eat only cheese sticks, meat and other carb-free foods. She needs carbs for energy, so it all comes down to balance.
Having Type 1 diabetes isn't that bad, said Kaylee, with her typical sunny outlook.
She's fortunate, she said, because her family and friends are very supportive.
Some of her friends have learned to give her shots, as have some of her siblings, who include Brycen, Kiley, Brayden, Kynleigh and 9-month-old Karli. In fact, her mother said, Kaylee's brothers and sisters almost fight for the chance to help.
But Kaylee said it's hard, sometimes, especially when her condition causes her to miss things. She couldn't go to outdoor school with her classmates, for instance.
She has to stop what she's doing frequently in order to prick her finger. And her backpack of supplies has to go everywhere with her.
Still, she said, she is able to do a lot.
She returned to school, after missing classes for most of a month. She visits the doctor more often than many kids, she said, but she really likes her doctor.
She can still play basketball and volleyball, as well as roughhouse with her siblings. She can still read books like the "Divergent" trilogy, and she can still work with her goats.
"I look for the best in things," she said.
Starla Pointer, who is convinced everyone has an interesting story to tell, has been writing the weekly "Stopping By" column since 1996. She's always looking for suggestions. Contact her at 503-687-1263 or spointer@newsregister.com.