Might as well jump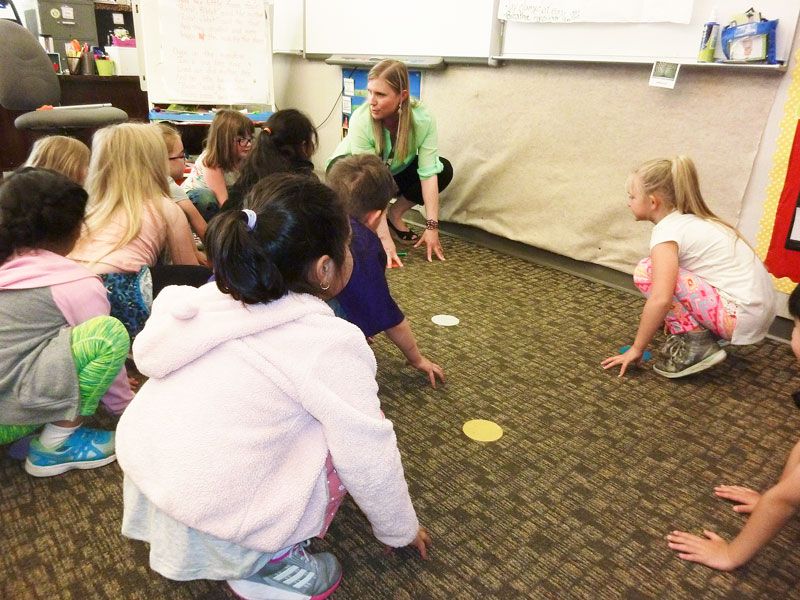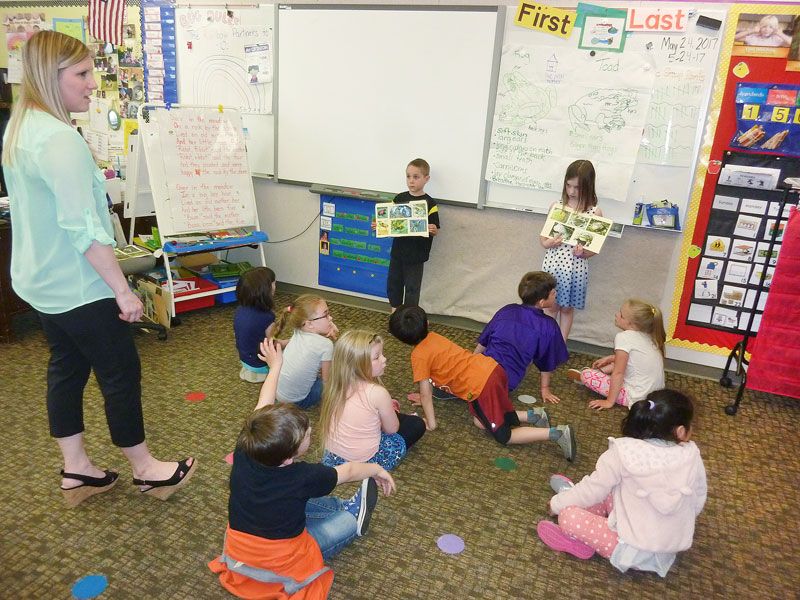 Frogs have big back legs, and kindergartners know why.
"So they can jump!" Alexis Wall told teacher Megan Cunningham during a science lesson last week.
To prove it, Alexis and her Newby Elementary classmates — teacher, too — crouched like frogs, then sprang from the floor, giggling. They jumped again and again with their strong legs.
Then they tried using their smaller front legs, which humans call arms, to propel them off the floor. They couldn't hop nearly so high.
Frogs have big back legs so they can jump, Alexis confirmed.
She and other kindergartners across the McMinnville School District learn about frogs and other pond creatures, including tadpoles, snails, isopods and worms. This week, they'll visit a real pond at the Miller Woods educational site.
By mid-May, they already knew a lot about frogs.
"They live near water," Grace Carl said.
"They have small teeth," said Olivia Olson.
"They're amphibians, with cold blood," Ashton added.
They're carnivores, too. That means they eat meat, Anna Bjur said.
"Like grasshoppers," said Leo Jeffers, making a yum-yum sound. "I love 'em!"
Quinton compared adult frogs to babies. "When they're tadpoles, they're not big and they're in water, so they have gills," he said.
When they're older, Bradley Ortiz said, "They breathe through their skin."
Their teacher pointed out that frogs lay clusters of eggs. She asked, "What does that make them?"
"Oviparous!" the 5- and 6-year-olds chorused. The term for "egg layer" is one of many vocabulary words they've learned since they started all-day kindergarten last September.
They've learned a lot, Elijah McKay said, because they persevere. "We keep going and never give up until we succeed," he said.
He and his classmates know what frogs say, too: "Ribbit! Ribbit!'"
They get to croak the word themselves when they sing "Over in the Meadow," a Raffi song that goes along with their science unit. It describes various creatures in and around a pond — ducks, fish, bees, birdies.
And frogs.
"Over in the meadow on a rock by the shore, lives an old mother frog and her little froggies four," the kindergartners sang. "Ribbit!" said the mother. "Ribbit!" said the four. And they croaked and were happy on their rock by the shore."