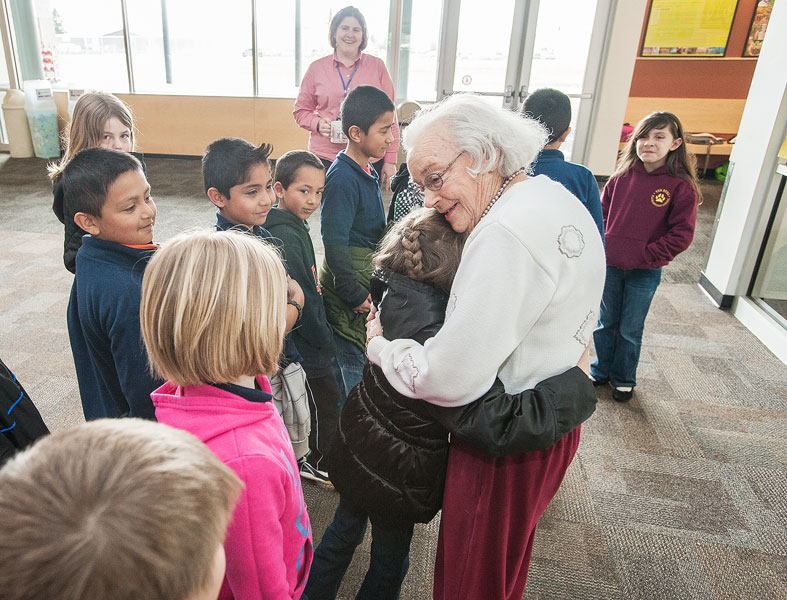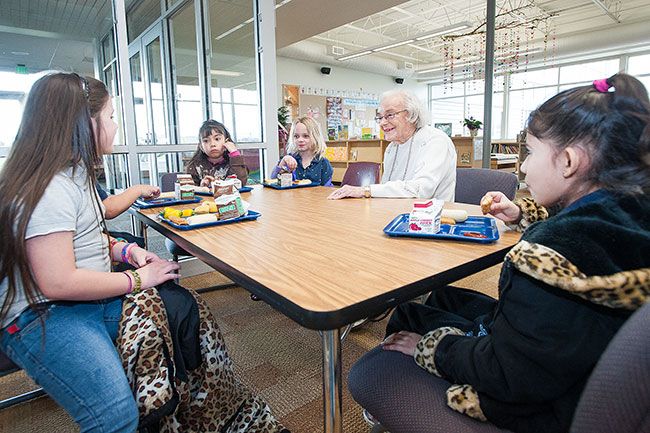 Sue Buel dies at 96
UPDATE: Services for Sue Ellen Buel wwill be held at 10 a.. Friday, July 7, at Sue Buel Elementary School in McMinnville.
------
Sue Ellen Buel, whose name has been synonymous with education in McMinnville for nearly seven decades, died Monday at her residence. She had recently turned 96.
Arrangements are pending under the direction of Macy & Son Funeral Directors.
Buel was a teacher, school board member, McMinnville Education Foundation leader, workshop facilitator, public education advocate and, most of all, friend to educators and students. She was named Woman of the Year at the Distinguished Awards Banquet of 2000, and rode as a "star" in the 2008 McMinnville Christmas parade.
"Every child is educable," Buel wrote in an opinion piece published in the News-Register on Jan. 1, 2000. "Every child has the right to become the very best he or she can be."
In the article, she said education is more than the acquisition of facts or the sum of years of formal learning. People need to learn to interact with and care for others, and to be good citizens.
"In reality, nobody really becomes an educated person — finished — until the adult years," she wrote. "Actual learning keeps on going. I don't think I'm an educated person yet."
She lived that philosophy, and kept learning and teaching her entire life.
Long officially retired, she made weekly visits to her namesake school, Sue Buel Elementary, until illness made it impossible. Into her 95th year, she still ate lunch with the students, read to them and listened to them read.
A desk and chair were reserved for her in a corner of the school library. This year, students have been using the desk as a place to write notes telling her how much they've missed her.
"Sue was a very integral part of the library," said school librarian Sharon Beuhler, a longtime friend. "She was my biggest cheerleader, very encouraging. We had a special relationship."
Buel told students that her favorite book was "The Secret Garden." A photo on display in "her" library depicts her reading the Frances Hodgson Burnett book to Sue Buel students.
She read all kinds of things, from novels to non-fiction to books and articles about the latest in education theory. Stephanie Legard, who served as principal of the school for seven years, said Buel often brought her important information to read.
"Some kids thought she was my mom," Legard said. She recalled a girl asking, "When your mom retires, do you take over?"
Legard said she was honored to be compared to Buel, who also served on the school site council and attended events such as assemblies and parent nights.
"She was a brilliant lady," said Legard, now an administrator at the district office. "I treasured her opinions and advice. We will miss her greatly."
That goes for the entire district, not just the staff and students at Sue Buel Elementary.
"We're very pleased about the long relationship the school district has enjoyed prior to her passing," said Superintendent Maryalice Russell.
Buel set an example for others, Russell said. And she made sure that everyone she met knew the importance of public education.
"We're forever grateful," the superintendent said.
Buel always loved school and learning.
"I was very, very fortunate to come from a family that read," she told the News-Register in the early 2000s. "Learning and doing your best was a family expectation."
She was inspired to seek a career in education by "really outstanding teachers" while growing up in Arizona. She cited a high school history teacher as a particular influence.
"I saw her making a difference in the kids I knew," she said, noting that she was extremely fortunate to have been able to do the same.
After coming to Oregon, Buel worked as an elementary teacher in Dundee before joining the McMinnville School District in 1949.
She taught sixth grade at Memorial Elementary until 1961, then moved to McMinnville High School to teach English. At Mac High, former students recalled, she was known as "tough, but fair."
She also taught workshops and served on the board for the Northwest Regional Educational Laboratory.
After retiring, Buel served on the school board. In 1988, when running for re-election, she said she wanted to continue to make a contribution to the community.
School crowding and funding shortages were key concerns that year, prompting her to say, "We must find ways to restore and to strengthen all aspects of student learning — academic courses, art, music, drama and physical education."
When she resigned from the board in November 1991, she urged her fellow members, all six of them men, to appoint the right kind of successor: a woman. They followed her advice.
Buel was active in the McMinnville Education Foundation from its beginning. She helped the group raise funds for teacher grants and advocate for education funding and policies.
She even walked the runway in the foundation's annual fashion show in 2002, showing off the outfit she planned to wear at the wedding of one of her granddaughters.
She also served on the McMinnville Library Foundation, the Chemeketa Regional Library Advisory Board and the state Teacher Standards and Practices Commission.
She and her husband, the late Harold Buel, raised three children. All graduated from McMinnville High School and Oregon State University.
Buel's many contributions to education led to her name being selected in 2007 for the new school, built at Booth Bend Road and Davis Street, adjacent to Linfield College.
Earlier, her name had been considered for what became Grandhaven School in the 1990s.
This time, the school board unanimously chose Buel from the 52 submissions. Sue Buel Elementary opened in September 2008.
Later, a young student was awestruck by the thought of knowing his school's namesake. "Isn't it great that your mom named you after our school?" he asked her.