Missing George Fox student found dead; suicide suspected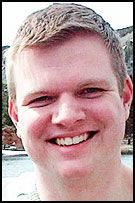 SHERWOOD - The body of missing George Fox University student Daniel Mellers was found Monday night in the trunk of his car in Sherwood. It's believed he committed suicide.
"Based on details learned during this investigation, we are confident Daniel took his own life and there is no threat to the public," Capt. Jeff Kosmicki of the Newberg-Dundee police said. He did not release a cause of death.
Kosmicki gave this account:
A resident contacted Sherwood police after recognizing Mellers' 2012 Toyota Corolla vehicle with Colorado license plates. Mellers was from Eaton, about 70 miles north of Denver, according to his Facebook page.
Newberg-Dundee police detectives responded to Southwest Houston Drive near Spratlin Lane, where the car was found, to meet with Sherwood officers.
The agencies canvased the neighborhood looking for information regarding Mellers or the vehicle. Upon completing their work, officers were able to unlock the vehicle and located his body about 7 p.m.
Newberg-Dundee police contacted the staff at George Fox to make them aware of the discovery.
"The Newberg-Dundee Police Department appreciates our relationship with the surrounding agencies, including the Sherwood Police Department," Kosmicki said.
"Although this was not the outcome we were hoping for, working together we were able to bring some closure for the Mellers' family this evening. Please keep them in your thoughts and prayers."
Vice-President of Student Life Brad Lau said the George Fox community is grieving over Mellers' death.
"This is not the conclusion to the search we were hoping and praying for," he said. "We would ask that people keep Daniel's family and friends in their thoughts and prayers."
About 10:15 p.m. Saturday, the 21-year-old Mellers told his roommates he was going to walk to a convenience store for a soda.
His friends began looking for him after he failed to return, and eventually reported his disappearance to his parents and Newberg-Dundee police.
They said his cell phone provider traced his phone to Sherwood on Sunday, but Sherwood police were not able to locate Mellers or the phone that day.