Middle schoolers meet a favorite author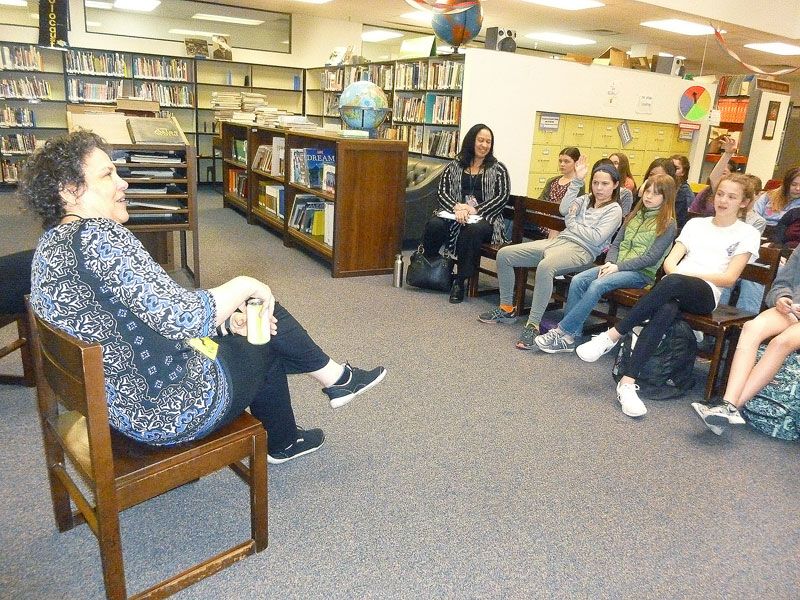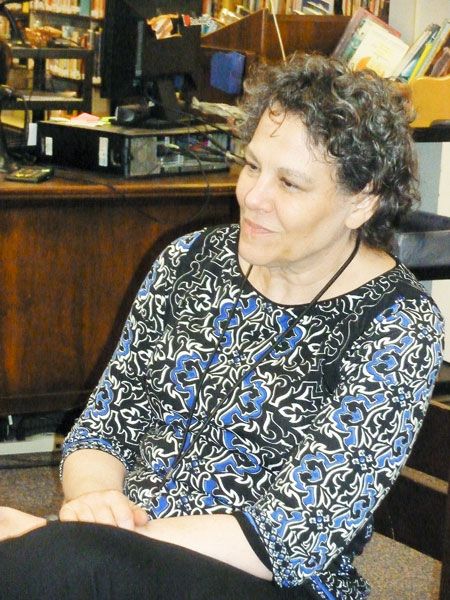 Patton Middle School student Paislee Matson said she didn't always consider herself a big reader. When she picked up "The Night She Disappeared," though, everything changed.
She's read the young adult novel twice. And now she has her own copy, signed by author April Henry.
"Now I love reading," she told Henry on Wednesday. The author responded, "That's why I write."
Henry, who grew up in Medford but now lives in Portland, spoke several times this week at Patton and Duniway middle schools. She also spent the lunch hour Wednesday answering questions from two dozen of her biggest fans.
They wanted to know how she created her ideas, what she does when she gets stuck and how she came to be an author in the first place. Henry answered every question in a way that showed how well she relates to her readers.
When Paislee asked if she's still writing — several students interpreted the ending of one novel to mean it was her last — Henry laughed. "I'll always be writing new books until I'm dead or something," she said.
She'll keep reading, too, she said. Some of her favorite books include the first novel in the "Hunger Games" series," "Life as We Know It," and "A Visit from the Goon Squad."
She always loved reading. However, she reads differently today from how she did when she was the age of the Patton students. As a writer herself, she's always looking at how the author developed characters, dialog and description.
Henry wrote her first book while working in the admitting office at Good Samaritan Hospital in Portland. She worked swing shift, a relatively quiet time, and whenever she wasn't busy helping a patient, she wrote.
"My first book was pretty much me, but with better hair," she quipped.
She's gone on to write about 30 novels, mostly young adult mysteries, but also books targeting older readers.
Many ideas come from reading newspaper stories about real events. She uses her imagination and creativity to fill in details, she said.
"I love thinking of a really good twist," she said. "I get super-excited," she said.
For settings, Henry uses what she knows, and that usually means her home state.
"Oregon has almost everything, the coast, mountains, wind, blizzards, cities, farms ... why bother to make something up and get it wrong?" she said.
Even though she's a published author, she doesn't always receive immediate raves from publishers when she presents a manuscript, she said.
With "Girl Stolen," for instance, her editor suggested she rewrite the story from the perspective of a different character. Henry liked it as it was, though, so she took a risk of submitting the original manuscript to publishers. One finally picked it up, and "Girl Stolen" has gone on to sell hundreds of thousands of copies worldwide.
That novel remains one of her favorites, among all she's written, she told Paislee.
When aspiring writer Jaclyn Denley asked Henry how she gets started on a book, the author advised the student to just write, even if it means starting with the middle or with the description of one character. Later, she said, you can return to the beginning or add details.
Jaclyn felt that was good advice. Sometimes she gets stuck when trying to start writing something in class, she said, and Henry's technique will help.
She said she admires the author's books, such as "The Girl I Used to Be." "They're very captivating," Jaclyn said.
Another student, Alexandra Armenta, said she appreciated the author's advice about perseverance.
Henry told Patton students that writers need to be stubborn, believe in their work and stand up for it. They need to keep working at it, keep learning, keep improving — and keep trying.
"Lots of people will say no to you," the author said, "but if you keep trying, you'll find someone to publish it."