African American students meet at Linfield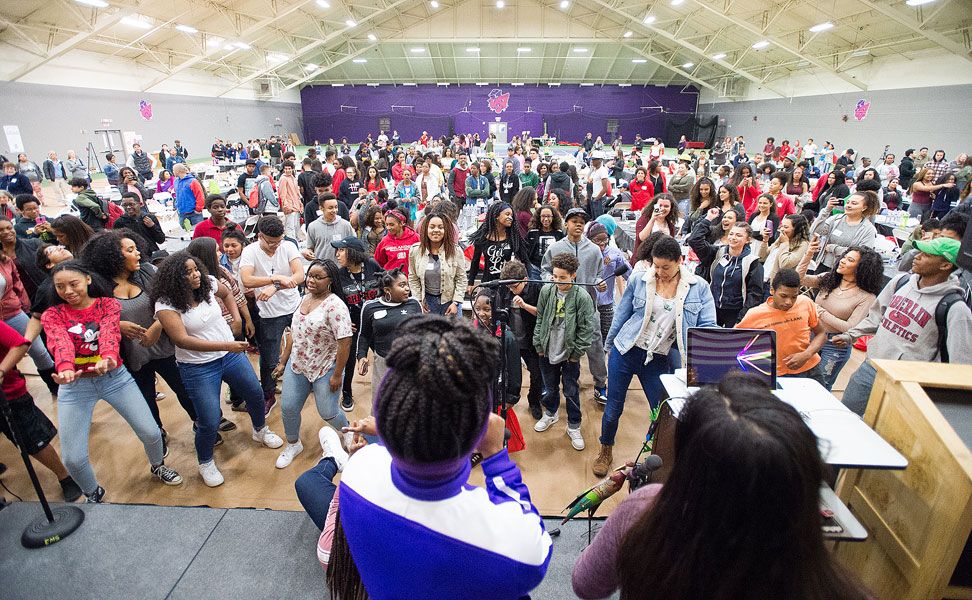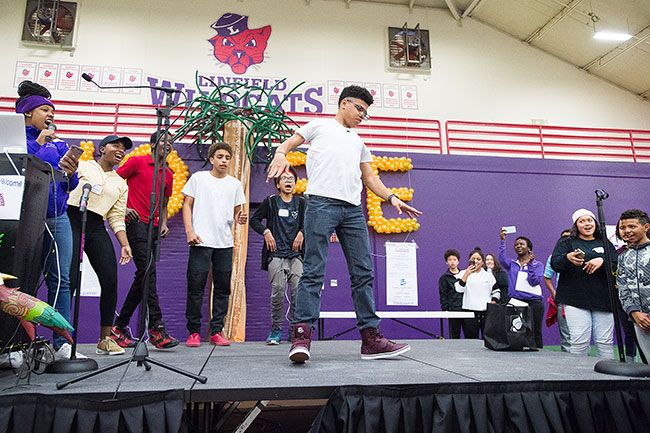 Middle and high school students from throughout the Willamette Valley gathered at Linfield College Tuesday for the 11th annual African American Youth Leadership Conference.
They started the conference with a prayer, then sang "Lift Every Voice and Sing," known as the "Black National Anthem."
"Sing a song full of the faith that the dark past has taught us, Sing a song full of the hope that the present has brought us," says the song, which addresses the persistence and strength of African Americans.
Then they spent the morning and early afternoon listening to speakers and attending workshops, such as "Roadmap to Your Future," "What's On Your Mind," "Historically Speaking" and "Your Responsibility to Make a Difference." Other sessions dealt with healthful living, projecting a positive image, and college and career choices.
Keynote speaker John Neal Jr. told students when he was their age, he was homeless and fending for himself. But he'd made the decision to get an education and make his own life better, with help from people who offered support, just as teachers and other adults at the conference were doing.
Neal now teaches and coaches at Chemeketa Community College, leads workshops for teachers and motivates groups with his speeches and YouTube Channel, johnnealjryourprofessor. He holds a bachelor's in black studies and master's in conflict resolution, and is now preparing for a doctorate in organizational leadership.
He told students they need to empower themselves so they, too, can succeed. If someone tells them they are worthless or incapable, they must ignore that. They must take responsibility for their own actions.
"No one can define your future," he said. "If you can think about it, dream about it, you can become it."
Neal told them to remember African American history as well.
Slaves were treated horribly, without respect, without food, without rights — not even the right to learn. But they worked hard and overcame for the sake not only of themselves, but future generations — including youngsters now in middle school and college.
"Remember how strong you are, how special," he told the teens. "Through struggle comes prosperity."
The students shouted in response, "Through struggle comes prosperity!"
Students gave an extra round of applause when emcee Alex Johnson II noted that Neal is a doctoral candidate.
Johnson and other organizers again and again reinforced the importance of education. Every one of them has a degree, the emcee noted.
The word HOPE was spelled out in balloons behind the speakers' platform in the college's Rutschman Fieldhouse. Linfield President Thomas Hellie welcomed the crowd, noting that U.S. News & World Report recently named his school the "most ethnically diverse private college in the Pacific Northwest."
"Diversity is a high priority for us," he told the students. "But we need to do more, and we will do more."
Hellie cited Linfield's reputation for championship athletics, wine studies and international studies, its high rankings in academics and its wide variety of liberal arts programs as reasons AAYLC students might consider the McMinnville school.
"I promise: If you want to come to Linfield, we'll make it possible," he said.
Linfield junior Jade Everage, president of the campus Black Student Union chapter, encouraged the middle and high school students to plan on going to college and becoming leaders among their peers.
"You have to learn to be a leader," she told them, encouraging them to take advantage of the resources they have and the support offered by the adults in their lives, including those involved with the AAYLC program.
Everage said she was excited to have the AAYLC event at Linfield, and, in other years, at other schools. It gives teens a chance to see what college is like and opens their eyes to possible fields of study and careers. They also have the chance to meet college students, who can act as mentors.
"Being a mentor is a big responsibility, but it's fun, too," she said. "It helps you build your own leadership skills as you help kids."
Everage, from Los Angeles, was recruited to play basketball at Linfield. When she visited the campus, she said, she knew it was the right place for her.
She also runs track for the Wildcats.
"I absolutely love it here," she said. "It's a different environment. It's positive. I'm glad I can contribute to creating a more diverse climate here."
In addition to serving as emcee, Johnson led a workshop titled "Images in the Media." Discussing the use of social media, he said, "I want these kids to understand that their image is theirs."
What's posted today could have longterm consequences when they apply for college or seek a job, he said. So teens need to think before they post.
Johnson also spoke to the entire group after a photo of former President Barack Obama flashed on the screens at the front of the room, drawing prolonged applause.
"Before Obama was elected, I couldn't tell my child that he could be president," he said to the young men and women in the room. "You can tell your children they can be president, and you'll be telling them the truth."
Johnson also noted that The Rev. Dr. Martin Luther King was assassinated on April 4, 1968, 49 years before the date of the Linfield conference. He reminded them to dwell on all that MLK and other Black leaders have done for them.
"Think of all that was given up so you could plan to go to college, start a business, run for president, or governor, or school board," he said.
Later, Johnson said he enjoys attending the AAYLC conferences. He's been involved since his daughter was in middle school, and she's now a junior at Oregon State University.
It's a great program that's making a difference, he said. And that is critically important to the future, he said, pointing to the hundreds of students in the audience.
"Look at these beautiful kids," Johnson said.