Prosecution wraps up case in Hopper trial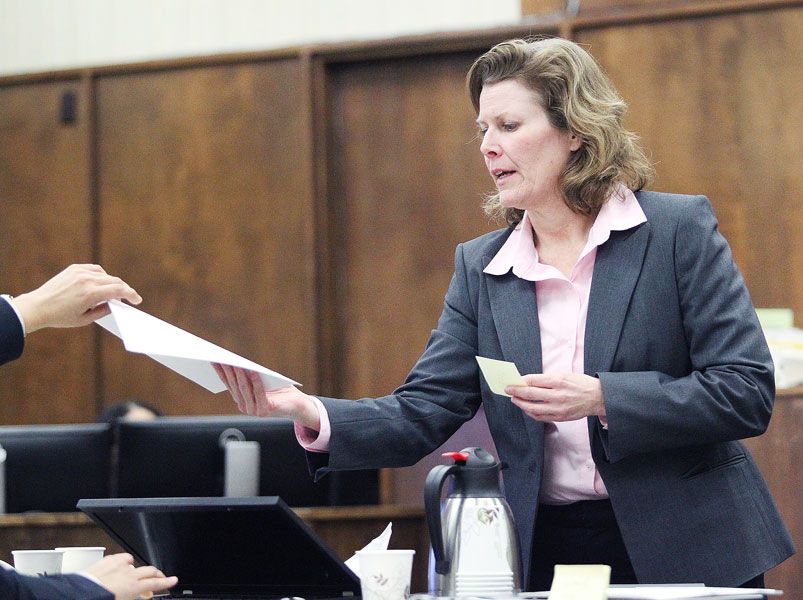 The prosecution finished presenting its case last Friday in Jeremy Hopper II's street-racing manslaughter trial with three hours of testimony from senior Oregon State Police trooper Bridget Kiger.
A crash reconstruction expert, Kiger testified Hopper and Andrew Olsen were racing prior to a high-speed May 4 head-on that killed one person and left another struggling with severe disabilities.
Hopper maneuvered around two vehicles, including the one driven by Olsen, in the moments leading up to the crash, according to Kiger. His car then spun wildly out of control, crossed an unobstructed median and slammed head-on into an oncoming van.
"They were some of the longest yaw marks I've ever seen," Kiger said of a trail of rubber left on the asphalt. "Long yaw marks indicate a higher speed."
The crash occurred while Hopper, a 24-year-old Amity resident, and Olsen, a 23-year-old Lafayette resident, were allegedly racing high-powered, late-model Mitsubishi Lancer Evo sports cars.
Kiger testified there were no mechanical issues associated with Hopper's car, based on an inspection by a certified mechanic. And a paint transfer exam by the OSP Crime Lab showed the cars never touched.
Hopper is being tried on one count each of first-degree manslaughter, second-degree assault, second-degree criminal mischief, fourth-degree assault and reckless driving, in addition to six counts of reckless endangering.
Olsen accepted a plea agreement on the eve of trial — one that figures to send him to prison for between 5 and 7 ½ years. He testified Thursday for the prosecution.
Van driver Claudio Martinez, 43, of McMinnville, was pronounced dead at the scene. Van passenger Bonifacio Martinez, 34, also of McMinnville, a co-worker and close friend of the deceased, suffered multiple injuries.
Hopper's then-girlfriend, 19-year-old Natasha Fisher, was riding with him. She suffered critical injuries that have left her hospitalized ever since.
Olsen told the court he doesn't typically exceed the speed limit by more than 5 mph. However, he was ticketed for doing 120 in his 2013 Evo on Highway 47 in Washington County shortly after he bought the car in early April.
He previously drove a Subaru. He said he made the switch because he wanted a fast car.
He said he went to work the morning of May 4 at Columbia Distributing in Portland, where he was then employed as a truck driver. He's currently unemployed, because his release agreement prohibits him from driving.
Before his shift ended late that afternoon, he suffered a left ankle injury. After arriving home in Lafayette, where he lives with his parents, he posted this message on the Tuner Coalition Car Club's Facebook page:
"Anyone down for a spontaneous meet/cruise? I'm new to the area, so I don't know any roads. I sprained/broke my clutch ankle today, so I can't shift very fast, but I'm sure I can keep up."
He later posted, "Also have permission to meet at the Goodwill in McMinnville parking lot if anyone is down."
Agreement with others was secured, and Hopper and Fisher were among those who showed up. They had not met Olsen, so introduced themselves.
Olsen said he stayed about 90 minutes. When he left, Hopper and Fisher were still there, and he said the topic of racing never came up.
When it was time to leave, Olsen said he pulled out "hard" onto Highway 99W. He said that's a way to show off your car.
Olsen said he proceeded north on Highway 99W, doing about 40 mph and hitting all the lights on green. He drove through the intersection with Lafayette Highway and made his way past Cascade Steel Rolling Mills.
When he reached the Highway 47 turnoff, he said, he noticed headlights coming up fast behind him.
It was Hopper, and they both "took off hard," he said. They could have been going 75 or 80 mph, or maybe even faster, he said.
Hopper maneuvered around two vehicles, including Olsen's, he said. Then Hopper's car spun out of control in a "whiplash-like" fashion, and slammed into the approaching van.
Olsen said he came to an immediate stop in the median and called 911. He subsequently moved his car to the right shoulder.
"I was scared," Olsen said. "I had a picture that they had all died.
"I felt terrible. I sat on my trunk and waited."
Olsen admitted he lied to an officer when he denied he and Hopper had been racing. He said he lied because he didn't want to get into trouble.
Also testifying for the prosecution were Horacio Cortez, Tara Hodges and Jeffrey Peterkin, Yamhill County residents who either witnessed erratic driving by the two or saw the crash occur, and OSP trooper Chad Drew, who interviewed Hopper at Willamette Valley Medical Center after the crash.
Drew said Hopper said he had suffered a head injury and couldn't remember anything about the crash. On cross-examination by defense attorney Amanda Marshall, Drew said Hopper told him, "Somebody maybe pulled out in front of me, but I don't know. I don't remember why I'm here."
Peterkin testified he and other members of his family were riding with his father-in-law, Bruce Barnett. They were northbound on Highway 99W, doing the posted speed limit of 55 mph.
"A car passes us on the left at a high rate of speed," he said. "It felt like it was going twice as fast as we were.
"It lost control, the rear pitched back right, pitched left and went into a lateral skid."
He said he saw Bonifacio Martinez exit the van in the moments following the crash, sit down and start screaming for help.
Hodges was southbound. She had just passed the van when she spotted two northbound vehicles "going pretty fast."
She witnessed the crash in her rearview mirror, and was shocked by what she saw, she said.
Defense attorneys Marshall and Brent Goodfellow, both of McMinnville, began calling witnesses Monday.
When they finish, they will join state Department of Justice attorney Kristin Hoffmeyer in offering closing arguments. Washington County Judge Andrew Erwin will then send the case to the 12-member jury.