Pursuit reaches speeds of 80 mph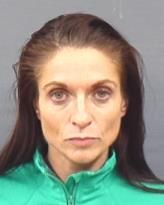 Speeds allegedly reached 80 mph during a Tuesday night pusuit that began on Lafayette Avenue in Northeast McMinnville and ended on High Heaven Road in a rural part of town.
Capt. Tim Symons of the McMinnville police identified the fleeing motorist as Katherine Kelly Foster, 37, of Long Beach, California.
Foster was arraigned Wednesday in Yamhill County Circuit Court on one count each of fleeing/attempting to elude a police officer, reckless driving and recklessly endangering another person.
The elude ahcarge is a Class C felony. The other charges are Class A misdemeanors. Judge Cynthia Easterday set bail at $20,000.
Foster will be arraigned on a grand jury indictment at 1:30 p.m. Wednesday, Dec. 28. She is represented by McMinnville attorney Mary Biel. However, Janmarie Dielschneider of McMinnville handled the initial arraignment proceeding.
Symons gave this account:
About 6:30 p.m., the Yamhill Communications Agency received a report from the Oregon State Police dispatch center in Salem about a motorist allegedly running other motorists off the road en route to McMinnville on Highway 18.
The OSP alerted local law enforcement personnel to a four-door Chevrolet sedan said to swerving in an erratic and reckless manner.
McMinnville officers located the vehicle on Northeast Lafayette Avenue and attempted to pull it over. However, the driver allegedly responded by speeding up and engaging in evasive maneuvers.
The pursuit continued west onto 19th Street, north onto Highway 99W, northwest onto Baker Creek Road, west onto Pheasant Hill Road, then north onto Orchard View and High Heaven roads.
Officers were ultimately able to bring the pursuit to an end at a closed gate at High Heaven's intersection with Kane Road and take Foster into custody.
She was clocked at 80 mph on Baker Creek, and spotted crossing into the opposite lane of travel numerous times. Officers considered discontinuing the pursuit at times in the interest of public safety.