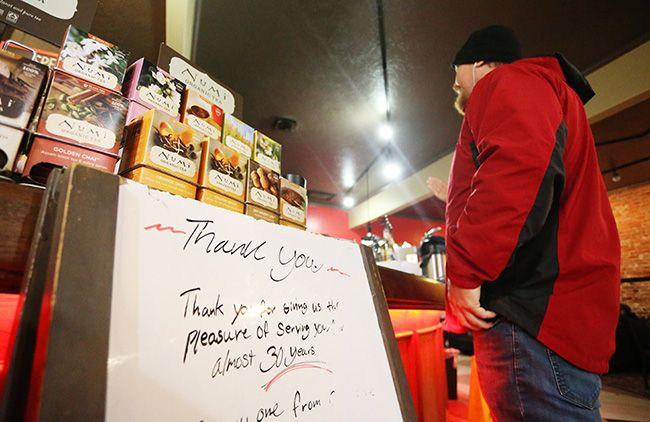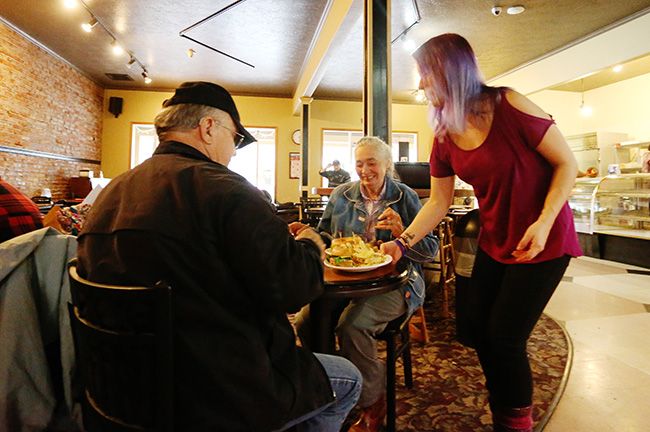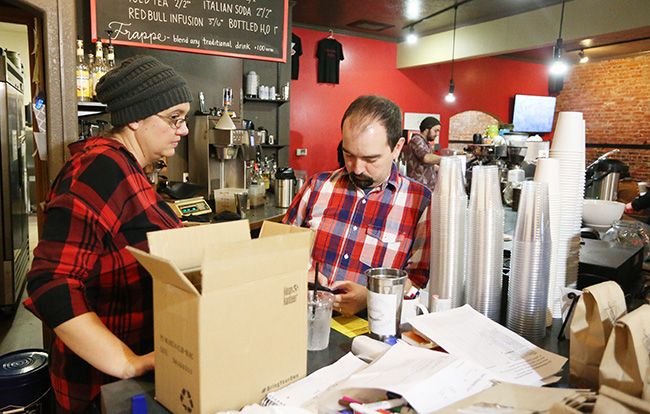 Cornerstone Coffee announces closure
[Updated 12/6/16 11 a.m.] Cornerstone Coffee Roasters, a fixture of downtown McMinnville's coffee scene, closed Friday in the wake of collapsing finances.
The announcement was made by co-owners Mike Pace and Jason Olds in a Thursday evening posting on the popular coffee shop's Facebook page.
It prompted an emotional outpouring of support from longtime customers. It also inspired a GoFundMe campaign, launched by local writer Nathalie Hardy, a News-Register columnist.
But with barely 24 hours to collect $75,000, the fundraising campaign fell woefully short. It produced 40 pledges totaling $1,500, a tiny fraction of what the owners said it would take.
In their announcement, Pace and Olds said:
"Due to circumstances beyond our control, barring some sort of financial miracle, tomorrow — Friday, Dec. 2 — will be our final day of operation.
Thank you for letting us serve you for almost 30 years. We love you and will see you around town, no doubt. Please come on down and say goodbye."
Pace, a 2011 Linfield College graduate, teamed with Olds to buy the coffee shop, bakery and deli operation in the summer of 2014.
Located at 216 N.E. Third St., it was founded by Paul Doyle. He owned and operated it for many years before selling to the immediate previous owners, Mark and Christine Isaac.
Cornerstone was McMinnville's first Starbucks-era coffee shop, opening in the 1980s, just as the Seattle-based Goliath was beginning to expand its Puget Sound base.
It originally opened in the downtown space now occupied by the Union Block coffee shop.
Its present location between Baker and Cowls provided space for a bean-roasting operation in back and a coffee drive-through operation next door.
Realignment of the intersection at Second and Baker was about to eliminate access to the drive-through, located on parking lot space leased from the city. However, Pace said the pending drive-through closure was "completely unrelated" to the financial difficulties the business was facing.
In their closure announcement, Pace and Olds said they owed $20,000 to their landlord and $50,000 to their suppliers.
"When my business partner and I bought the shop, we leveraged everything we owned to buy it and couldn't get out from underneath that debt," Pace said in a followup interview Saturday. "We tried and we tried and we tried, and we finally did it, just in the last two weeks, so going forward we could be cash-positive.
"But the previous owner wanted us to catch up before we could go forward, or at least to have a very good plan in place," he said, referring to the Isaacs.
Facing what would ultimately be its last day of business, Cornerstone was swamped Friday with loyal customers, up to closing time. "We did four days of business in 10 hours," Pace said.
Between its coffee prep and service, its food prep and service, and its roasting and drive-through elements, the operation employed a work force of 15. And he said all the money taken in Friday would be going to members of that work force.
"Somewhere, the rumor got started that we weren't going to pay our employees," Pace said.
"That was the whole reason we ran the last day, was to pay our employees above and beyond what they're worth, to give them everything, basically. We're not keeping any of that for ourselves."
Over the weekend, "FOR SALE" signs were posted on the shuttered front doors of both the coffee shop and drive-through kiosk. They were still up Monday morning.
Pace said he and Olds had been working behind the scenes with an investor. He said they simply ran out of time, forcing a shutdown.
He said he talked to two more prospective investors Friday, but one backed out Saturday afternoon and nothing had come so far out of talks with the other. Assuming no White Knight effects a last-moment rescue, he said the parent company they created to acquire the business, Good Olds Pace, would be filing for bankruptcy shortly.
A flurry of Facebook posts, eventually topping 140 in number, drew attention well beyond Cornerstone's local customer base. The issue even drew a comment from Joe Genshlea, who operates a winery in Sacramento.
"I know the struggles of the small business," he wrote. "It's crazy.
"Your customers clearly love your business. You should take great heart in that, irrespective of the outcome."