Newcomer, veteran square off for mayor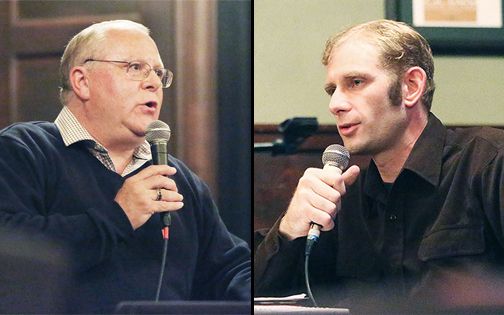 Yet Hill said he is campaigning in anticipation of a tight race. Taking anything for granted would be foolish, he said, especially during an unpredictable election cycle.
"I'm taking this very seriously," Hill said. "In my mind, it's not a foregone conclusion. He's a formidable candidate in today's political climate."
Miller is definitely a newcomer to city politics. He sometimes confuses county government with city government and vice versa, in fact. And some of his statements about the campaign seem disjointed and confusing.
"I am running for mayor to seek all of the job descriptions that would be profiled for the job of mayor," he said during a Tuesday debate sponsored by the McMinnville City Club. "I believe myself to be a great advocate. Some might even say I might be the youngest mayor that was elected. I'm not sure. I'm 35."
Miller has been a constant presence at almost every city council, planning commission and other public meeting over the past several months. Citizen involvement is a major theme in his campaign.
"I would like to bring back more citizen advisories," he said. "I would like to build more of a foundation to have citizens be involved no matter how small it is just for information — like a connection between Chemeketa and Linfield so that they know they're still in the city of McMinnville and come to the mayor's house in order to be involved and to advocate for the city of McMinnville."
Miller has a criminal record, including a 2001 conviction for contributing to the sexual delinquency of a minor. As a result, he is supposed to report as a sex offender.
A case alleging failing to report is currently pending, and he is planning to take it to trial. He feels he has been unfairly caught in a net, because of a change in the law, that was never intended for a case like his.
He has won acquittal or dismissal of 11 other charges, all, by his account, stemming from family squabbles. His 2001 sexual delinquency conviction originated from having an underage girlfriend, he said, adding he was candid about the relationship when it came up during an unrelated police investigation focused on someone else.
Miller said his 2001 conviction did not require reporting as a sex offender at the time. That changed in 2011 with the passage of House Bill 3204. The law required registration for sex offenders who lived out of state, but were still employed or attending school in Oregon.
He doesn't think it should apply to him.
"It's gray water," he said. "You don't really know the system until you go through it."
Miller served in a National Guard unit from 2000 to 2011. Following combat service in the Middle East, he was granted an early discharge to become sole source of support for a son who is now 8.
He said he has enough resources to be retired at age 35, through odd jobs, service benefits and a family trust. He said he spends most of his time providing for his son.
He first became interested in politics after watching a debate between County Commissioner Allen Springer and his May primary challenger, then-Mayor Rick Olson, who won the race.
He began attending public meetings, and became concerned that his efforts to speak out and ask questions were often stymied.
"I was rather disappointed that one person couldn't get the answers he sought," he said. "I have respect for anyone who has a position to uphold."
Nonetheless, he found the meetings compelling. "There was a sense of wanting to be there that drove me," he said.
This seemed like a perfect year to get involved, Miller said, as Olson's election to the county seat triggered a reshuffling. "Everything was up in the air this year," he said.
However, he seems to have difficulty articulating exactly how local and county governments operate.
"I know that the board themselves in the city of McMinnville holds seats themselves in the city such as construction, wine industry, and those are hard to find," he said at the debate. "Those are professions that need to be filled in McMinnville, and there's equality that goes through that.
"But what I'm seeking as mayor is to assemble more of an equality between the citizens and the politics so that the information is still provided and the councils themselves are not interjoined with constant information that may not even pertain to the council but to give the city a gateway to become involved again and to be able to advocate on their own," he added.
Hill said he regards the campaign as a matter of competing résumés. "I'm looking at it as the experienced versus the less experienced," he said.
He joined the council in 2005 and served as council president from 2009 to 2010. He has served on the budget committee since 1994 and has also on the urban renewal advisory committee and city audit committee. In addition, he served on the board of Visit McMinnville.
Hill and his family moved to McMinnville in 1992 from Portland when he took a job as a regional manager for Key Bank. He retired two years ago.
"I fell in love with the community and haven't fallen out of love for a minute," he said.
When Olson was elected county commissioner, Hill and Councilor Kellie Menke discussed which of them should go for the mayor's position. They decided Hill should seek the job but Menke should succeed Kevin Jeffries as the council president.
Hill said he and Menke have both been on the council about the same length of time.
"The gas isn't out of the tank for us yet," he said. "We're still committed to the process we started 12 years ago."
He called the council a collaborative effort
"We are on the path with some significant programs right now, he said. "We have a lot of progress right now that needs someone who had a handle on the history of these projects."
Those projects include the street bond, urban renewal and tourism efforts like Visit McMinnville. "Visit Mac has accomplished a lot in just two years," he said.
Hill said he's committed to staying the course with city government. "I don't want to rock the boat," he said. However, he added, he is excited about many of the directions the city is heading. He expressed particular enthusiasm for Heather Richards, who started as McMinnville's new planning director in September.
She was recruited from Redmond, and Hill said he was a fierce advocate for her in the hiring process. "We spent an entire day walking around Redmond, and at the end of the day, I said, 'We need you here in McMinnville.'"
Hill said he backed away from the evaluation process of former City Manager Martha Meeker, who left her position early this month. He thought that best, he said, because he assumed Meeker would be remaining and wanted to be in an optimal position to work with her on a collaborative basis.
City officials have learned from some of the missteps they took when hiring Meeker two years ago, he said. For one thing, councilors never visited the U.S. Air Force Expeditionary Center in New Jersey where Meeker served as the vice commander before moving to McMinnville.
"When we're looking for a city manager, we need to do more due diligence," Hill said. "We need more feet on the ground."
As mayor, Hill said he will meet monthly and later quarterly with department heads to make sure things are running smoothly. "The staff is so good, they often bear up and don't say anything," he said. "That trust needs to be rebuilt with our staff."
He said he also wants to shore up the annual planning process and give department heads more input on the budget.
While Miller said there's not enough opportunity given for citizen input, Hill pointed to recent citizen complaints about abandoned drug houses.
Although the council's hands are often tied by legalities, he said he and other councils walked the neighborhood for hours in response to citizen concerns. "We are definitely listening," he said.
"We, by far, have the most unique livable community that I've seen," Hill said. "That's the passion that continues to drive me to serve. I look at my service in the community as my hobby. It's what I enjoy doing. You know how hobbies sometimes take over what you're all about? I've been retired for two years, and my hobby is the city of McMinnville. I'm passionate about it."