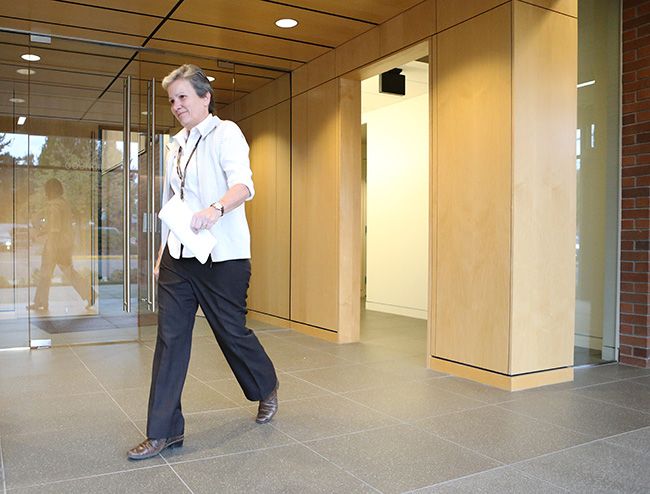 Meeker resigns as city manager
McMinnville City Manager Martha Meeker resigned early Monday morning, after signing an agreement with the city council allowing her six months of continuing salary and expenses. City Attorney David Koch estimated the value of the severance package at $76,356.
The council convened in special session at 8 a.m. to accept Meeker's resignation. They agreed to substitute former City Attorney Candace Haines as interim city manager, at an estimated cost of $135,000 a year, and directed Koch to negotiate terms.
When Haines passed the torch to Koch in September 2015, she was earning $119,000 a year.
When Meeker replaced Kent Taylor as city manager in December 2014, her pay was $145,000 a year. It currently stands at $152,000.
Under terms of the severance agreement, Meeker agreed not to initiate any legal action against the city. She also waived a 21-day period under which she otherwise would have retained the right to reject the agreement.
The city has agreed not to offer evaluations of her performance in response to prospective job reference contacts. It has agreed to provide only dates of employment and financial terms.
Meeker's resignation comes in the wake of a set of mixed reviews offered by councilors during a performance evaluation conducted in late August. The evaluation triggered city implementation of a plan of improvement that she had to satisfactorily complete to retain her post.
The retired Air Force general was criticized for what some councilors perceived as an autocratic leadership style. She was also accused by some of mishandling communications with staff, councilors and the press.
Councilors Kellie Menke and Kevin Jeffries drafted the improvement plan, which was prefaced this way:
"You have not demonstrated a clear understanding or willingness to implement city goals and policies. You have not adequately directed subordinates to carry our those policy programs. You have not been a constructive collaborator with team members and subordinates. You have not delegated work effectively or shown a willingness to listen to the concerns of others. Your communications with others have tended to create and/or escalate conflict."
Meeker accepted the improvement plan and maintained a normal work schedule through September. She even honored commitments to the McMinnnville City Club and McMinnville Kiwanis Club to address long-term city goals and timelines.
However, as councilors prepared to confront Meeker with the adverse evaluation and the subsequent improvement plan, they decided on Aug. 9 to contract with the Portland employment law specialty firm of Fisher & Phillips LLP to provide outside legal counsel in the matter.
Meeker's Oct. 6 resignation follows by just six days that of Mayor Rick Olson, who won election in May to a four-year term on the Yamhill County Board of Commissioners, starting Jan. 1. The mayor told the council in his Sept. 27 notice that he needed to focus all of his time and energy on the transition during the coming weeks.
Jeffries, currently serving as council president, will fill in pending election of a new mayor in Nov. 2 balloting. The election has drawn two candidates, City Councilor Scott Hill and frequent council observer and commentator Jared Miller.
Haines served as city attorney for 16 years before stepping down last year. Menke said Haines was vacationing out of the area when contacted, but agreed to return and accept the assignment, subject to finalizing the details.
"It was hard to pull her back from her vacation, but she said, 'I'll do with for my city,'" Menke indicated.
Hill called Haines an excellent choice.
"She has the approval of our department heads," he said. "We're able to rebuild immediately."
After agreeing to on the severance package Monday morning, Meeker departed with best wishes for the community she was leaving behind. "It's been great to be a part of the community, and I wish everyone well," she said.
The city issued a formal press release in which it termed the parting "amicable."
During her tenure, Meeker helped create the city's first task force on homelessness and affordable housing. She also oversaw the beginning of the city's $24 million dollar transportation bond initiative and the first multi-million dollar project for the relatively new urban renewal initiative.
She has been a frequent visitor to the Central Oregon resort community of Sisters, where she owns property.