Ex-girlfriend assaulted, McMinnville man arrested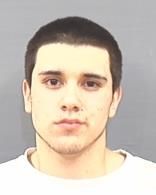 A rural McMinnville man was arrested Monday afternoon on charges that allege he held his ex-girlfriend against her will and assaulted her. It took law enforcement personnel from three agencies to flush the suspect out of his residence.
Joseph Chevy Gage, 20, who lives in the 18000 block of Baker Creek Road, was initially charged with one count each of first-degree kidnapping, fourth-degree assault, coercion and strangulation. Bail was set at $235,000, pending arraignment in Yamhill County Circuit Court.
Sgt. Chris Ray of the Yamhill County Sheriff's Office gave this account:
About 1 p.m., deputies were dispatched to a physical domestic incident at the residence. In addition to the sheriff's office, McMinnville police and the Oregon State Police also responded.
The victim, who said she suspected Gage was using methamphetamine, had allegedly been held against her will inside the residence, and also assaulted. She managed to escape the residence, and said Gage chased her down the road to a neighbor's house.
Deputies had probable cause to arrest Gage related to an open case involving a vehicle that was reported stolen earlier this month.
When deputies arrived at the residence and prepared to enter, they observed Gage trying to hide from them. A perimeter was established around the residence based on his actions.
Once law enforcement personnel had entered the residence, they searched for Gage, and located him hiding in an overhead crawl space.
He was taken into custody along with an accomplice, Luis Gerardo Villegas, 19, of Salem, who was wanted on a Marion County burglary warrant.
Gage was serving an 18-month term of probation at the time. He was convicted last January on one count each of attempt to elude a police officer and recklessly endangering another person in one case, and one count each of second-degree burglary and unauthorized use of a motor vehicle in another case.