Amity girls advance to championship game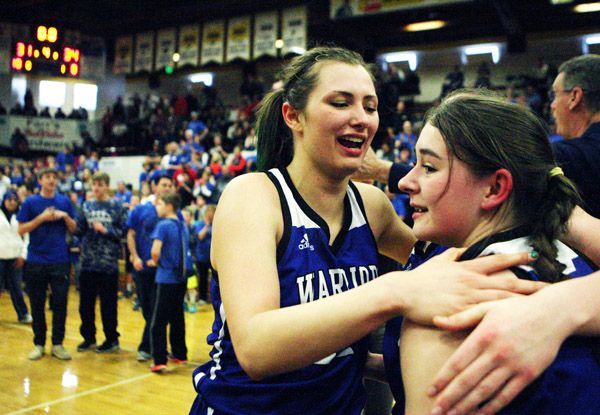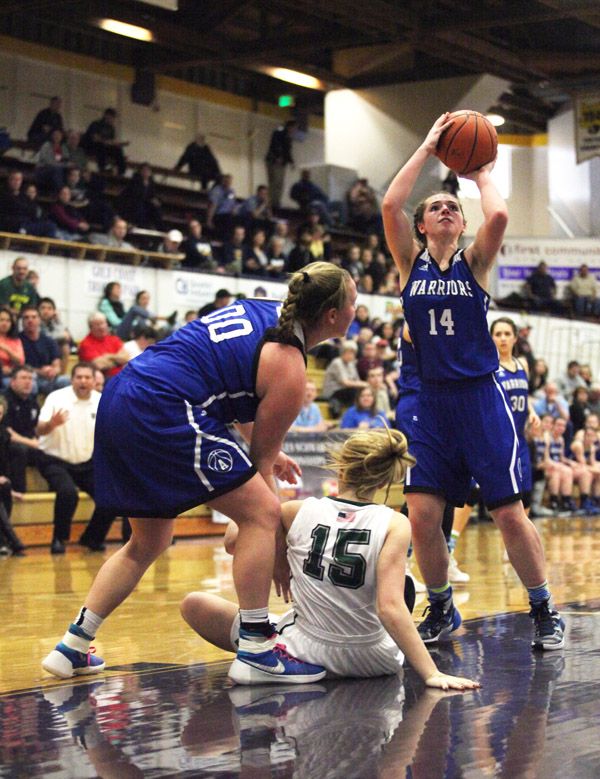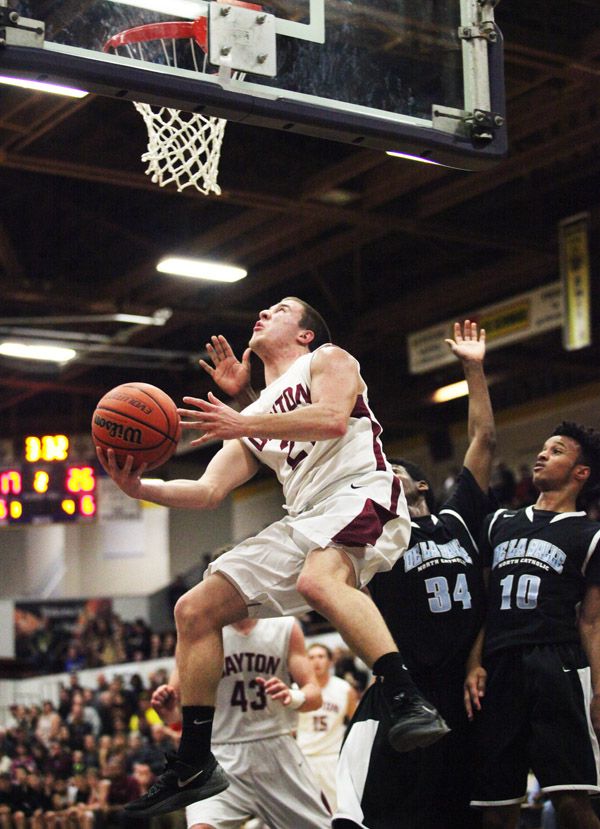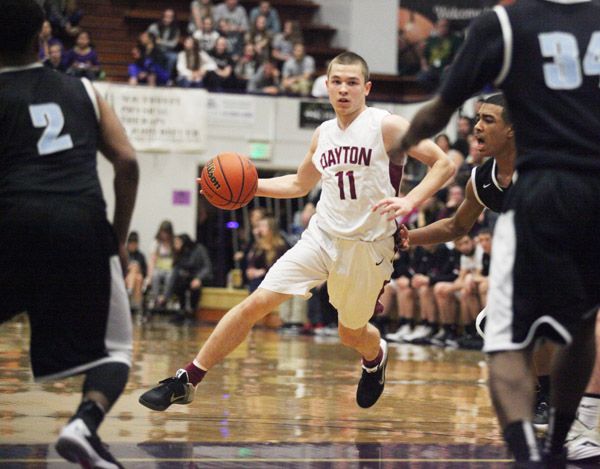 UPDATE: The Dayton boys' Third/Fifth Place Game against Portland Adventist Academy has been rescheduled for 8:45 p.m. at the Dog Pound at North Bend High School.
COOS BAY – Let's not mince words. Saturday's Class 3A state semifinal between Amity girls basketball and Salem Academy was ugly.
How else to explain a team making five of 39 attempted field goals – looking at you, Warriors – including two of 15 three-pointers, after three quarters of play and trail by only seven points?
When Crusaders sophomore Aimee Smith made a basket with 1 minute, 17 remaining in the third quarter to give No. 3-seeded Salem Academy a 24-12 advantage over No. 6 Amity (again, not pretty), the gulf between the two squads seemed much wider.
Then Maddie Worthington made a three-pointer.
Worthington? The 5-foot-10 Warriors post who rarely shoots from outside? Who attempted three shots all game? Indeed, the ball went through the rim with 38 seconds in the period for three of her five points.
"She's hit, actually, a couple random threes that have been key shots," Amity senior Madelynn Krotzer said.
Krotzer then made a pair of free throws with 19.6 seconds remaining in the quarter. And the Warriors switched to a full-court trapping defense, stymieing Salem Academy into four backcourt turnovers to close out the period.
That 24-17 deficit, with eight minutes to play, did not seem so onerous after all.
"I was processing at the end of the third quarter that we could do this," Amity coach Reg McShane said. "After that, the whole fourth quarter, they started to play not to lose. When you play not to lose, you make mistakes.
"We capitalized on those mistakes. They stayed the course on that, and to me that's what this group has done."
Staying the course produced something beautiful for the Amity faithful.
The Warriors shook off their doldrums and stunned the Crusaders, 34-31, at the Pirate Palace at Marshfield High School. Their prize is a berth into the 3A state final Saturday at 6:30 p.m. at Marshfield High, where they will vie with Class 3A West Valley League rival Dayton for the first state championship in program history.
How much fun will that be?
"It says a lot about our league, how many teams came to Coos Bay from our league," said Warriors guard Allie Steele, who made a key three-pointer in the fourth quarter as part of a six-point night. "I'm glad that it's Amity and Dayton because we have something to prove with them."
Amity (23-6) took the defensive momentum it attained late in the third quarter and ran with it. Salem Academy (25-3) committed seven turnovers in the period and scored seven total points, struggling with the Warriors' renewed commitment to ball pressure.
"They kind of crumbled under pressure. They were trying to overshift us, but we would commit a lot more," Krotzer said. "We just had to risk it, but risking it is why we're here."
The second risk Amity took was pushing the tempo against the half-court-oriented Crusaders. It worked out: the Warriors made six of their nine field goals in the final period. Krotzer stole a ball and laid it in with 2:03 remaining to give Amity its first lead, 28-27, since 3-2 in the first quarter.
Another Smith basket gave Salem Academy the lead back at 31-30, but Krotzer responded with a foul shots on an attempted layup. The Pirate Palace's buzz scarcely dimmed as the 5-foot-8 senior sank both with 35.2 seconds on the clock.
"When I was at the line, I was trying not to overthink anything," said Krotzer, Amity's player of the game with 11 points, six rebounds, five steals and three assists. "When you overthink it, that's when you miss. I was just going up confident, not even thinking that they were really important."
With 11.2 seconds remaining, Smith was fouled by Morgan Croxford and stepped up to the free throw line. She missed both shots and an ensuing rebound basket; Crusaders forward Emma Hardy had one more shot but missed from close range.
Warriors senior Lindsay McShane, who had four points and eight rebounds but was plagued by foul trouble early, grabbed the ball in the ensuing scramble and drew a foul. Time expired in the chaos of the play, but referees reinstituted 2.9 seconds on the clock and awarded McShane two free throws.
"It's all mental, and Lindsay's a really mentally tough person," Steele said. "She's been in these situations a lot and we knew that she could do it."
She rewarded the faith of her teammates with a pair of free throws.
Only one element of Amity's comeback does not fully square: Reg McShane called a timeout with 2.9 seconds remaining to set up his defense. Salem Academy set up an offensive play, and Hardy had a long look at a 20-footer as time expired. Instead, it caromed away harmlessly.
"At the end, everybody thinks you're a master now," McShane said.
No matter how difficult the start.
Boys basketball
De La Salle North Catholic 68, Dayton 59
COOS BAY – Dayton boys basketball was red hot and rolling when De La Salle North Catholic head coach James Broaddous II called timeouts.
The Pirates, seeded No. 1 in the OSAA Class 3A State Tournament, had tied their semifinal contest against the No. 4 Knights at 42 with an 18-6 run over the span of four minutes. De La Salle regrouped from there, and Dayton sputtered, going scoreless over a 5-minute, 30-second span and eventually falling, 68-59, to the Knights.
Zach Bernards had 20 points and eight rebounds for the Pirates (24-5), the defending 3A state champions, and Jarred Ashley was named player of the game with 11 points and 17 rebounds (10 offensive). Zach Spink contributed 17 points and three assists to Dayton's tally, while Tanner Lewis added five points.
"I'm proud of these kids. They have nothing to hang our heads on," Pirates coach Ron Hop said. "They've had a target on their back all year long, and that was deserved from last year. They've done a great job."
Dayton scored on its opening possession – a basket by Ashley – and held the lead for 90 seconds before Knights point guard Meartu Aschalew stole a pass from Ashley and scored on a fast-break layup. Aschalew led all scorers with 27 points (11-of-14 on free throws), forming a deadly 1-2 punch with teammate Javary Christmas (21 points, seven rebounds, four assists).
"Javary got hot early," Hop said of De La Salle's 6-foot-2 shooting guard, who made five of his 10 attemped three-pointers. "That kind of put us in a chase mode."
Dayton plays Portland Adventist Academy in the 3A third-place game, which will be held Saturday at 8:45 p.m. at North Bend High School.