Arrest made in McMinnville convenience store burglary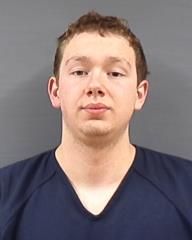 McMinnville police followed blood trails that led officers to a residence where they arrested a suspect Wednesday morning in connection with a burglary at the Circle K convenience store, 160 S.W. Hill Road.
Conner Allen Shipley, 18, of 934 N.E. Galloway St., was charged with one count each of second-degree burglary, Class C felony; second-degree criminal mischief, Class A misdemeanor, and third-degree theft, Class C misdemeanor. He was booked into the Yamhill County Jail on $15,000 bail.
Capt. Tim Symons gave this account:
About 3 a.m., officers were notified that an alarm had been activated and entry into the store had been made through a broken window.
Video surveillance determined there was one suspect, an adult male, who had cut himself either entering or exiting the store.
A combination of following blood trails and a K-9 track led officers to 2275 S.W. Kauer Drive, which is not far from the store. The front door was locked, there were multiple individuals inside and no one answered when officers knocked.
A search warrant was obtained for the residence, it was served and Shipley was located and taken into custody. No other arrests were made.
All he allegedly took on his way out of the store were cigarettes.