Amity's McShane to throw for Beavers in 2017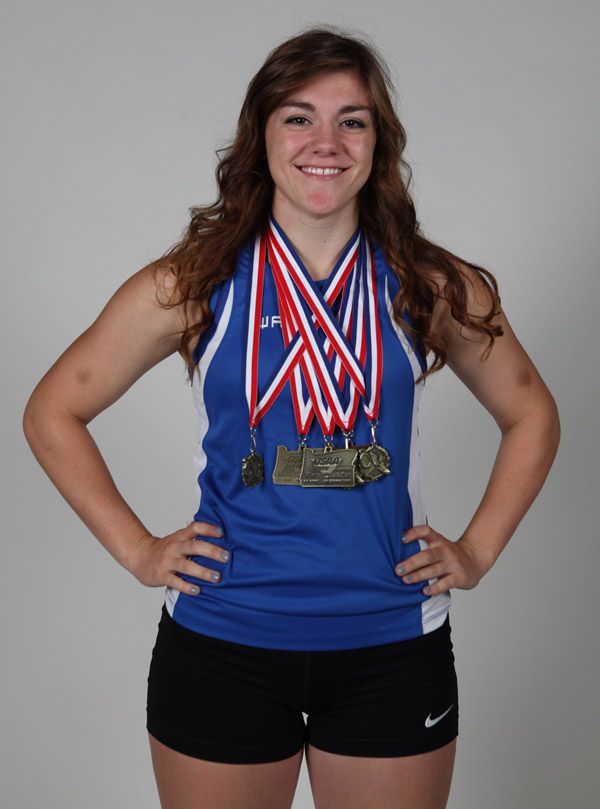 UPDATED Friday, Feb. 26, 11 a.m.
AMITY – When Lindsay McShane took an official visit to Oregon State University in October 2015, she immediately felt comfortable with her host.
Melissa Ausman, a junior thrower for the Beavers' women's track and field team, showed McShane around campus. The Amity senior remembered facing Ausman, a Nyssa High School graduate, at the 2013 OSAA Class 3A State Track and Field Championships at Hayward Field in Eugene. Ausman won the girls' discus throw and finished second in the girls' shot put that year; McShane finished fourth in both events.
"She's kind of like my idol," McShane told the News-Register Wednesday afternoon. "She's about my height" – Ausman is listed on the OSU roster as being 5-foot-6; McShane is 5-foot-7 – "and I've always been told that, to be a good discus thrower, you have to be a tall, long person. I wanted to beat her marks in high school. She was really welcoming and just a great person."
McShane, of course, has set a number of impressive marks. A two-time News-Register All-Valley Girls Track and Field Athlete of the Year, McShane has won consecutive Class 3A state championships in the girls' shot put and girls' discus throw and aspires to be the first Oregon girl to win three consecutive state titles in both throwing disciplines since Jaclyn Espinoza of Regis (2004-06). McShane set personal records in the shot put (40 feet, 10 inches), discus throw (144-7), javelin throw (141-1) and hammer throw (129-0) in 2015. Her top discus mark was the best among Oregon girls in any classification; her shot put mark was tops in Class 3A. McShane holds the Amity school records in the shot put, discus and javelin; the hammer throw is not a contested event at the Oregon high school level.
On Tuesday, McShane said she called Oregon State assistant women's track and field coach Tamara Burns and announced her intention to attend OSU and throw for the Beavers. McShane chose a partial scholarship from Oregon State over varying offers from Hawaii, Oregon, Stanford and Cornell, among other schools. (The NCAA allows collegiate track teams to award a maximum of women's scholarships to female athletes, which can be divided up fractionally. College coaches are also prohibited from speaking on the record about recruits. McShane can sign a binding National Letter of Intent with OSU as early as April 13.)
"I really like the idea that they are a new program and I like the idea of starting it and building it," McShane said of OSU women's track and field, which was resurrected from a 18-year hiatus in 2004 as a distance running program and has since added athletes in other pursuits.
"The girls on the team, they're just like my friends I have on the (Amity) track and field team. They're just like the friends I have right now."
Oregon State was familiar to McShane well before her college recruiting process began. Several members of her family, including her father, Reg – a longtime Amity School District administrator who coaches the Amity High School girls basketball team – hold degrees from the Corvallis institution. McShane has grown up attending Beavers football games and wearing orange and black.
Her rise in athletics coincides with the slow build of OSU track under head coach Kelly Sullivan, which as late as 2010 remained a distance-oriented program on the women's side. The Beavers have added athletes from other sports in different events for the Pac-12 Conference championships and other meets in subsequent years; in 2012, Sullivan cut the ribbon on the Whyte Track and Field Center, and on-campus home for the Beavers.
"The thing that their facilities that they have over any other ones and why it would be great place for me to start there – their track is close to their hammer ring. A lot of places, the hammer ring is tucked away, off to the side," McShane said. "Everything's a little more, like, you can see it.
"They have two rings for disc. I believe they have two shot put rings and two jav runways and one hammer cage. They have a lot of nice equipment. I'm just super-impressed with everything (Sullivan) had planned, and he was really dedicated to the project."
McShane said she will participate in all four throwing disciplines early in her career, though she expects to specialize later on.
McShane added that she is ready to compete for the Warriors this spring after rehabilitating from an injury to her right (throwing) hand. The injury cost her much of her fall volleyball season and part of the girls basketball season; Amity is the Class 3A West Valley League co-champion in the latter sport, and the Warriors will play La Pine in the 3A state playoffs tonight at Amity High School.
"Right now, all I'm thinking about is doing well in state basketball; that's my primary focus," she said. "I'm really excited to start track and see what I can do this season.
"I need to prove to myself and to (the members of the Oregon State coaching staff) that they made a really good decision in choosing me, and me choosing them."
.