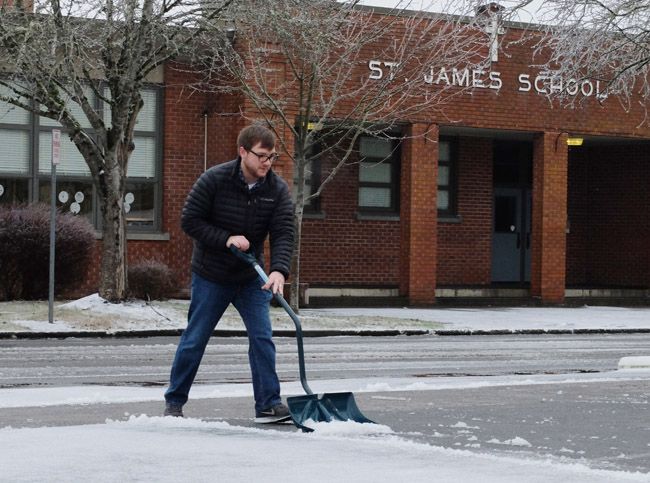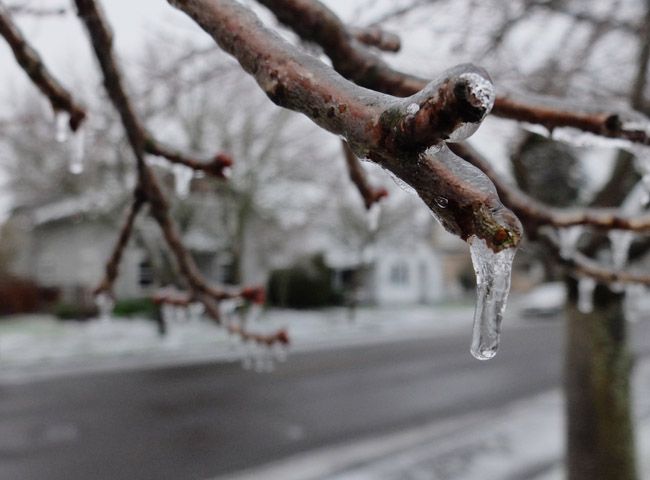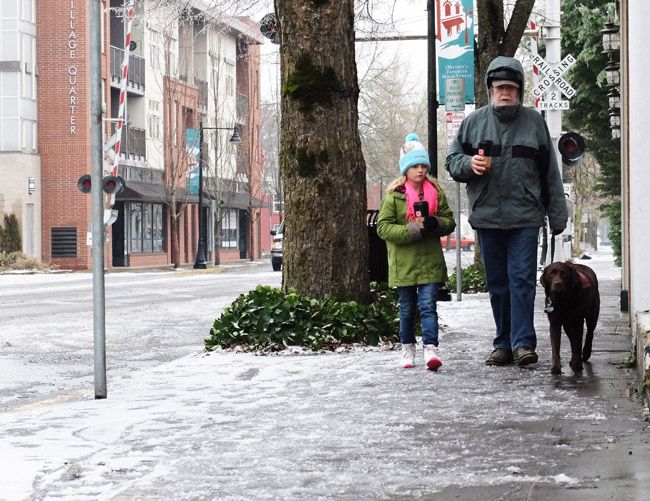 A few buses still on snow routes
Tuesday's local school announcements:
Gaston: Two hours late. Buses on snow routes.
Newberg: Buses on snow routes. Buses 11,25 and 32 on restricted routes.
Yamhill-Carlton: Buses on snow routes. Route 8 - Moore's Valley - buses will be slow.
Other:
Virginia Garcia Memorial Health Clinic: Opening at 10 a.m.
Yamhill County Public Works Department crews monitored road conditions throughout the night, and have reported slush on some roads and ice on others throughout the county Tuesday morning.
Some roads, including areas of rural Newberg, are impassable.
Sanding trucks are attempting to improve conditions county-wide when possible.
---
Rain and freezing rain are expected overnight as snow melts away, according to the National Weather Service. Low temperatures are expectred to be above freezing -- by just a degree or two -- with afternoon highs in the upper 30s or low 40s.
Icy roads kept most students from returning to school Monday, which was supposed to be the first day of classes in 2016. They've been on winter break since Dec. 19.
Only McMinnville School District opened, and started two hours late. The other six districts -- Amity, Dayton, Newberg, Sheridan, Willamina and Yamhill-Carlton -- remained closed. St. James Catholic School, which follows the McMinnville public school schedule, also opened two hours late.
Districts expect to open as usual on Tuesday, although they will reassess road conditions in the morning and may decide to start late.
The Wheatland Ferry reopened MOnday afternoon after being closed for 24 hours. Yamhill County Transit Area buses were operating on a full-service basis all day Monday, according to the agency's website.
---
Light snow began falling in the Yamhill Valley around 6 a.m. Sunday. The National Weather Service forecast said more snow, sleet or freezing rain were possible overnight.
With freezing temperatures and accumulated snow and ice on the roads, travelers need to take extra precautions. Motorists should slow down, leave adequate distance between them and the vehicle ahead, add extra travel time and expect some delays.
Minor motor vehicle crashes have been reported, according to Yamhill Communications Agency radio traffic.
Yamhill County and city of McMinnville public works crews have been out in force Monday morning, sanding roads and streets.
The McMinnville forecast:
Tuesday: Rain likely, mainly before 10 a.m. Cloudy, with a high near 39. North wind 5 to 9 mph becoming light north/northeast in the morning. Chance of precipitation is 70 percent. New precipitation amounts of less than a tenth of an inch possible.
Tuesday night: A 50 percent chance of rain. Mostly cloudy, with a low around 33. South southeast wind 5 to 7 mph. New precipitation amounts between a tenth and quarter of an inch possible.
Wednesday: A 20 percent chance of rain. Partly sunny, with a high near 41.