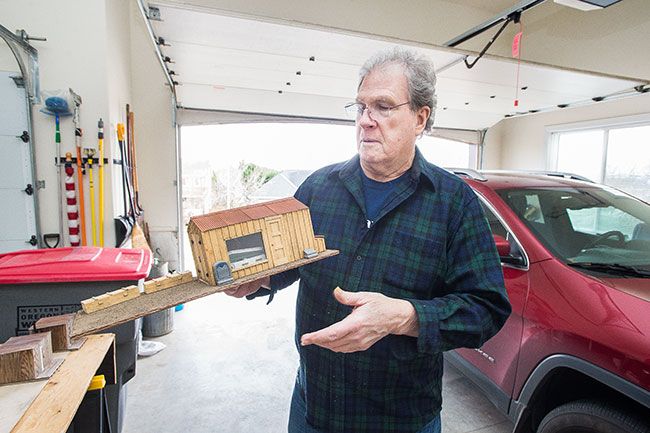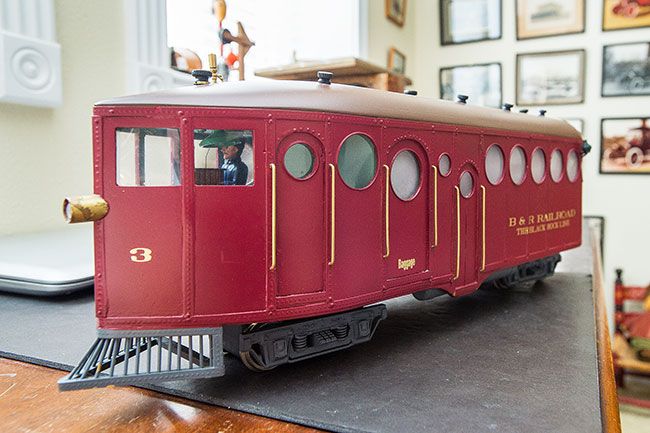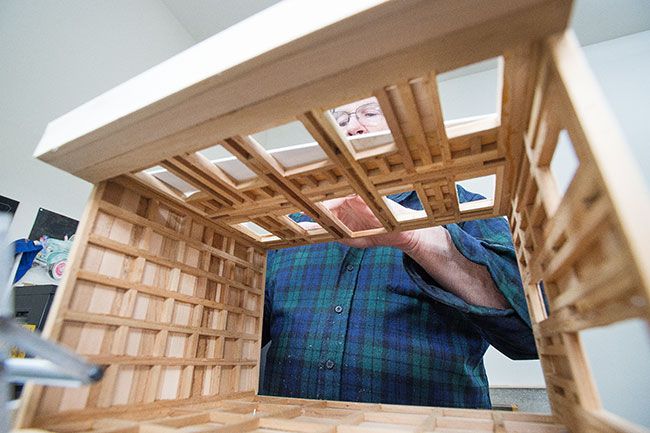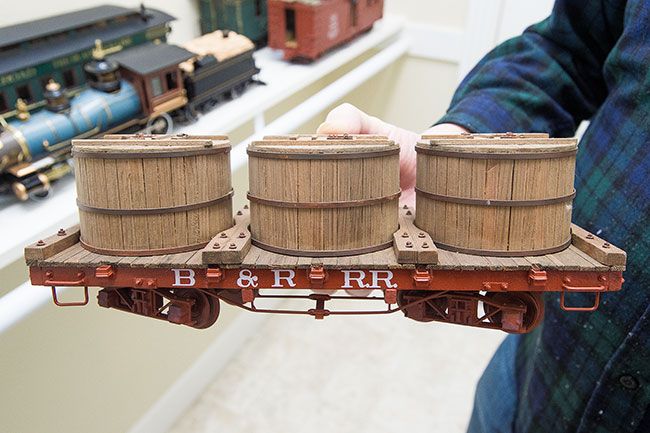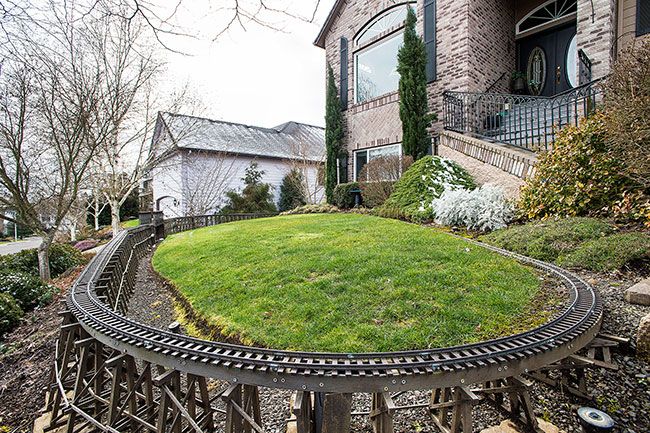 Stopping by: Scaling down
On a certain scale, Jim Dunk is a land baron.
His McMinnville yard is large enough to hold the equivalent of miles of railroad track, a mining operation and many associated buildings. There's even room left over for extra track and several cities, if he were to choose high-density zoning.
That would mean mowing down some grass, though. After all, each blade is like a tree to the people who board this little railroad.
Dunk runs the kind of train that steams from a "roundhouse" in his home and puffs its way through the yard and garden.
Garden railroads come in a variety of sizes, some even large enough for a child to ride atop a boxcar. Most common is "G" scale — 1:22.5. The G stands for "gross," the German word for "big" — the trains are large compared to the HO or N scale models found in many indoor model railroad displays.
"N (1:160) is way too small, especially when you get older," he said. "At least with G-scale, you can see the details."
Dunk makes his own cars slightly bigger than most G-scale trains, but they run on the same G-width rails. That makes them appear to be regular-size cars on a narrow gauge track.
While he loves running his railroad, Dunk has a special passion for creating additions like trestles to support the tracks and buildings to go alongside them, as well as cars themselves.
"I really enjoy building," he said. "I don't work fast, but I could spend all day in my workshop, creating things."
That's good, since he's unable to operate his garden railroad much of the year. The trains are sturdy enough for outside, but "I can't run in the rain because of all the electronics," he said.
Some garden railroads have electrified rails or steam-powered engines that can be used in any weather. But Dunk's battery-powered, remote-controlled models need dry conditions; it might be May before they make their first trip of the year.
That can be frustrating for someone who lived in arid Southern California until moving to Oregon in June 2015.
On the other hand, it allows him more time for building. And when he places the newest structures alongside the tracks and fires up the train — oh, what joy.
"I like the sound, I like seeing it on the track and I like envisioning I'm that scale," he said.
After Dunk and his wife bought a house in west McMinnville, he built 72 feet of trestle for the track that circles his front yard — with 1 inch of model representing to 22.5 inches in the real world, that's 270 feet per foot of tiny track, or 19,440 feet in all, nearly 3.7 miles.
The trestle incorporates 105 bents, the cross pieces that support the track. Each one has several tiny nails, representing the huge bolts that would hold the lifesize ties together.
And it's all for show. The track actually is supported by PVC pipe hidden beneath the wood. But the trestle looks as real as the one holding up the tracks that cross the Cozine Ravine near downtown McMinnville.
Dunk built it all on his table saw, a tiny one designed specifically for model building. It cuts a board 1/16th inch thick, or a sturdy 1/2-inch by 1/2-inch beam.
He's used the saw to make everything from the trestle supports to tiny doors and window frames for buildings.
"I'm a self-taught builder," said Dunk, who follows his imagination rather than premade plans. "If it's not right, I tear it apart and start over."
He started with model kits when he was 12. He put together plastic ships and planes, then moved on to circus models, particularly the trains that roll into town carrying tigers, tightwalkers, tents and everything else needed for performances.
"I remember seeing the Ringling Brothers come into Pasadena on rails," he said. "They'd unload and put up their tents at the Rose Bowl."
When he was in high school, Dunk began building circus wagons from scratch to go with his HO-scale trains.
The HO cars and engines, 1/87 in size, weren't his first models. He was 5 when he received his initial train set, a Marx 027 in a 1/48 scale.
"I loved it," he said.
The oval track was mounted on a 4x8-foot piece of plywood, making it portable. Dunk liked to pile magazines under one end to raise the track, creating a slope.
"The train would speed up as it went down and wreck itself at the end," he said, recalling his childish delight.
He still has the cast iron cars, but he no longer wants to create train crashes.
As an adult, Dunk focused on other things, including cars. He even tracked down the 1936 Ford three-window coupe his grandmother bought new. She drove it for many years before handing it over to his dad, then his brother, who made it into a hot rod with a Chevy engine.
Dunk restored the car to showroom shape, cordova tan with a red stripe, just the way it was when his grandmother first saw it.
His love of trains was renewed in 1990, when he married his wife.
"My best friend gave me a G scale train to get me to try running trains outside," he said. He still has the shell of that Bachmann engine; the wheels and other parts have been scavaged for use in other trains.
His friend's gift served its purpose: He set up a garden railroad at his home in Long Beach, California. He started assembling kit cars, then building shops to go alongside the track: A gas station, a dentist's office, a five-and-dime store, all designed to look right in the period represented by the layout, the late 1800s and early 1900s.
To make sure the scale was accurate, he used a special scale modeling ruler. He lay down a self-healing mat, just like those used by quilters, before making cuts with X-acto knives. He stocked his toolbox with little sockets and screwdrivers.
The buildings did double duty: They added whimsy and context to his layout, and some of them covered up irrigation valves in his yard.
He soon bought his tiny table saw — "the gold standard for model builders" — and took off, building more and more complicated projects — housing for mine workers, a mine shaft with a motorized lift, an outhouse, a water tower (once a tin can) for filling up the steam engines.
He also completed other buildings that might have been seen in a mining town of the 19th century, including a stone and casket business with the latest embalmed customer on display in the window.
His Black Rock mine features a building through which empty train cars can pass and receive a load of coal through a hopper. The passage is real; the action "all in my imagination," he said.
Dunk now is working on a two-story mining company office that will stand about 9 inches, plus the peaked roof, and 11 1/2 inches wide. "My mine is making a lot of money, so I need a place to store it," he said of the tiny operation.
Dunk calls his line the B&R Railroad. The initials stand for his grandsons, Brennan and Ryan, as well as for Black Rock Railroad.
The black rock he has in mind is the coarse sand on Hawaiian beaches; it's also the coal his trains carry away from his fantasy mine.
One car, for instance, appears to be carrying a heap of freshly mined coal. But lift up the top layer, and you'll see the battery and wires that create the chugging and whistling sounds of the train. It pleases Dunk to hide the inner workings.
In addition to the coal car, he's designed and made box cars in which train personnel and lighted lanterns can be seen; water tank cars; and other types of rolling stock.
While he builds the upper parts of the cars, he uses trucks — the bottom of a car and its wheels and axles — repurposed from premade cars. "If I had a way, I'd turn my own wheels," he said.
He'd build everything from scratch, if he could, he said.
"It's satisfying to make my own," he said. "I used to buy plastic cars; they were instant, but they didn't give me the satisfaction of having something I spent time making."
Dunk does purchase the engines that pull his trains. But he made one of his own: a unique combination of engine/passenger carriage called a McKeen Car.
It's a tiny version of real rail cars built by Nebraska's McKeen Motor Car Company between 1905 and 1917. The internal combustion engine/car combinations could serve as small trains in and of themselves.
Like the real cars, Dunk's version features an arrow-shaped nose and rounded rearend that look almost space age — even though they were designed decades before rockets were all the rage.
The real cars were prone to so much vibration, "they vibrated themselves to death," he said. His model doesn't have that problem: Its wooden frame and molded front and back panels are quite sturdy.
"I built it because it's unique," he said. "I saw someone with one, so I tried one myself."
His handmade pieces include a tanker with a barrel that could hold pickles or water; a flat car that holds a steam donkey for logging; a lighted caboose; a long water car made from PVC pipe sheathed in wood; and a ventilated produce car filled with crates of oranges.
Dunk also designed and built a pair of rail cars inspired by his new home in McMinnville.
"This area used to ship live poultry, so I built a live poultry car," he said. The car not only includes cages for the birds, but it also has a hidden speaker that cackles with the sound of turkeys as it rolls down the track.
He ordered a set of decals for the car's side. When he received three sets, rather than one, he built two more poultry cars.
"I tend to make two of everything, anyway," he said.
Making one car might take two to three weeks; he might spend longer on a building. "But I'm retired," said Dunk, who drove a 7-Up soda delivery truck for 44 years. "There's no time limit anymore."
---
Garden railroaders meet
Jim Dunk is a member of the McMinnville Garden Railroad Cabal and the Rose City Garden Railroad club in Portland, which will host about 800 modelers at the national garden railroad convention in August.
Dunk is in charge of the modeling contest that Rose City will hold in conjunction with the convention. Modelers can enter trains in steam, electric and diesel categories; cars alone; garden railroad photography; and railroadiana, such as quilts or crafts with a railroad theme.
His McMinnville layout and the garden railroad belonging to another member of the McMinnville club will be featured on a tour during the national convention.
In the meantime, he meets with the informal McMinnville Garden Railroad club at 9 a.m. on the second Tuesday of each month at the Laughing Bean Bistro, Second and Hill roads in McMinnville.
Members discuss garden railroads of all types, scales and gauges. They discuss ground preparation, models of buildings and other related topics.
Getting together is fun, said Allison Coots, who helped found the McMinnville group with her husband, Sandy. And it sends the message, she said, that "it's okay to play with trains as an adult."
For more information about the McMinnville group, call Sandy Coots, at 530-260-0523, or Allison Coots, at 971-312-7766, or send email to sandty53@gmail.com.