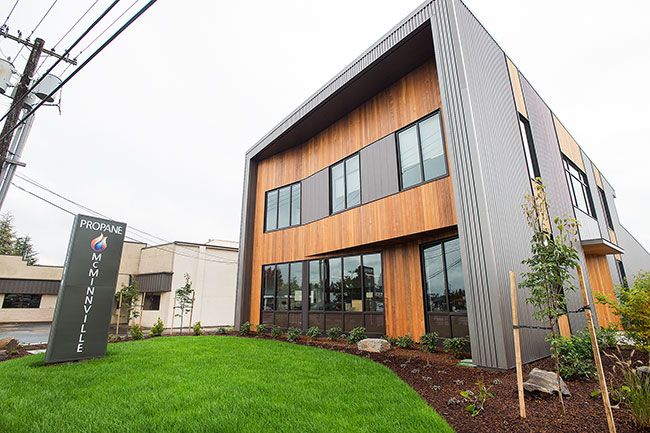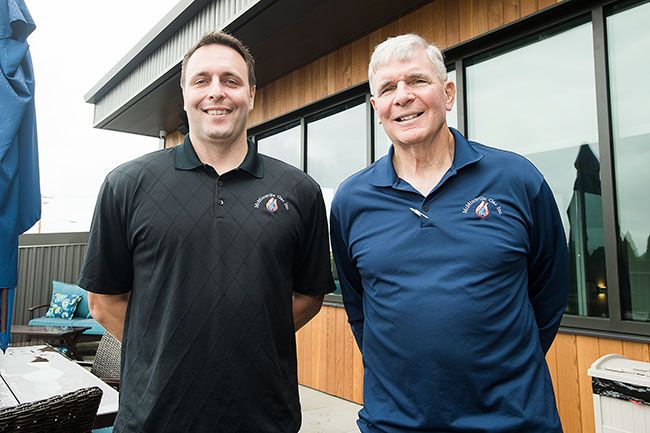 Mac Gas has new quarters
John Buller and his crew at McMinnville Gas finally have room to breathe.
The family-owned business, one of the city's oldest, is now operating in a sleek new home at 1384 N.E. Highway 99W. The 2-story structure replaces a cramped, single-story office Mac Gas operated out of since 1952. And it's not some nondescript shell that will get lost in the concrete anonymity of 99W.
Built by Andrew Scott Construction, Mac Gas's new home was designed by Portland architect Linda Cameron of Moore Architecture Design. While in the center of a highway commercial region, the design incorporates "agricultural materials and forms," providing a "nod to the rural context of the McMinnville area." The interior has a more contemporary feel.
"We wanted to use the space we had and then go up," Buller said, who started working at the shop founded in 1946 by his father, J.J. Buller, when he was 30. Now 73 and still working, Buller said he didn't feel too bad about demolishing the old office his father had built after buying property and operating for a few years in the space now occupied by O'Reilly Auto Parts.
"It was pretty antiquated, let me put it that way," he said this week. "We were due for a change, so there wasn't much remorse. They came in and tore it down as quick as you and I can talk to each other."
They took a wrecking ball to the old facility last fall, although the company — which includes Buller, his son Ryan and nine front-office staff and technicians — continued operating out of a mobile home in the rear of the property. The company's tanks are situated on a site north on Highway 99W between McMinnville and Lafayette.
The ground floor includes the reception area, a showroom and a bigger shop with roll-up doors so the company's trucks can back in with an item for repair, "right up to the workbench," Buller said. Upstairs are offices, a kitchen, a conference room and private patio.
The building was needed, he said, to accomodate the wide range of services they offer.
"A lot of propane companies are just hauling fuel, but we work on appliances, all types of appliances," he said. "We have two servicemen, and they go out in the field and work on appliances."
Considering the day's work orders, he said, "We just got done hooking up a big commerical hop dryer today, and we're hooking up a commercial range out in Gaston for a tavern. Then we might be setting up a tank at a residence. We do a little bit of everything."
Buller said he's not familiar with architectural terms, but that he basically told the builders they needed added room. Architect Cameron and her husband, Jim Moore, who have handled some of Andrew Scott Construction's winery projects, came "highly-recommended."
"We kind of gave her free reign," he said. "Ryan had some ideas, he wanted a patio in back, and we wanted a kitchen and the conference area. But we pretty much let her use her own judgement. We didn't give her many parameters."
Hours of operation at Buller's business are 8 a.m. to 5 p.m. Monday-Friday and 8 a.m. to noon Saturday. For more information, visit mcminnvillegas.com.