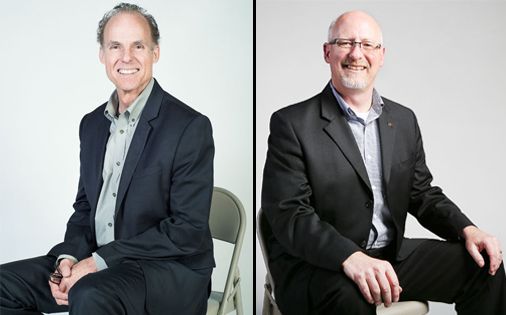 Moore, Noble vie for House District 24 seat
Moore makes second run
He ran against Weidner, now retired, two years ago. This time he is vying with former McMinnville Police Chief Ron Noble.
Moore said he wants to address transportation, education and affordable housing, as those are the issues voters tell him they are most concerned about. He believes these are areas where he believes he can make a difference.
Moore said in education, he wants to make "targeted investments" in two specific areas ,career and technical education and early childhood education.
He said he "knocked on 6,000 doors" in the district during this campaign cycle, and added, "You won't find anyone who doesn't want more career and technical education."
Schools have cut what used to be called vocational education, Moore said, "because schools are not graded on it," and the emphasis on test scores eliminated classes in which scores are not tracked.
Furthermore, Moore said, "We thought we weren't going to need manufacturing jobs for a while," as the state focused more on technology, "so the emphasis went away."
Returning those classes, he said, would greatly increase high school graduation rates. He said test scores and graduation rates also would increase if the state invested more to ensure children come to school ready to learn.
Moore, whose résumé lists work as an electrical engineer for both Intel and Hewlett-Packard, currently works as a handyman. He said he has also farmed and volunteered in numerous venues, listing service as a planning commissioner in Yamhill, local Scoutmaster, Gallery Theater president, Sunday school teacher, ASPIRE counselor and host of the local public access television show, "Local Matters."
He said he is the ideal person to represent the district, because he is a "rural Democrat."
"I own guns and I'm concerned about agriculture," he said. "I've farmed. I've been out in the field at 2 a.m. when the hay wagon is broken down and the bales are falling down and there's no one else around."
Moore said he understands and struggles with the division between the interests of land use watchdog group 1,000 Friends of Oregon and farmers and loggers. He said the latter may agree with restrictions on urban sprawl, but may not on stream buffers and pesticide restrictions.
"I would be looking at what is the interest here in this district," he said.
Moore has pledged to work hard to secure funding for completing the Newberg-Dundee bypass.
"Funding for the bypass is a top priority," he said. "The Band-Aid at both ends is going to fail."
He argues, "It's imperative to pass a robust transportation bill this session," an area where he believes he can make a difference.
On the contentious issue of immigration, he said, "If they're in this state supporting themselves, they're probably paying taxes. If we exported all our illegals ... we'd be in big trouble."
Moore said he hears constantly from people that affordable housing is a top priority for them.
He said he believes the answer is to provide incentives for builders to construct more affordable housing. That would also help to address problems such as homelessness, he said.
Moore said he supports the current land use laws, believing they are working as intended — to protect farmland.
He said cities in the county have sufficient residential land, particularly if they focus on in-fill. However, he said, a new law that provides some protection against issues that have lead to lengthy fights before the state Land Use Board of Appeals in the past should make it easier for cities to expand their urban growth boundaries.
Moore made it clear he dislikes being asked about contentious Measure 97, which would tax the gross sales of large corporations, whether they turn a large profit, small profit or no profit at all. He said, "It's not my job to defend it."
In an editorial board interview with the News-Register, he did proceed to defend it. He expressed support for the measure, projected to funnel another $3 billion a year into state funds, by saying the state desperately needs more income to address problems such as large classroom sizes, rising college tuition and failing roads and bridges.
In a Thursday candidate forum hosted by the McMinnville Kiwanis Club, he said it wasn't up to him; it was up to voters.
His opponent has made an issue out of seeking out and eliminating government waste. Moore said there is merit in that, but it's not the whole answer.
"Audits are a good thing," he said. But he said, "I don't think you're going to audit your way out of a $1.3 billion shortfall."
If elected, Moore said he doesn't plan to throw his weight around. He said he would be guided by more senior members of the party.
"There's no will to go in and say, 'Hey guys, Ken's here. There's a new rep in town.'"
Noble tries hand at politics
But he said he's "always been interested in politics." And that interest was sharpened, he said, during the time he spent as head of the Association Chiefs of Police, working with state legislators on various proposed bills.
"I got a real taste for how divided and partisan" the Legislature can be, he said. So when State Rep. Jim Weidner said he was thinking of retiring, Noble jumped at the chance to get in.
He said he wants to return bipartisan cooperation to the Legislature. And he believes his years of heading the police department will provide good experience for the job.
"I'm tired of the extreme party politics," Noble said. "I don't believe anybody is extreme right or extreme left. I believe people have a range of beliefs, depending on the issue. Some are extreme right, some are in the middle, and maybe sometimes they're on the left."
He said he believes 2011 and 2012, when the state House was evenly divided between Democrats and Republicans, proved "some of the most productive legislative years," because opposing lawmakers "actually had to talk" to pass legislation.
Noble said he also has a solid understanding of social and health care issues, through his wife's work in the health care field, which helped shape his views on social issues.
He called contentious Measure 97 "the worst idea I've ever heard," saying affected businesses would pass on as many of the costs as possible to consumers, who can ill afford more expenses. He said people with comfortable incomes can absorb some additional costs, but many other members of the community can't.
"I think it's going to hurt people with middle and lower incomes," he said.
On the current hot-button issue of immigration, Noble takes a measured view. Citizenship is, and should be, a basic requirement for voting, he said.
As for illegally entering the country, "I was a cop," Noble said. "Let's follow the law."
But he also added, "The law has to be capable of being followed."
He cited the case of an acquaintance and the acquaintance's wife, who both moved to the U.S. as children. The husband's parents took the trouble to naturalize him, but the wife's did not, and that has caused her great hardship.
At this point, he said, "They have $15,000 to $18,000 invested. She was told she has to go to Mexico to apply, and they've been there since January."
They are at risk of being kidnapped by drug cartels, so they have to keep moving from town to town, as they try to work their way through the process.
"They're both college graduates, productive residents, and they want to do the right thing," Noble said. "But $15,000?
"The system is broken. You have to provide a way to follow the law."
As a state legislator, however, Noble said his focus will be on state issues.
"Government is responsible for infrastructure — education funding, transportation, public safety, health care," he said. He said he wants to stabilize funding for education, address the cost of college tuition and reduce wasteful government spending.
"There's a lot of money we just throw away," he said. "I've yet to find a government where you couldn't do better."
Departments in McMinnville don't overspend wastefully because the city does not penalize them for not using up their entire budgets by year's end. Following that example at the state level, he said, could help reduce waste.
Another goal is to "loosen the dictates on small businesses, look at long-term impacts and unintended consequences." As an example, he mentioned the recent increase in minimum wage.
"I'm all for people making more money, but I'm concerned that we just promised what the minimum wage is going to look like six years from now," he said.
On the issue of health care, he said, "The state's role is to make sure Medicare is expanded and funded adequately," something he said can be improved.
"More people have access now," he said, "and that's a great thing. I wouldn't say it's more affordable yet, though. It's still in transition."
There are also problems with needing funding for care not currently covered, he said, and loosening some restrictions on medical care would be beneficial.
Noble said Oregon "should get government out of the retirement business," by leaving retirement provisions "up to individual agencies." He urged, "Cut off the gravy train with new employees and then figure out how to keep our commitments."
Noble acknowledged he himself is a recipient of the state Public Employees' Retirement System, saying he retired at 60 percent of his working salary.