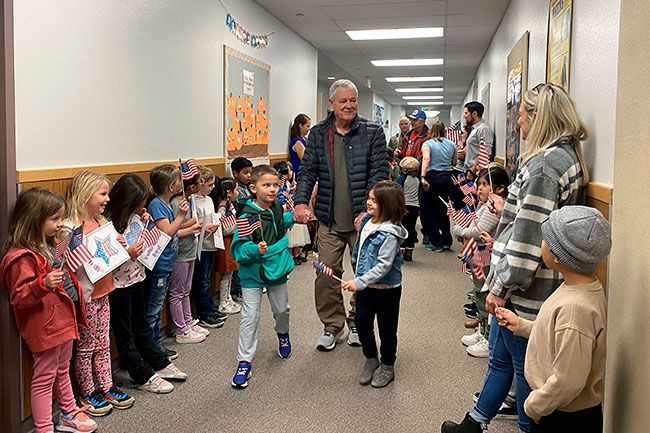 Grandhaven students thank veterans
Autumn Reynolds, 4, knew why she and other Grandhaven Elementary School students were waving flags Monday morning: they wanted to honor the veterans visiting their school.
"Veterans work for us. They keep us safe," said Autumn, a preschooler, who joined hundreds of other children as spectators at a Veterans Day parade.
Parents, grandparents and some neighbors of Grandhaven students came to school for the event. They ate breakfast with children before walking through the long hallway that stretches from one end of the building to the other.
Amelia Francois, a first-grader, dressed in red, white and blue for the event. Her dad, Oregon Air National Guard member Benson Francois, was among the honored veterans in attendance.
"This is a day about people who worked in the military," she said, adding that her father was in the Army before joining the guard. "Veterans fought for our country."
She and her brother, preschooler Ezra, had breakfast with their father before the parade. After the event, they posed for photos captured by their mom, Amanda Francois, Grandhaven PTA president and parade organizer.
Barry Brown, a medivac helicopter pilot from 1969 until 2010, was invited to school by his grandchildren, Case and Addie Widmer, and their mom, Amy Widmer, who teaches at Grandhaven.
"I think it's wonderful how schools are recognizing vets these days," said Brown, who earlier spoke at a Veterans Day assembly at Duniway Middle School.
Army veteran Ed McClure, who attended with his grandson, Zane Sanders, 7, agreed. He's happy to see children learn about veterans and think of the military positively, he said.
"In McMinnville, they seem to always honor vets," he said.