Larsen an unsung hero of community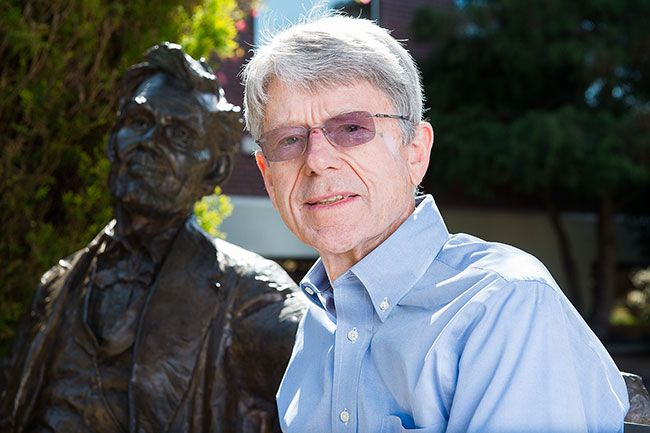 Born and raised in McMinnville, Allan "Al" Larsen left town to attend Oregon State University. After he earned his business degree, he returned.
"I'm glad I stayed in McMinnville," he said more than five decades later.
His hometown has changed and grown. It's about five times the size it was when he graduated from McMinnville High School in 1959.
But it's still a great place to be; a special place, said Larsen, this year's Man of the Year.
He will be honored Monday, May 6, at the annual Distinguished Service Awards banquet.
"Al is what you look for in a Man of the Year: someone who's done a lot of things for a lot of years for the good of McMinnville," said Dave Haugeberg, a former Man of the Year who will speak at the banquet.
"Al has been involved in a lot, but he never seeks credit," Haugeberg added. "He always does what he says he'll do. He's one of those unsung heroes."
Larsen is one of five award winners this year. Woman of the Year Erin Stephenson, Junior Citizen Heather Miller, Outstanding Educator Molly Bousquet and Outstanding Farmers Brad and Crystal Fuerst also will be honored at the event, which will start at 6 p.m. in the McMinnville Grand Ballroom.
Tickets are $45 each, available by calling 971-237-1400.
Larsen is best known as co-owner of Larsen Motors, the family business his father and Gale Vinton started 79 years ago. He ran it with his brother, Scott, until December, when they sold the car dealership and repair shop to the Lum family.
They enjoyed running the business, said Larsen, who started working there as an adolescent.
Back then, Larsen Motors was located downtown in the lot on Second Street, between Davis and Evans. "All the dealers were downtown then," he recalled.
Over the years, he said, he liked getting to know customers and working with the dealership's employees, many of whom had been there for decades, he said.
He likes cars, too, although he's not an auto fanatic. He remains loyal to the brands he sold for all those years, with a Buick sedan, GMC pickup and a Cadillac in his garage.
While they still owned the dealership, Larsen was active in the Oregon Auto Dealers Association. He was president one year of the organization, which helps dealers keep up to date and supports their common goals.
He and his brother are assisting with the final steps of the transition in ownership, he said, but soon will be fully retired. That will give him more time to travel to Hawaii or Europe, read, help plan class reunions, attend Beaver sporting events, and perform community service.
"If you have a chance to contribute to your community, that's what you need to do," Larsen said.
While he's been widely known as a businessman, Larsen has filled a more behind-the-scenes role with many local charitable and civic organizations.
He served on the city planning commission, and on the boards of McMinnville Water & Light and McMinnville Industrial Promotions, with a stint as president of the latter.
MIP started in the 1950s as an effort to attract a diverse array of businesses to McMinnville, creating more jobs and a stable economy. Larsen, who was in high school at the time, said the effort was particularly important because a pair of lumber mills had just shut down and the local Nestle milk canning plant had closed.
MIP has done its job, he said, helping to make McMinnville the vibrant city it is today.
As a young man, Larsen also participated in the McMinnville Jaycees for a short time. His good friend, Haugeberg, was very active in the organization, so Larsen joined as well.
Later, he served on the McMinnville Public Library Foundation. Libraries are very important, he said, "a way for anyone to get educated."
His friend Mary Henderson asked him to join the founding board for a new organization to assist victims of domestic violence, Henderson House. He said yes; "there was obviously a need," he recalled.
As a board member, he helped raise funds to support Henderson House for many years.
As members of the Chamber of Commerce board, he and Haugeberg helped with the Chamber's big event, Turkey Rama. "We sold lots of tickets," he recalled.
Larsen continues to be active on the board of the McMinnville Area Community Foundation. It's a great organization that will help McMinnville for many years to come, he said.
"If you're fortunate, you need to give back," Larsen said. "You can feel good about giving back."
A lot of people he's known for many years feel that way, he said, and "that's a reason McMinnville is what it is."
He wasn't surprised to get a phone call from one of those like-minded people earlier this year.
Doug Hurl, last year's Man of the Year, talked about several other topics before getting around to the real reason for the call: He wanted to tell Larsen that he was this year's winner.
"I wasn't expecting that," Larsen said.