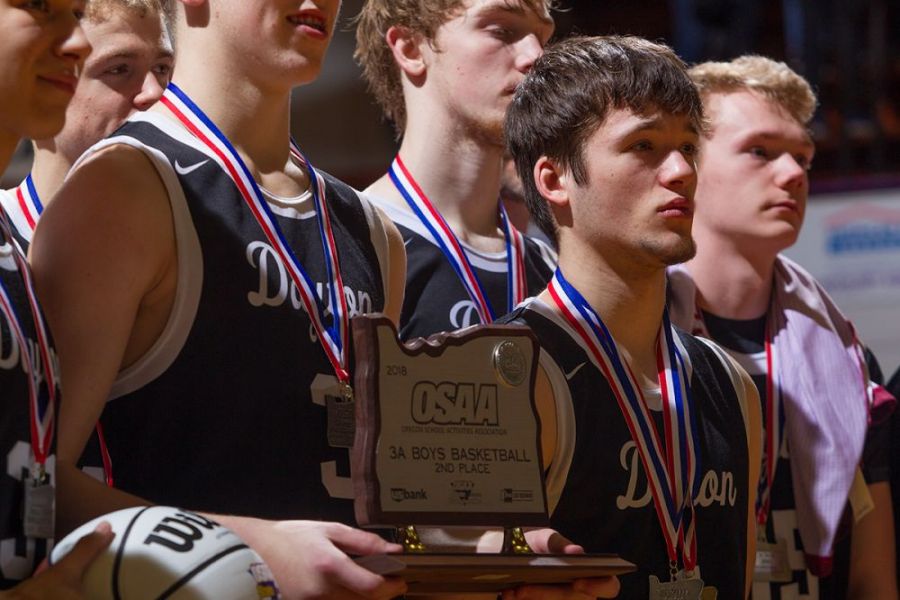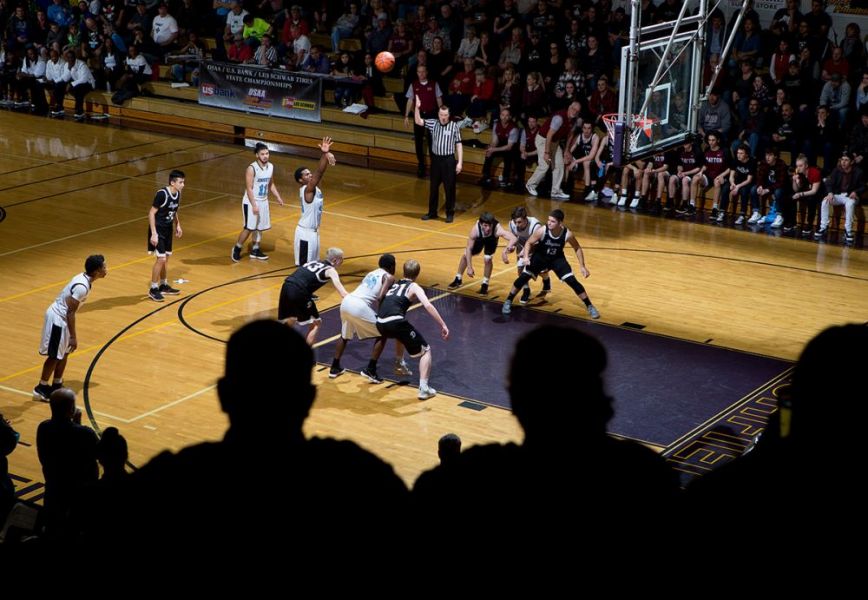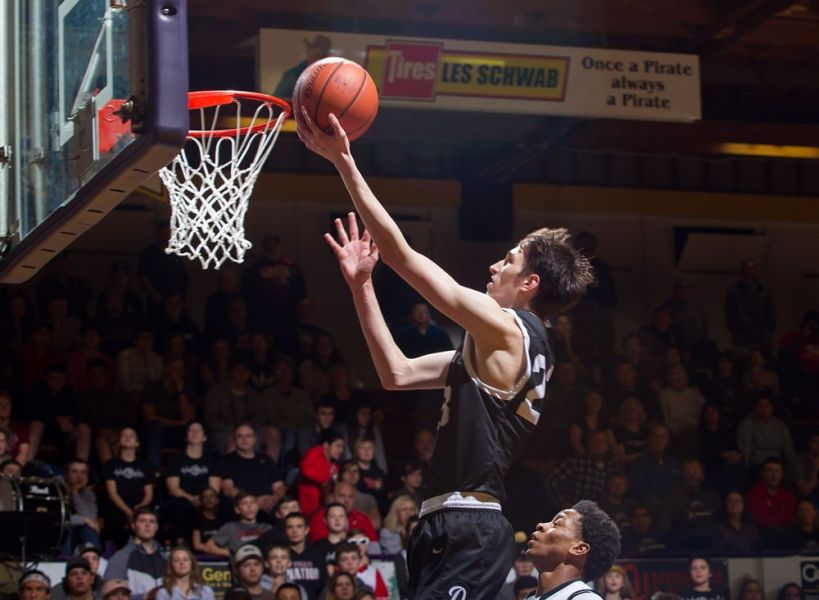 Dayton boys lose title game to De La Salle North Catholic, 68-55
COOS BAY – In a rematch of last year's 3A boys state title game, the Dayton Pirates lost tonight's championship battle 68-55 to De La Salle North Catholic at the Pirate Palace in Coos Bay.
Last season, the Pirates prevailed 64-55, but the Knights gained their revenge with a defensive hustle and overwhelming physicality. De La Salle forced 18 Dayton turnovers, including 13 in the first half, with an energetic full-court press and half-court trap.
With the Knights harassing their ball-handlers, the Pirates turned to six-foot, five-inch post, Jaysen Howard. Howard scored four points and blocked a shot in leading Dayton to a 10-9 first-quarter lead.
In the second, Howard continued to play inspired on the block. He recorded six more points, including a beautiful drop-step and-one finish at the 6:04 mark. His free throw gave Dayton a 15-12 lead, but De La Salle would outscore the Pirates 20-7 over the remaining six minutes.
While Dayton would cut into the Knight's advantage in the third, foul trouble plagued most of their starting players. Lukas Findley, Braeden Nowlin and Howard would all pick up their fourth fouls in the third quarter, forcing Dayton head coach Ron Hop to turn to his bench.
With a tough lay-up, Lewis trimmed the Dayton deficit to 43-35 entering the fourth.
Lewis would hit a free throw to open the fourth quarter, making it a seven-point game. Unfortunately, that was as close as the Pirates would come for the rest of the contest.
Kadeem Nelson swiped a pair of passes soon thereafter, turning both Pirate turnovers into lay-ins, and with six minutes remaining, the Knights were back up 11.
Dayton's situation turned from bad to worse at the six-minute mark. Bailey West was whistled for a hard foul on Malique Sabb. The senior guard immediately barked at an official, was called for a technical foul, and after continuing to complain, was ejected from the contest with his second tech.
De La Salle was awarded six foul shots, hit five, and a previously competitive championship was lost to Dayton. The Pirates closed to within 12 after Findley hit a three at the 4:30 mark, Nelson answered with a trey, and Lewis sunk a three of his own to make it 56-44 with 3:36 left.
After Sabb nailed a three, De La Salle wouldn't allow the Pirates to climb back into contention for the rest of the title match, ultimately winning by 13. Howard, Nowlin and Findley all fouled out of the physical contest in the fourth quarter.
Lewis led Dayton with 18 points and nine rebounds, while Howard, in one of his best games of the year, tallied 14 points and eight rebounds in only 18 minutes.
Despite the loss, Hop remained upbeat about the season, saying, "I'm still proud of my kids; I couldn't be happier with them. While I'm disappointed we lost, I'm not disappointed in our effort. I wouldn't trade these guys for the world."