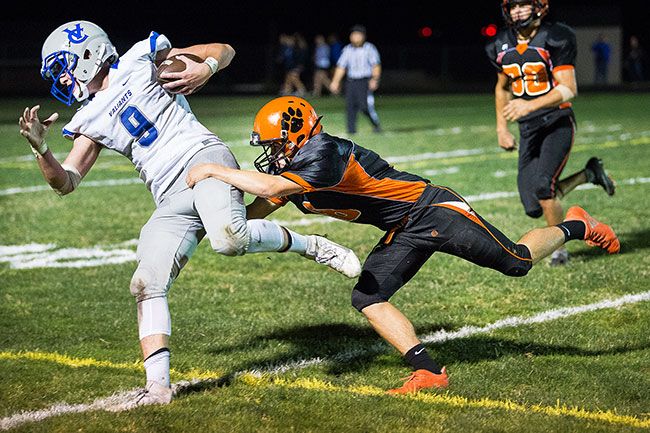 Rodriguez not seriously hurt, resting easy; Tigers drop 27-10 non-league contest to Valley Catholic
YAMHILL – Yamhill-Carlton dropped a 27-10 result to Valley Catholic Friday night in a game overshadowed by an injury that led to a player being taken by helicopter to a Portland hospital.
The Tiger player, Josiah Rodriguez, was not hurt as seriously as expected and was resting easy Saturday, according to his coach, Brennon Mossholder.
Friday's match concluded six minutes early after Rodriguez was hurt on a kickoff return. Emergency personnel treated the young athlete, and eventually, a Life Flight helicopter was called in for transport.
Before the heartbreaking scene, Valley Catholic controlled most of the possession, as a result of sophomore running back Trey Eberhart. His one receiving and two rushing touchdowns help the Valiants take a commanding 27-0 lead after three quarters.
Y-C, aided by the return of Colton Saddoris, who dealt with a hip ailment for most of the contest, began to seize momentum in the fourth.
Saddoris gashed the Valiant defense with runs of 18 and 15 yards, and the Tigers were finally threatening. Following a series of penalties, Saddoris powered his way into the end zone for a six-yard touchdown.
Starting quarterback Camden Myrick completed an eight-yard pass to Jared Barrett for the two-point conversion, and suddenly, it was a three-score game.
The Tigers successfully recovered an onside kick on the ensuing play, but their next drive stalled.
However, Y-C's defense forced a three-and-out, and a high snap bounced into the end zone. Valley Catholic's punter pounced on the live ball but the play resulted in a safety, cutting the deficit to 27-10.
The next kickoff proved tragic. After a prolonged delay as medical personnel treated Rodriguez, coaches and officials declared the game over with six minutes and 49 seconds remaining.
Y-C (0-2, 0-0 OWC) returns to action next Friday at Seaside. Kickoff is 7 p.m.