Pursuit ends with citizen assist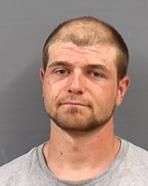 YAMHILL - A convicted felon was taken into custody Wednesday morning after he led Yamhill County Sheriff's deputies on a vehicle pursuit and a ground search.
Capt. Chris Ray identified the suspect as Bradley Ryan Rutherford, 24, a transient. He initially was charged with post-prison supervision and probation violations.
However, additional charges will be added, and they include attempt to elude a police officer in a vehicle and on foot and reckless driving, according to Ray. He said Rutherford is a suspect in other criminal cases that are being tracked.
Ray gave this account of the incident:
About 3:45 a.m., Sgt. Robert Eubanks attempted to stop a 1993 Honda Accord north of Yamhill in the area of Flett and Wapato School roads. The vehicle was recognized as one that deputy Sam Elliott tried unsuccessfully to stop Tuesday.
A pursuit began when Rutherford failed to yield. It started out at relatively slow speeds and eventually picked up speed. Rutherford tried to elude deputies on numerous rural roads. At one time, the pursuit was terminated because of inclement weather conditions.
Rutherford eventually drove into a field and got stuck in the area of Caulkins Lane and Ribbon Ridge Road. He fled on foot, and units from surrounding agencies, some in Washington County, searched for him without success.
About 6 a.m., a local resident arrived at the location where Rutherford's car became stuck, and he had the suspect with him.
The resident said he found Rutherford on his property and confronted him. The suspect said he had crashed his car and would like a ride to Newberg. The resident ended up giving him a ride to where the deputies were.
"It sounds like he was initially just giving the guy a ride but put two and two together after seeing the lights (on patrol cars)," Ray said. "He was nice enough to drive up to deputies on scene and let them know who he had."