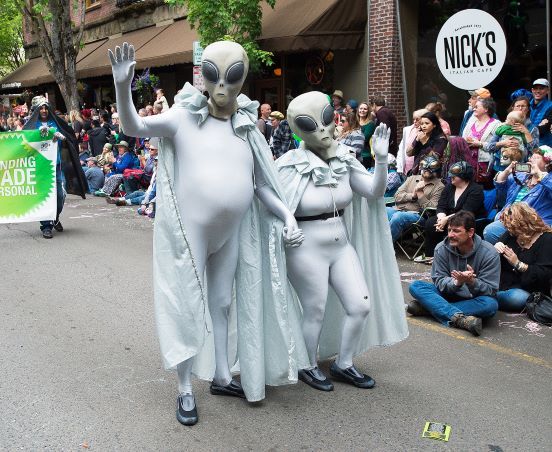 UFO fest out of this world
The landing party Friday night entertained crowds with music, while audiences listened to speakers and experts in the UFO field at the Hotel Oregon.
Cassie Sollars, executive director of the McMinnville Downtown Association, said that this year's festival seemed bigger than ever, with crowds spilling into every nook and cranny Saturday. She said there were three times as many vendor booths than in the past.
The big out-of-town draw translated into a big boon for the local business community.
"Merchants are saying they had record sales," Sollars said. "They are saying sales were better than UFO festivals in the past."
She said surveys were going out with merchants to gauge the festival's impact.
The streets teemed with revelers during Saturday's 2 p.m. grand parade and 4 p.m. pet costume show. Floats, marchers and high school and middle school marching bands enthralled locals and visitors alike in the parade doings.
Volunteers from Zero Waste McMinnville were able to divert 943 pounds of event trash away from the landfill, including 700 pounds of compostable material. Only 249 pounds of trash ended up bound for Riverbend.
The annual event is inspired by the 1950 photograph taken by Paul Trent from his farm southwest of McMinnville.
The photograph, published by The Telephone-Register, the precursor to the News-Register, became famous around the world. It is considered one of the most credible UFO photographs ever taken.