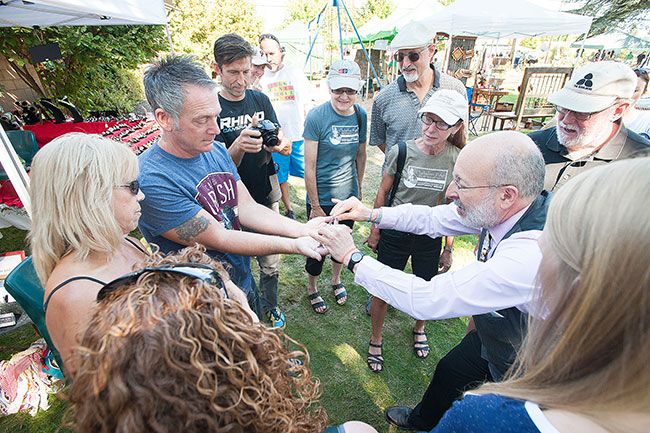 Magic Mark
Delphian School administrator displays masterful sleight of hand
As assistant headmaster at the Delphian School, Mark Siegel helps oversee operations and develop curriculum. He also helps recruit both domestic and foreign students to the private institution, perched atop a commanding bluff just west of Sheridan.
But he's not only known for his educational and managerial expertise. This mild-mannered school administrator is also admired for his enthralling mastery of magic. In fact, he's so skillful, that were a Ph.D. in prestidigitation to be offered, his would be waiting for him at Hogwarts, or wherever else verification of such impressive accomplishments is bestowed.
Call it legerdemain, sleight of hand, misdirection, group hypnotism or simply performance illusion, Siegel has been fascinated by this elusive, almost inexplicable force since early childhood.
Perhaps it was destiny or just chance, but Siegel grew up in Southern California, where the Long Beach Mystics club was founded in 1955.
"It was an energetic and talented group of young magicians," he said, "and I was lucky enough to become a member. We had a real camaraderie."
He noted that some of the country's most famous magicians had come up through the Mystics, which maintained a major presence in the world of magic for more than 30 years. More magicians still start out in Long Beach than any other place.
"The encouragement and support of these people, who were both my friends and fellow magicians, were responsible for it becoming an integral part of my life," he said.
Siegel received further training at Disneyland, where magic classes were held every Sunday.
"That experience hooked me on close-up performance," he said. "I wanted to be right in the middle of a group, not remotely removed on a stage.""
Even though it's not part of his job description, Siegel teaches classes in magic at Delphian. "Among other things, it builds discipline, challenges the mind and dramatically improves dexterity," he said.
"Moreover, by its very nature, performing magic is interactive. It's a feat that's only fun when the magician has an audience. You must get them involved, amuse and amaze, impart the fascination and excitement, offer a new and unique experience."
And he said magic has value in society beyond mere entertainment.
David Copperfield, the most renowned magician in the world today, developed a program called Project Magic in 1981.
Copperfield describes Project Magic as "an innovative program that uses magic as a form of therapy for people with physical, psychological and social disabilities." He said it "provides motivation, enhances self esteem and increases hope."
In 1982, the American Occupational Therapy Association formally endorsed Project Magic. Programs have since been established in nearly every U.S. state and 30 foreign countries.
Most magicians know one another through the IBM — the International Brotherhood of Magicians. Siegel is a member of the Portland chapter, known as Ring 96c.
Members attend workshops and put on magic jam sessions, much like musical jam sessions. Here in the Northwest, one of their favorite gathering spots is Dave's Killer Magic Shop in Vancouver.
"The owner, Dave Lemberg, conducts magic classes for kids and regularly features guest magicians at his shop," Siegel said. "In his other job, he's a chemistry teacher."
Siegel likes and performs all types of magic tricks, including card, coin, balloon, ring, rubber band and silk handkerchief. He's even worked on mentalism, which includes hypnosis, clairvoyance, telepathy, precognition and mind control.
He admits to having mastered only a couple of feats in the mental manipulation area, but he keeps at it.
He said this advice from a mentor had always stuck with him: "Don't practice until you can do it right. Practice until you can't do it wrong."
"I don't try to fool people," Siegel said. "I try to entertain them." After all, he said, "You're only as good as your next performance."
He draws the line at chopping off hands, sawing people in half and shoving swords into boxes. Nor does he take something valuable from someone and make it disappear.
"Those are negatives," he said. "They're not funny, particularly for kids.
"I don't put on a classic stage show at all. The only standard I try to achieve is to make it entertaining and fun."
Will he show you how a particular trick works?
"Only if you're really serious, like my Delphian students, who want to learn about the art," he said. "But just to be shown one trick, I give them the number 793.8, the Dewey Decimal reference for magic."
It seems apparent that quite a number of people are fascinated by magic and want to learn at least something about it. As a result, several national and regional conventions are presented annually.
Where are they held? Where else? Las Vegas, the world capital of magic.
Wherever he goes for his recruiting work, magic isn't far behind. In fact, the Delphian School has encouraged him in the pursuit of his hobby.
He talks seriously to prospective students about the benefits of the school, then has a little fun afterward. And it all works.
He's taken students on recruiting tours to New York and Boston so they can share the experience of visiting interesting and exciting new places. He and some students recently returned from Boston, where they soaked up Colonial history. Not coincidentally, Salem, home of the Oregon's legislative, executive and judicial branches of government is also a regular destination for Siegel when he makes rounds with students.
A special treat for magic students is the opportunity to visit the acclaimed Magic Castle in Hollywood, where only members and invited guests are allowed entry. "It's an exclusive place with its own unique mystique, like a private party, a gathering where only a privileged few can attend and see some of the best magic of all types performed anywhere," he said.
As for his personal style, Siegel said, "I work best in an atmosphere where I can capture the attention of my audience, draw it in. I love events like Carlton Crush, where I'm right there with the crowd. The reality is, I love people and making them feel good."
He particularly enjoys his recurring work as a magician at the Spirit Mountain Casino, where he entertains people waiting in line on really busy weekends or during special events.
"Spirit Mountain is a really great gig," Siegel said. "They pretty much let me do whatever I want and everyone seems to enjoy it,"
Cathy Martin, the casino's marketing and promotions director, said, "Mark is the Spirit Mountain wandering magician. He works the crowds, keeps them entertained.
"He is a lot of fun and does a great job with our guests. We are really happy to have him."
And that's what I found out while OUT and ABOUT — focusing intently on one card in a deck residing in a sealed box until Mark Siegel opens it, pulls the entire deck out and turns over the top card, which is, of course, the one I had mentally selected.
Karl Klooster is retiring from his full-time position with News-Register Publishing. If you wish to communicate with him, please e-mail sbagwell@newsregister.com or call 503-687-1226.