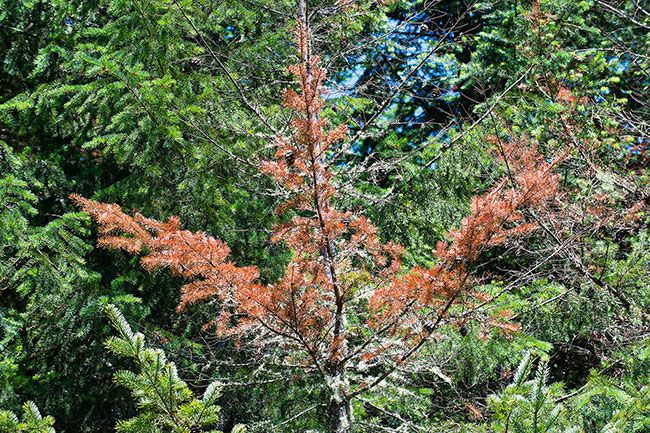 Drought stressing valley's Douglas firs
McMinnville-area woodlot owner Cathy Bisset said she started to notice the weakening of some of her mid-size Douglas firs about a year ago. She said they started dying from the top down and asked the state Department of Forestry to take a look.
"They said they're seeing it everywhere below 1,000 feet in the Willamette Valley, because of the drought we've been having the last couple years," Bisset said.
When trees are planted close together, they must compete for limited water and the dominant ones survive. Soil type also affects tree mortality.
"The roots rot in the winter when they get heavy rains," Bisset said. "Then, when it warms up, the trees have to work extra hard to get what they need to stay alive."
Derek Godwin, West Central regional administrator for the OSU Extension Service, said, "This winter has been tough on Douglas firs. We're going into a drought period, worse this year than in the past.
"Typically, the climate goes through wet and dry cycles. Now we're in a dry cycle."
The change in weather, from warm in early winter, to cold and then warm again, creates stress, trees more susceptible not only to the effects of drought, but also to invasion by beetles and diseases like the Douglas fir canker.
Bisset said there's not much anyone can do to control drought, but it is possible to discourage secondary pests. For a tree with beetles, she suggested cutting it into fire wood and placing a heavy tarp over the pile to trap the beetles.
Dick and Marilyn Enger, who own the Enger Tree Farm, said they have seen die-off and cankers in some of the trees on their 195 acres. They said 18- to 22-year-old trees in former pastureland have been particularly hard hit.
The Engers have talked with foresters Amy Grotta and Brent O'Nion. When Dick Enger cut down a small tree to show Grotta, she said it was a textbook example of a canker that developed because drought had weakened the tree.
Marilyn Enger compared the tree to a human with a fragile immune system. "In Oregon, you don't really think about it, but we've had comparably less water in the last few years and the trees are starting to notice," she said.
Most of the Engers' dead trees are on the edges of the property, where they're more exposed to sunlight. But others can be found throughout the farm.
Dick Enger said when the trees die without having the chance to grow tall enough to sell, it can affect his business.
"I probably won't be able to salvage anything from the dead trees," Enger said. "We hope it's not too severe, but it is cause for alarm."
Grotta said the die-off and cankers at Enger Farm are typical of what she's seeing in Yamhill County, and the Willamette Valley as a whole. And she expects to see more of the same in the future.
She said symptoms date back to last summer, when the valley had a record sequence of 90-degree days.
However, she said the situation looks worse than it is, as the trees showing symptoms are often the most visible and exposed, on the edges of forested areas and roadsides.
"The whole forest isn't dying," she said. "We're not in a serious crisis. But it is something to be aware of."
Grotta said trees under the most stress are growing in places that aren't well suited for them, such as in heavy clay or compacted soils that don't encourage root growth. For growers planting new Douglas firs, she suggested thinking carefully about the soil of the site.