McMinnville man indicted in fatal motorcycle crash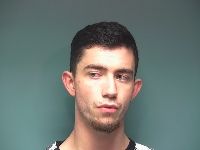 The Oregon State Police is continuing its investigation into the April 14 motorcycle crash that claimed the life of a Sheridan husband and father of four.
Brenden Duck, a 19-year-old from McMinnville, has been indicted by a Polk County Grand Jury on one count each of first-degree criminal mischief, second-degree arson, second-degree manslaughter, criminally negligent homicide, fail to perform the duties of a driver to an injured person, possession of a controlled substance and unauthorized use of a motor vehicle.
The charges are all Class B and C felonies. Second-degree manslaughter is a Measure 11 offense falling under mandatory minimum sentencing guidelines.
Duck is accused of stealing a Toyota Prius in Lincoln County, using it to cause the crash that killed 43-year-old James Osredkar, then setting it afire.
He is lodged in jail on $200,000 bail and next appears in circuit court in Dallas at 11 a.m. Tuesday, May 9 for a trial report conference.
OSP is seeking the driver of a commercial motor vehicle that was being operated in the area of Highway 22 and 99W on April 14 between 12:30 and 2:30 a.m.
Detectives believe the driver may have information related to the crash involving the Prius and the motorcycle. They believe the Prius may have been attempting to pass the commercial truck when the crash occurred.
It's possible the truck driver was unaware of the crash but may have pulled over shortly thereafter for an unknown reason.
OSP is asking commercial truck drivers who may have information about the crash or who may have been driving in the area during the aforementioned time frame to contact its dispatch at 503-375-3555.
According to OSP:
About 6:30 a.m., troopers responded to the crash about 14 miles east of the Highway 22/18 interchange. They discovered Osredkar, who was returning home after finishing a night shift with the U.S. Postal Service in Salem, according to his family.
Shortly after arriving at the scene, troopers received a report of a burning vehicle in Rickreall. Evidence at the crash scene linked the vehicle, the stolen Prius, to the crash, according to OSP.
Four persons of interest were identified: Duck, 23-year-old Makayla Aldeguer of McMinnville, 22-year-old Michala Brown of McMinnville and 19-year-old Jessica Jaeger of Sheridan.
Aldeguer and Brown were taken into custody on probation violations. Aldeguer is scheduled for release on Thursday, May 18, and Brown on Friday, Sept. 28, according to Yamhill County Jail records. Jaeger was located and questioned.
None of the three have been charged in connection with the crash or the car fire.