Colleen M. Hanson 1939 - 2023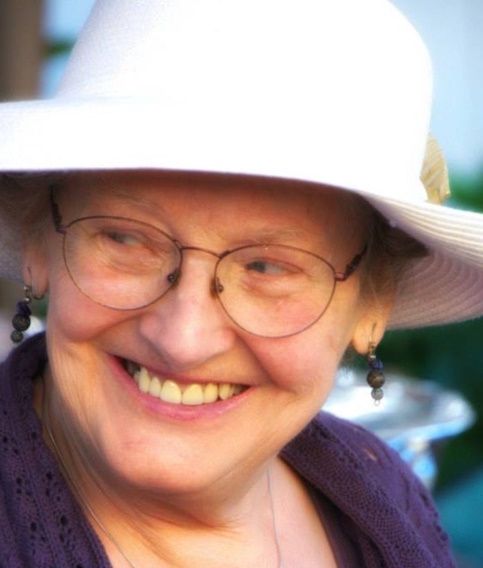 Colleen M. Hanson was born in Twin Falls, Idaho, to Herbert and Genevieve Duensing. She enjoyed her youth growing up on a farm with her younger sis, Joanne. They loved singing together at gatherings and church.
Colleen met Edgar at the Walther League Hospice, and they married on June 21, 1959. They resided in a few different states before they made the move in 1968 to Salem, Oregon, with their three children.
Colleen spent her working years in various jobs, including as a door-to-door Avon Lady, bank teller, loan secretary, at-home mom, and real estate office manager.
In 1998, Ed and Colleen moved to McMinnville, Oregon, where they could enjoy a smaller city and be close to their youngest daughter and her family.
Colleen's talents were abundant! She was a fabulous cook, seamstress, crafter, and gardener. She was especially known for talking to the bees as she tended to her beautiful garden, whipping up an amazing outfit, dress or costume at the last minute, and coloring. She had an impressive array of scarves and hats, and had a laugh that could be recognized across the room.
Colleen was always delighted to join the kids and their silly antics. She loved seeing her table surrounded by friends and family to play games, work on a jigsaw puzzle, eat, drink, and be merry! She and Ed always made their home comfortable, welcoming, and a safe haven to all.
Colleen's love of the Lord never seemed to waver. She had a quiet strength about her that came from her faith. She and Ed served many wonderful years as high school youth group leaders, Sunday school teachers, and held various positions in the church.
She was the best daughter, sister, wife, mom, aunt, grandma, and friend. Words can't fully describe her. One had to experience her with their heart, and many will feel the huge loss of her.
She is survived by her son, Jeffrey; daughter, Erika Anderson; sister, Joanne James; grandchildren, Jordan Petersen, D. Elizabeth Wack, Jacob Petersen, Jonah Smith, and Emily Smith; great-grandchildren, Elijah Petersen and Olive Wack; and foster daughter, Cindy Chiaravalle.
Colleen was preceded in death by her parents; stepfather, Roy Udy; husband, Edgar; and eldest daughter, D. Cassandra Hanson.
Services for Colleen will be held at 10:30 a.m. Saturday, August 12, at St. John Lutheran Church in McMinnville, Oregon, with Pastor Bill Herring officiating. Interment was at Evergreen Memorial Park in McMinnville.
Contributions may be given to Cassy's Hope Scholarship; https://chemeketa.thankyou4caring.org/home and LCMS Seminary Fund. To leave online condolences, please visit www.macyandson.com