Good dog! Marybeth calls it a career at the courthouse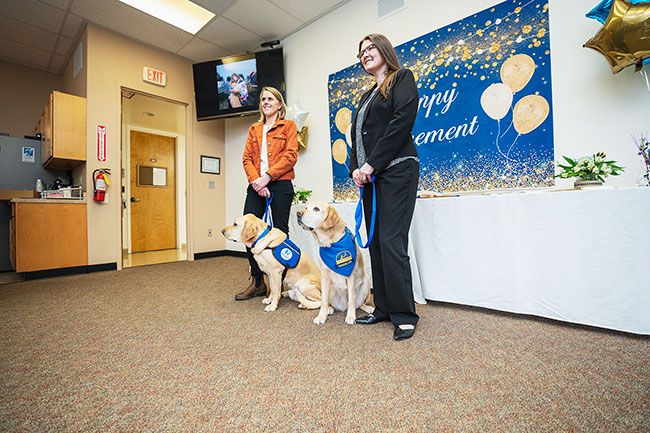 Marybeth was at a loss for words.
Not a bark or even her trademark snore on retirement day, after serving the Yamhill County Courthouse as its facility dog for nine years.
No problem. There were plenty of others who were more than willing to offer kind words of appreciation and gratitude for the service Marybeth has provided, during a Friday afternoon, Feb. 3, ceremony in Judge Cynthia Easterday's courtroom, that was filled with those who wanted to send her happily into retirement. A reception followed.
Even a "colleague" showed up, as also sending Marybeth off into a joyous retirement was Juliette's House comfort dog MacDougal (Mac) and handler Julie Siepmann.
The transition from Marybeth to a successor dog is well underway. Her handler, Crime Victim Services Supervisor Sarah Grabner, and secondary handler, Chief Deputy District Attorney Kate Lynch, recently spent two weeks in Santa Rosa, California, training with Nacho before returning to the county with him
Training was handled by Canine Campanions, the same organization through which the county acquired Marybeth. They are Assistance Dog International accredited.
Nacho is two years old and has completed advanced training.
District Attorney Brad Berry served as Marybeth's secondary handler, and he admitted he "tends to get choked up" during retirement ceremonies.
He confessed that he had to own the fact that he was not too sure a courthouse dog was going to be that valuable a daily asset.
"I was wrong, I was dead wrong," Berry admitted.
He provided a brief history of Marybeth's Yamhill County career, beginning in the summer of 2012 when Berry first met Ellen O'Neill-Stephens and Celeste Walsen of the Courthouse Dogs Foundation, who introduced him to one of their own, Molly B. The county eventually qualified to receive a dog and a fund-raising effort brought Marybeth to McMinnville where she was paired with Grabner to become the first courthouse facility dog in Oregon.
Locally, she became a social media darling, with her own Facebook page.
Berry said he remembers her "first day on the job," Feb. 3, 2014. Her final day was a month ago, Friday, Jan. 6, just a few days before she turned 11 years old.
Marybeth has met more than 2,000 victims and witnesses during her nine years of work, Berry reported.
Presiding Judge Ladd Wiles was a deputy district attorney in Berry's office when Marybeth first went to work, and he admitted to being "totally skeptical" about the idea of having a facility dog on the DA's staff.
"I thought it was going to turn into puppy play time," Wiles said. "Marybeth proved me totally wrong."
He said to see victims calm and comforted when in Marybeth's presence proved him wrong about courthouse dogs.
"I wish Marybeth a happy tail-wagging retirement … happy tails."
McMinnville Police Chief Matt Scales said Grabner and Marybeth have been a "huge asset" to the local law enforcement community, and they have been steadfast supporters of the department he oversees.
Police Capt. Scott Fessler said there is no way to fully appreciate and capture all that teams such as Marybeth and Grabner mean to any county in which they work.
The pain and strife that a law enforcement officer feels at times "weighs on your soul," Sheriff's Office Lt. Don Stackpole said. He characterized the comfort and solace that professionals like Marybeth and Grabner bring to a courthouse as priceless gifts.
Shannon Sivell, Oregon Department of Justice Director of the Crime Victim and Survivor Services Division, wrote a letter to Lynch, telling her the state recognizes that trained assistance animals are an important addition to victim services.
"As you all know well, a courthouse facility dog can make crime victims feel supported and may help a victim of crime to report and testify regarding the details of their victimization. We applaud the work that Marybeth has done over the past nine years, and we look forward to meeting her successor."
She told the story of Crime Victim and Survivor Services Division staff members spending time with Marybeth over the years, and most recently during a two-day summer conference last year.
"She brought smiles to the faces of all the attendees and provided occasional levity by softly snoring at appropriate times. We will miss her and hope she has a long and relaxing retirement."
- - -
Now, go and enjoy retirement, Marybeth!
A courtroom full of well-wishers bid Yamhill County Courthouse facility dog Marybeth a happy retirement.
Ellen O'Neill-Stephens and Celeste Walsen of the Courthouse Dogs Foundation could not celebrate the occasion in person, so they wrote her a letter that handler Sarah Grabner, Yamhill County District Attorney Crime Victim Services Supervisor, shared with attendees at the Friday, Feb. 3 ceremony.
It read:
Dear Marybeth,
The Yamhill County District Attorney's office was lucky to get you, all because dogs like you are so loving and wonderful. People like us … not so much.
So many years ago, Celeste and I drove from Seattle to McMinnville, to convince the Boss (DA Brad Berry) that having a courthouse facility dog would be good for his office. We arrived on time for our appointment and sat down in his office. He came in and said, "Ladies, I don't know about this, and I only have a few minutes to talk to you."
We quickly started to describe the benefits of including a facility dog at his office, but we saw that we were rapidly losing his attention. Then we knew we had to display Molly B., our secret weapon, or we would be out the door. She had been lying on the floor behind us, so I grabbed her leash and led her over to his chair. She put her head on his lap, and as he began to pet her, his whole attitude rapidly changed!
Suddenly, the Boss became Brad and he had lots of time to spend with us. Next, he unexpectedly grabbed Molly B's leash and wanted to show her to the staff. He even brought us up to a courtroom so a judge could meet her. They loved petting her.
Now Brad became enthralled with the idea, introduced us to Sarah and they started the process of obtaining a facility dog. How lucky for Sarah that her office became your office.
Since then, we have only heard wonderful things about you and how your presence made such a difference to everyone that needed support which also included the whole staff.
Dogs like you are the best and we hope you enjoy a leisurely life now. You certainly deserve it.
Those two said what everyone in that courtroom seemed to be thinking on that day.