Alex Jaczko emerges as a key contributor for the 'Cats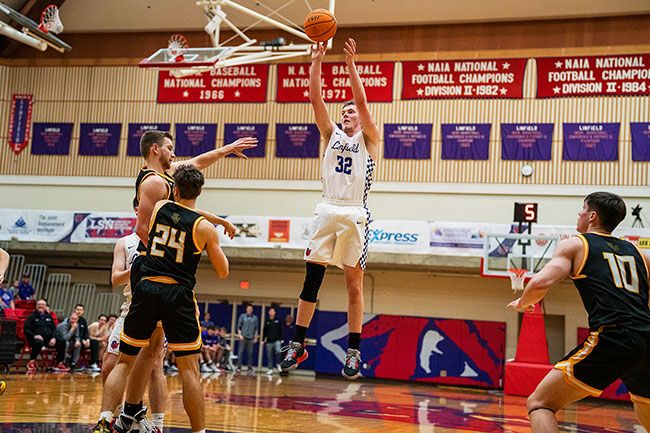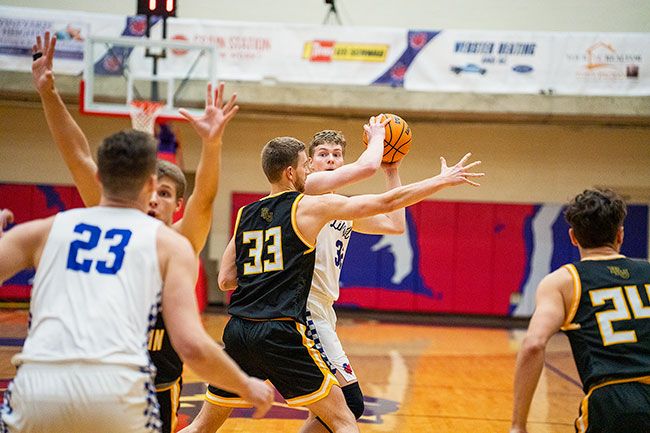 As Alex Jaczko wrapped up his senior year at Newberg high school in 2019, he wasn't sure if he would even be able to play college basketball.
Four years later, he's wrapping up his basketball career at Linfield, going from walk-on to a key part in the Wildcat rotation.
"I took kind of a risk and I worked my way into it and it paid off," Jaczko said.
Jaczko said that he had a few schools that he was looking at to play college hoops, but it was "nothing crazy" and there was a time where he didn't think he would be able to play at the next level.
At first, Jaczko said Linfield wasn't even on the list of schools he was considering, even with a family history in McMinnville.
His mother and uncle both played basketball at Linfield and his aunt, Keri Dixon, works at the University.
He applied to Linfield after being recommended to by Keri, but said it was "just in case."
Jaczko said Linfield quickly emerged as his top choice among the other schools.
His basketball future was still very much in question, however.
Jaczko set up a meeting with Linfield coach Shanan Rosenberg, even though Rosenberg was not actively recruiting him.
"I don't even know if he knew who I was," Jaczko said with a laugh.
Jaczko was forward with Rosenberg, saying he had played locally, was coming to Linfield, and wanted to know if there was any way he could play.
Rosenberg said that he could come to some open gyms, but that nothing was guaranteed.
Jaczko performed well, garnering the attention of Rosenberg and other players.
When picking his younger brother up from school one afternoon, Jaczko got the call from Rosenberg that he had earned a chance to play.
In a word, Jaczko felt "elated."
"I was just so excited cause I didn't know if I was going to play in college and I made it happen," Jaczko said. "It was a dream come true, really."
Jaczko said his family was excited to learn the news, noting that it's "cool to go somewhere where there is a family legacy."
Not only did Jaczko have family members play at Linfield in the past, but his cousin, Aylea Dixon, just finished her senior season on the volleyball team. Another cousin of his, Sam Dixon, spent time on the football team.
"That was really cool to have family there," Jaczko said. "Not only just in sports, but I took a lot of my classes with Aylea. Just having family on campus is so important."
Over the last four years, Jaczko said that Rosenberg has utilized his "unique, unorthodox" skillset and he has seen astounding growth from his freshman year.
His role has grown in every season. In his freshman year, he averaged just under four minutes per game, but now averages 17.5, including nine starts this season.
His points, rebounds, and assists have also steadily increased throughout his time at Linfield. This season, he's averaging 7.6 points, 2.9 rebounds and 1.2 assists.
He played a key role in the 2021-22 NWC championship team, which went 13-3 in conference play en route to a split regular-season title with Pacific Lutheran and Whitworth.
"It was extremely gratifying," Jaczko said. "And the reason it was extremely gratifying Ii because I was able to do it with my teammates who were all working extremely hard and who all held that goal in mind.
"When you do something collectively with a bunch of guys that really mean a lot to you, there's no better feeling than that."
After his time at Linfield, Jaczko plans on becoming a history/social studies teacher and a basketball coach. It is a way for him to have a positive impact on his community while also staying involved in the sport he loves.
For now, he is enjoying the ride of his senior season, grateful and appreciative of the opportunity he received four years ago.
"I'm so grateful that I was able to have the opportunity to play for this long and meet a lot of really amazing people," Jaczko said.
"As my senior season winds down, I just want to savor every last moment and play as hard as I can for the remaining bit.
"Give all I have left to the sport because it's given a lot to me."