Christmas in uniform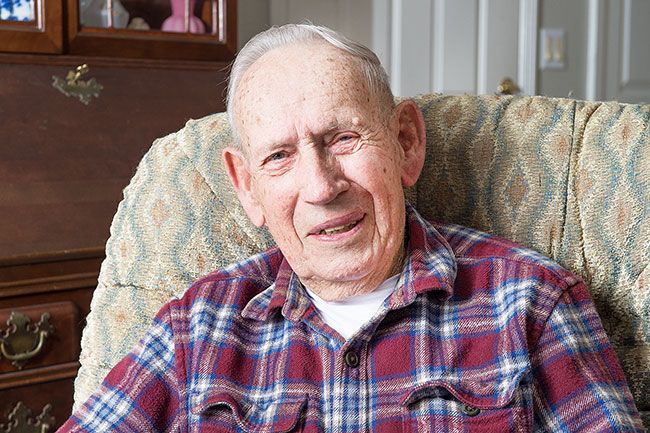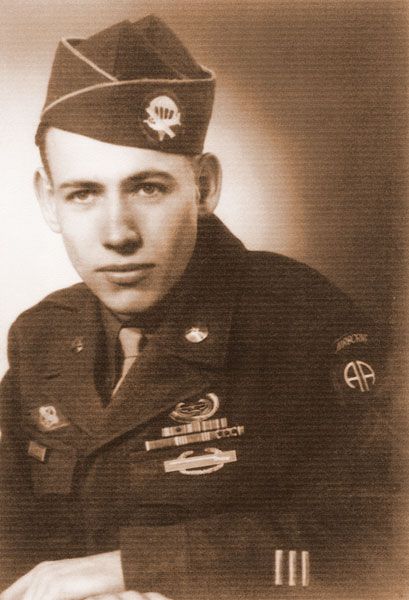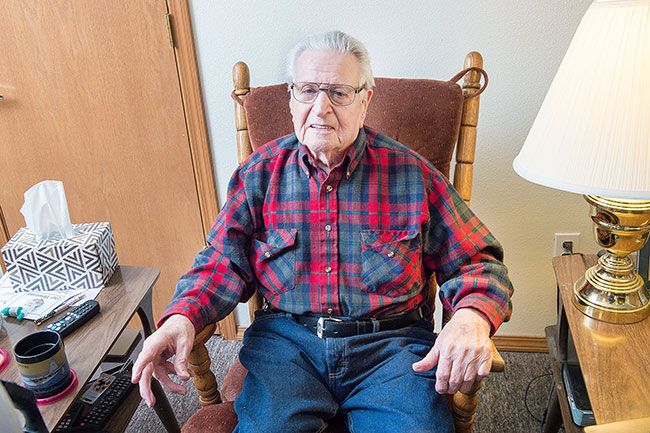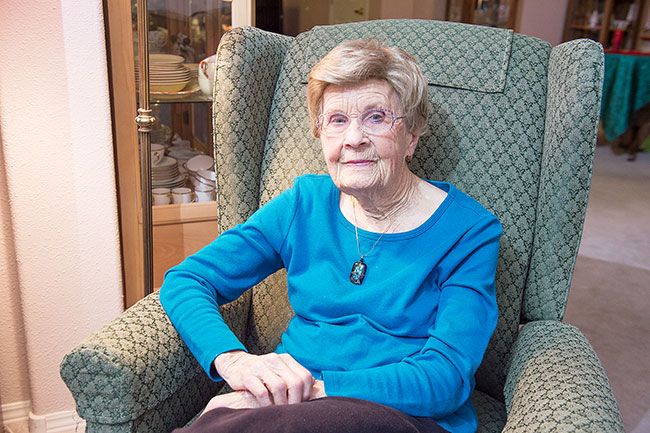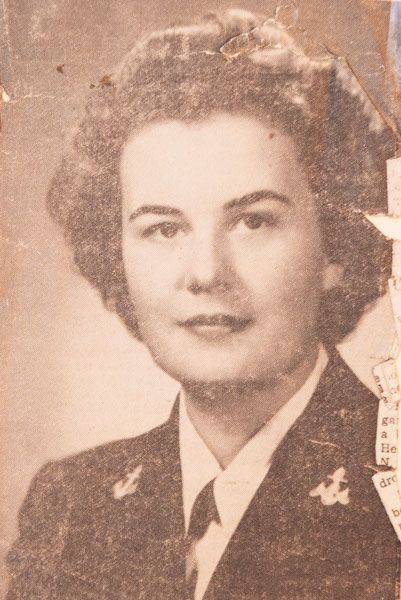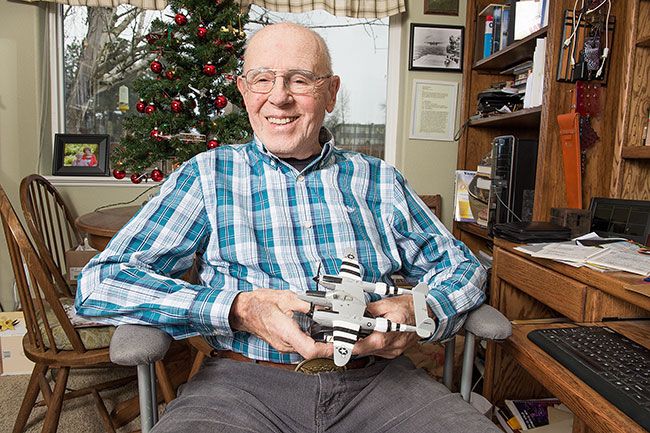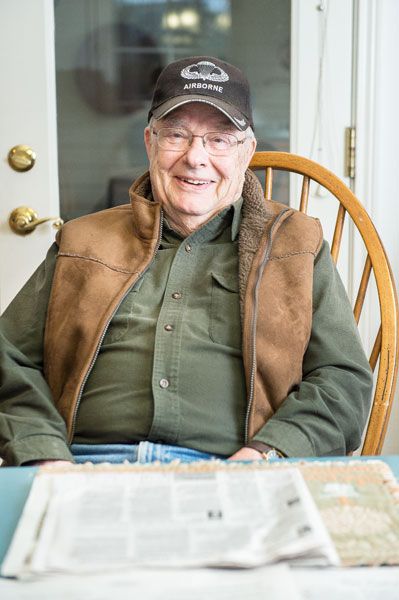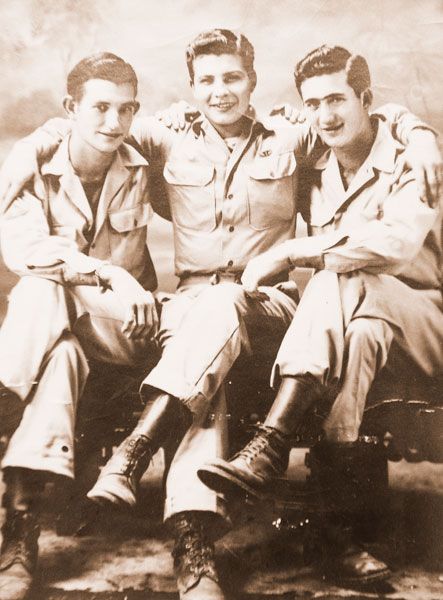 Bill Lawrence called his local recruiting office in Indianapolis, Indiana, on Dec. 8, 1941, the day after Pearl Harbor was attacked. He wanted to enlist in the military in order to fight for his country.
"How old are you?" the man said.
Lawrence replied honestly, "I'll be 16 in two weeks."
The recruiter said he appreciated Bill's enthusiasm, but told him, "Call me back in a year."
The teen spent that Christmas and the next two at home with his family. But by December of 1943, when he celebrated his 18th birthday, he had already enlisted and was waiting to be called up.
Lawrence, who now lives in McMinnville, reported for duty with the Army Air Corps in 1944. He expected to become a pilot and fight overseas.
But by the time he was trained, the war was winding down. He ended up serving stateside, driving a fuel truck on a base in Oklahoma.
"God was good. I qualified, but he didn't send me to war."
Lawrence is one of many local veterans who remember spending holidays overseas or on military bases in the U.S.
For some, the memories are good ones, filled with humor.
One man, for instance, recalled having a rare treat, fresh milk, during the first Christmas he was stationed in the Philippines. And not only fresh milk, but eggnog from a Darigold plant close to his home in Everett, Washington.
Excited, he grabbed four quarts and downed them quickly.
"I was sick as a dog" after that, he said, but now he has a great story to tell.
Others, such as Battle of the Bulge veterans Vic Banke and Ben Asquith, remember the Christmas of 1944 as extremely cold, snowy and tense — they were fighting in one of the worst battles of World War II, after all.
Banke, 19 at the time, was a member of the 82nd Airborne rifle company, which barely escaped being cut off and surrounded by enemy troops during the Battle of the Bulge. Fortunately, he said, "it turned out all right" that Christmas.
"The Germans broke through the Ardennes. The 82nd was sent in to sew 'em up," he recalled. "But we were pushed back."
On Christmas Eve, the McMinnville soldier and his comrades-in-arms were "dug in on the side of a hill, watching German tanks arrive," he said. "I thought, 'This is not good.'"
Just before dark, his company moved out. He recalled, "The officers said, 'Go as fast as you can.' We were pumping through 6 or 7 inches of snow on the ground. Someone yelled, 'Happy Christmas Eve.'"
It even looked like Christmas, Banke recalled. "Snow was falling and the fir trees were sparkling with ice," he said.
Many of the trees were even decorated with tinsel, he said. But the "tinsel" was actually tinfoil strips dropping by U.S. bombers in an attempt to confuse radar.
"We humped along all night, crossed the river, and on Christmas morning dug in and blew up a bridge" before German tanks could cross, he recalled.
Then he and his company received a Christmas present.
"The weather cleared, and P-48 Thunderbolts came in like a swarm of bees," Banke said, recalling the welcome sound of Allied planes.
"After that, things turned our way," he continued. "By the end of January, we'd regained all the area we'd had in the Bulge."
Asquith, who lives in Dayton, served with the Navy. Seventy-five years ago, during the Battle of the Bulge, he was on a landing craft that patroled the Rhine River, which runs north to south from Amsterdam through western Germany.
"I was on night watch," he recalled. "It was COLD up there."
As they approached the river, a fellow seaman asked if he was cold and tired, and he said yes. A little later, after the boat started moving again, the man repeated the question. "I'm still cold, I'm still tired," Asquith said.
His buddy kept asking and he kept answering the same way throughout Christmas Eve.
He had less time to think about the cold when they started to ferry equipment across the Rhine. They took tanks and six-wheel vehicles from west to east, into Germany, to continue the fight.
They didn't know it then, but the European part of the war would be over within five months.
Ralph Juda trained as a paratrooper with the 11th Airborne. In 1945, the 18-year-old was in Manila, the Philippines, waiting to be sent to the invasion of Japan. Seeing the destruction that had been rained upon the Filipinos taught him a lot about the horrors of war, he said.
When the U.S. dropped nuclear bombs on Japan, leading to that country's surrender, Juda was sent to Japan to cover war crime trials as a correspondent.
That Christmas season, Juda was learning an indelible lesson about the difference between democracy and dictatorship.
The Japanese military, which "ran things," was willing to sacrifice its citizens in order to win at all costs, he said. The Japanese people, in contrast, were "wonderful to get to know."
While the McMinnville man supports freedom of speech for those who criticize the decision to drop the bombs, Juda said he also believes many don't fully understand. If the Japanese military had been allowed to continue, or the Germans had developed the bomb first, we would be living in a very different world today — one we wouldn't like very much, he said.
"I didn't fire a shot," he said, "but I did learn a lot. Those lessons never left me."
Peggy Lutz served in the Navy WAVES during World War II. She spent time on air bases in Klamath Falls and Astoria as an air traffic controller.
But during the Christmas season of 1944, she was still in training. She completed basic training in New York and advanced in Atlanta, Georgia.
The latter was tough, the McMinnville resident joked: "Five women and 25 hunky guys," she recalled with glee.
Actually, it was hard, she said, because they were learning so much in tower school. She was so busy with her schooling, and so unsure of her next posting, she warned her mother, who was in Portland, not to send any Christmas presents that year.
Lutz graduated from tower school and was sent to her first billet, Klamath Falls, on Dec. 25, 1944. In mid-January, she received an air mail letter that bore postmarks from New York, Alabama, Nevada, Georgia and New York again -- it had landed all those places before reaching Southern Oregon.
The letter, mailed in December by her mother, said a Christmas box was on the way.
The gift, which also had bounced around the country, finally arrived on Jan. 25. "It was so beat up I could hardly recognize it," Lutz recalled.
The Christmas season was no less humorous, nor serious, for veterans of later wars and the period in between.
Bill Bottchem recalled the Christmas of 1957, when he had just boarded a military ship in Seattle.
The young sailor felt lonely and homesick as he stood anchor watch on Christmas Eve. But he was proud to be doing his part, as well.
"At least no one got away with the anchor!" he joked proudly.
Col. Larry Brown, who flew helicopters in combat in Vietnam, spent his first military Christmas at a base in Alabama. The next year, he was in the war zone.
His parents shipped him a tall box that turned out to contain a small, live Christmas tree. They also sent a package containing a round tin -- he and all his fellow soldiers knew it would contain cookies, of course.
Brown opened the tin and discovered they'd been wrong. Instead of sweets, it was full of .357 rounds.
Terry Sears, who also served during the Vietnam War era, spent his first military Christmas in Berlin. He was stationed at Teufelsberg, or "Devil's Mountain," a listening post on a site built from WWII rubble.
He sought out information from East Berlin and Soviet forces. Sometimes they noted East Germans trying to escape through a tunnel beneath their post.
"If you were single, Christmas was a work day," Sears said. "But you had New Year's off."
He recalled the teletype playing "Jingle Bells" on Christmas. It printed out the shape of Santa, as well.
One of his fellow officers installed a red light and buzzer on the console as a joke. It came with a sign, "Do Not Push. Comm Center will self-destruct."
On Christmas Eve, Sears and a buddy left the console in the hands of a young clerk while they went up to partake of sausage, tea and candies from a British food truck.
While they were away, "of course the clerk pushed that button," Sears said. The young man was in a panic when they returned — a funny story now, though not so humorous to the clerk back then.
In December 1979, Doug Ballard was a combat officer on the USS Shreveport LPD-12, a type of ship called an amphibious transport dock. They docked at Barcelona for Christmas.
"The weather had been bad, so we were late. We arrived in Barcelona at 6 a.m. on Dec. 25," he recalled.
He and other men went to the shore to patrol headquarters, a former police station, for their briefing. There they were warned of a Communist cell in the area. "Don't go out in uniform if you're an officer," they were told.
Ballard and some of the other sailors were walking down one of the city's main streets when they ran into a Communist rally. Spotting them as Americans, the protestors yelled at the sailors, who quickly turned to head back to their ship.
A broken bottle thrown by the demonstrators hit one of the sailors on the leg, cutting through his pants. The American just smiled at the Spaniard, picked up the glass and dropped it into the trash.
"Immediately we were surrounded," Ballard said. But it wasn't ominous; rather, the friendly Spaniards escorted them back to the ship. "Good people," he said.
He came to love Barcelona, he said, and returned to visit when he could.
Another Vietnam veteran, Jack Fidler, recalled driving a truck with the 54th Signal Battalion back in 1965.
On Dec. 25, he had a special mission: To pick up boxes filled with tins of cookies sent by middle and high school students, and see that the treats were distributed to about 10,000 G.I.s stationed on his base.
A few tins were left over. So Fidler and his buddies took them to the children at a nearby orphanage.
"We were excited" to help the children, he said, recalling how the children would fold their arms and bow before accepting the gifts.
Only later did they fully realize their benevolet mission. "We were in civilian clothes, with no arms, and we were outside the contained area," he said. "If the MPs had caught us, we'd be in jail. If the VCs had caught us, we'd be in THEIR jail!"
Still, they were glad to have brought some holiday cheer to the children.