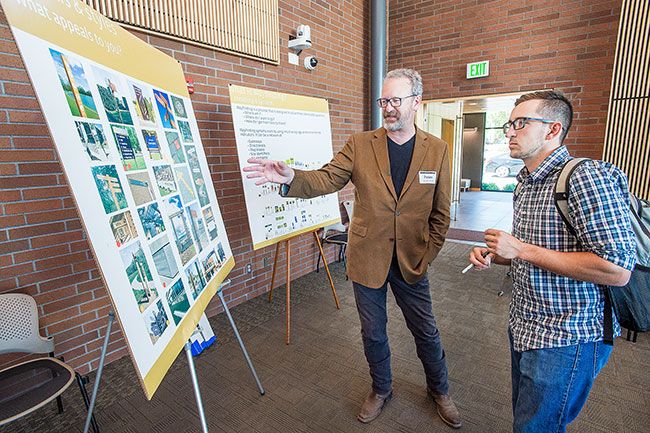 Locals provide input for wayfinding team
Navigating an unfamiliar city in hopes of locating key attractions may require more than typing an address into Google maps. According to the researchers at Sea Reach, a company specializing in the design and placement of directional signs, it's really something of a science.
The company, which has completed projects around the world, signed a contract with Visit McMinnville last month to develop a set of new directional markers for the city, redefining how residents and visitors alike find their way around or search interesting locations.
The company hosted a session Thursday at Kent Taylor Hall to gather information from McMinnville residents, including how they identify the most prominent areas of the city, what adjectives they use to describe the city, and what routes they use themselves.
"Where are you, where do you want to go and how do you get there?" asked Peter Reedijk, the company's design director, at the first station in a series of five.
Next to Reedijk, there was a display of directional signs and kiosks with numerous designs. Participants were given a sticker and asked to place it on top of the pictures that most appealed to them.
"We want you to think about how your city is now, how will it grow and what you want that to look like," he explained.
A typical sign would include three to four locations. Reedijk said Sea Reach not only needed to make decisions on the content, but also the font size of the type, the order of locations, the siting and positioning of the sign and other factors affecting its usefulness.
At an adjacent station, participants were asked the most common names they used to identify districts within the city. Downtown McMinnville, the Linfield College area, the Granary District and the Highway 99 commercial strip all had alternative names citizens could choose.
"I know what these districts are, but as an outsider, what would you call these places?" said Rebecca Quandt of the McMinnville Downtown Association, which assisted with the activity. "They'll take the data, compile it and see how to better move people through McMinnville."
At the third station, a Sea Reach designer asked participants to provide adjectives describing the town as they see it and as they would prefer visitors to see it.
Is McMinnville historic, quaint or innovative? Or is it more lively, neighborly or artsy?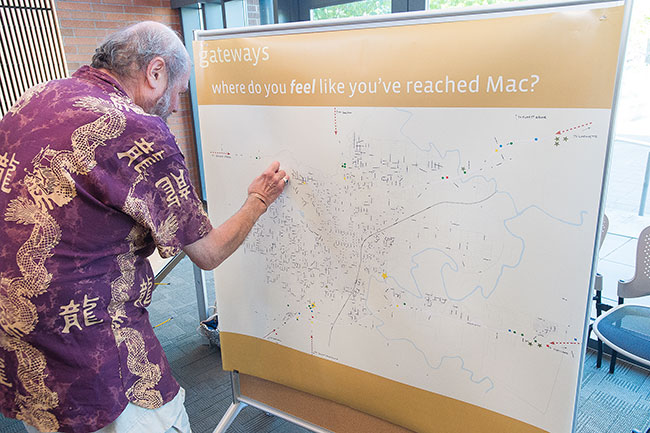 Pink and yellow dots stuck next to a list of descriptors tallied the responses.
"We want to get the public opinion of what people think of the town and what they want it to be," said Melissa Boettcher, Sea Reach industrial designer. "It really drives our whole design."
Residents were also asked what they felt was the core area downtown, circling that on a map.
"It's a lot about perception," said researcher Cory Schott. "Where people perceive downtown might not line up with legal boundaries."
He cited the importance of understanding how a community conceptualizes the downtown area before making signage.
Next to that stood another map, where residents could identify the point at which they felt they were in city limits. "When you come home, where does home begin for you," asked Jody Christensen, executive director of the McMinnville Economic Development Partnership, another study partner.
"The goal is to take the heart of the city and turn it out so that you can get a feel for the whole city, even if you don't drive through downtown," said Linda Repplinger, a senior designer at Sea Reach. "How people already feel about their town is really important."
The idea to hire Sea Reach began when McMinnville resident Rodrigo Lagunas noticed how easy it as to walk around downtown San Diego. "I saw kiosks and benches all over, and wanted a way for people to find different locations around town," he said.
He contacted the city and downtown association to formulate a plan for improved local navigation.
"A good way to help is to do this type of wayfinding and let people know where things are," he said. "There's a lot of work that went into this."