No complications living with NF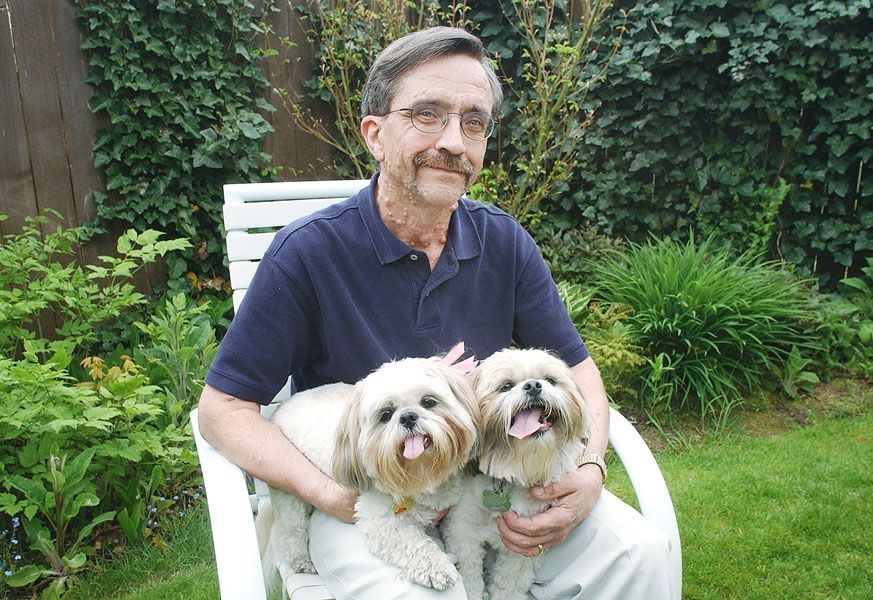 My name is Barry Lilly. I have lived in McMinnville since 1973. I taught school in Dayton and McMinnville for a total of 35 years. And, I have neurofibromatosis. Don't worry about remembering the word or trying to pronounce it — it is fine to just say the shortend version, NF.
Symptons of NF can include: neurofibromas, which are tumors around or on the peripheral nerves, plexiform tumors, which affect nerve bundles, lisch nodules, which affect the iris of the eye, liver enlargement, short stature, larger than average head size, deformities of bones and scoliosis.
I never heard of the word neurofibromatosis until I was an adult. When I was 10 years old, a doctor said he thought I had Von Recklinghausen's disease (an old term for NF). After that, it was never mentioned in my family. When I was young, I had a few tumors. I did have several café-au-lait spots — light brown patches we assumed were birthmarks. I still have the café-au-laits, but now I also have several hundred tumors. As I grew older, so did the number of tumors, and new ones continue to appear and develop. They are all sizes, from very small to a few quite large.
NF has been classified into three types: NF1 (the type I have), NF 2 and Schwannomatosis. NF1 is the most common neurological disorder caused by a single gene, occurring in one in every 3,000 births. All forms of NF are autosomal dominant and can be inherited from a parent who has NF, or be the result of a spontaneous mutation at conception — that would be me.
Living with NF is not all that difficult, at least for me. Occasionally, I get stares and sometimes a negative comment. Usually, I brush it off, but sometimes it hurts. If someone asks politely about it, I will tell them all I can. People I know tell me they don't even really notice it.
NF is more prevalent than cystic fibrosis, Duchenne muscular dystrophy and Huntington's disease combined. Each child of an NF parent has a 50-50 chance of inheriting the gene and developing NF. If a person inherits NF then s/he can pass it on. If a person does not inherit NF from an NF parent, s/he will not pass it on; it does not lie dormant or does it skip generations.
Last October, I had 17 tumors removed from my face and neck. I can't explain why I waited 64 years to do this. I wasn't afraid of the actual surgery. Part of me felt if I had the surgery, I would be magically transformed. In reality, I knew that would not be the case and I was afraid to set myself up for disappointment. But I did have the surgery and it was successful with no complications. That no one seemed to notice affirms that people are simply used to my appearance.
Most cases of NF are mild to moderate, but can lead to blindness, skeletal abnormalities, dermal, spine and brain tumors, loss of limbs and malignancies. Unfortunately, some people suffer from total disfigurement. Learning disabilities are five times more common in the NF community than in the general population. NF is not the Elephant Man Disease, although it was once thought to be. NF is non-discriminatory: it can happen anywhere, to any person in any family.
I am now scheduled for a second surgery -- this time to remove 20 or so tumors from my abdomen. Hopefully, there will be more surgeries. Never will I reach the point where all tumors are removed, and I accept that.
The Children's Tumor Foundation has declared May Neurofibromatosis Awareness Month. There is a lot of information available on the foundation website, www.ctf.org. By the way, the Children's Foundation is a relatively new moniker. We were once called the National Neurofibromatosis Foundation. The name change was a smart move: putting the word "children" in the equation has led to an increase in public awareness and an increase in donations to fund research. We are, at the very least, crafty people.
In writing this, I certainly am not looking for sympathy or even empathy. I have grown far beyond that. What I want is for others not to be too quick to judge fellow human beings for any reason. Each person is unique; the pages within a book are the true story; the outside cover is merely just that. Knowledge is a valuable tool.