Ronald "Dennis" Sonderman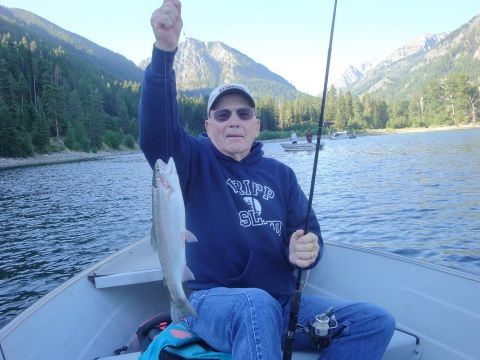 1939 - 2015
Ronald "Dennis" Sonderman passed away June 5, 2015, at the MD Anderson Cancer Center in Houston, Texas. He was 75. He was born September 9, 1939, to Alvin and Florence (Pearson) Sonderman of Indus, Minnesota.

In 1944, Alvin Sonderman moved his family to Toledo, Oregon, to work at the CD Johnson Lumber Mill. The Sondermans lived there a year before moving to Salem, Oregon, where they stayed until 1953, when the family moved to Port Orford. Dennis graduated from Pacific High School in 1958. After high school, he drove a school bus, logged, worked for Turner Auto Parts and at Standard Service Station in Gold Beach. He enjoyed cars, drag racing and flying, obtaining his pilot's license at age 27. He was hired as a Curry County sheriff's deputy in January 1967.

In April 1967, Dennis became an instant family man and stepfather to Brett and Shane when he married Donna Jean Strawn Byerly. In January of 1968, the family moved to Salem, where Dennis was hired by the Salem Police Department. The Sonderman family grew by two in July 1968, when twins Darren and Shelley were born. After spending five years in Salem, Dennis and Donna moved the family to Grand Island, near Dayton, Oregon, into an old farmhouse, (definitely a "fixer-upper") on eight acres.

Dennis moved up through the ranks over his 25 years with the Salem Police Department, retiring as a lieutenant in 1993. Retirement coincided with completion of remodeling work on the farmhouse, which led Dennis to his next occupation. He obtained his general contractor's license and proceeded to build, remodel and resell homes.

During this time period, he and Donna moved from Grand Island to Gold Beach, where they lived in several project homes, ranging from a house on the Rogue River to a hangar apartment at the airport. They finally ended up in Hines, Oregon, where Dennis retired a second time, dividing his time between restoring classic cars, traveling with Donna and spending time with his grandchildren. Dennis rarely met anyone who was not a friend to him and he always had time to help anyone with a project, no matter how large or small. He is and will continue to be deeply missed by his family and friends.

Dennis is survived by Donna, his wife of 48 years; son, Darren and his wife Caryn and their three children, Devan, Sydney and Wyatt of Atlanta, Georgia; stepsons, Brett Byerly and his wife Jennifer and their two children, Erin and Kelly of Gresham, Oregon, and Shane Byerly, his wife Laurie and their two children, Shelby and Travis of Dayton. Dennis is also survived by his brother, Ray and his wife Shirley of Gig Harbor, Washington; along with several nieces and nephews.

He was preceded in death by his daughter, Shelley Rae Sonderman; parents, Alvin and Florence Sonderman; brothers, Vernon Sonderman and Allen Sonderman; and a sister, Shirley Burson.

A Celebration of Life for Ronald "Dennis" Sonderman will be held at 2:00 p.m. Saturday, July 11, at the Palmer Creek Lodge (Dayton Community Center), 606 Fourth Street, Dayton, OR. Donations in his memory may be made to the "See Ya Later" Foundation of McMinnville, OR. To leave online condolences, visit www.macyandson.com.

May God keep you, "Grandpa Denny," until we see you again.