New market adds to popular taco truck, restaurant choices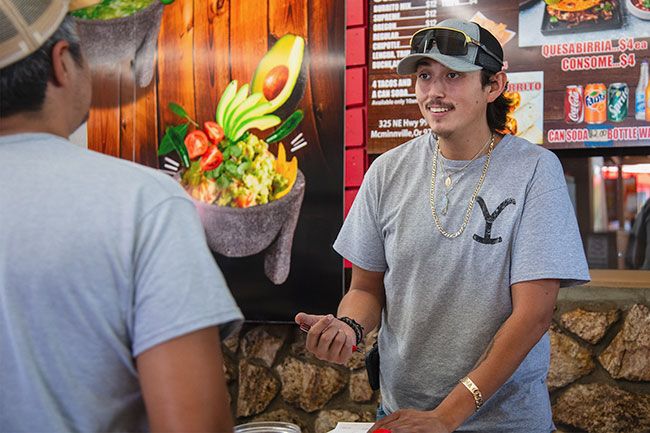 Customers have plenty of choices at the Loera family's trio of food businesses at 325 N.W. Highway 99W in McMinnville.
They can buy ingredients, including meat, produce and Mexican products that aren't widely available here, in the Azteca Market, located in a one-story building that once was part of a motel.
Or they can dine inside or outside at an adjacent sit-down Mexican restaurant, Tequila Grill, or sit outside or take home food from a taco stand located in the breezeway between the two buildings, Tacos el Gordo.
The outdoor eating space, which features a small enclosure for diners who bring their canine companions, turns into a tiki bar in late afternoon and evening. A bartender makes all kinds of alcoholic drinks and serves beer by the glass or on tap in huge mugs.
Rodrigo "Rudy" Loera inspired the recipes and owns the businesses, as well as two "Burrito Loco" outlets in Sheridan and Newberg. His son, Ray Loera, is the manager for the McMinnville site, which employs about a dozen people.
While all three businesses are doing well, the taco stand is especially busy from the time it opens at 10 a.m. until closing at 10 on most days or 11 p.m. on weekends.
People come for the quick service and the variety, which includes, in addition to tacos, quesadillas, burritos, nachos and nacho fries, and other favorites. All can be made with a choice of meats, including steak, chicken and pork along with chorizo, cabeza, buche and birria.
Tacos el Gordo's best seller is the steak burrito, Loera said. Another popular item is the quesabirria, a folded tortilla filled with meat and cheese, grilled, then served with a side of broth.
Ray Lorea said customers especially like being able to customize their order.
For instance, a burrito — available in junior, regular or foot-long-plus sizes — starts with rice, beans, sour cream and pico de gallo. They customers can choose their meat, or a combination of meats, in addition to leaving out something if they like. Most items can be made vegetarian.
Customers also can add salsas and toppings, such as white onions, more pico de gallo or jalapeños, at a condiment bar before leaving the taco stand.
The Loera family's secret salsa recipes are so popular, he said, that customers order large drink cups full of the sauces made with habanero, serrano and other peppers. Those flavors are available at the condiment bar, too.
"Every meal you have here is different," Loera said.
Taco's el Gordo offers student discounts, which are popular with customers who walk over from McMinnville High School for lunch. For the general crowd, there are specials every day, such as four tacos and a can of pop for $10.
In addition, Loera said, the business gives customers a $1 certificate for every $10 they spend, good on their next order.
It also offers party packs with two meats, vegetable condiments and three large salsas, enough for 100 tacos, for $200.
For more information, call 503-474-1776.