Dorothy Fay McKee 1930 - 2023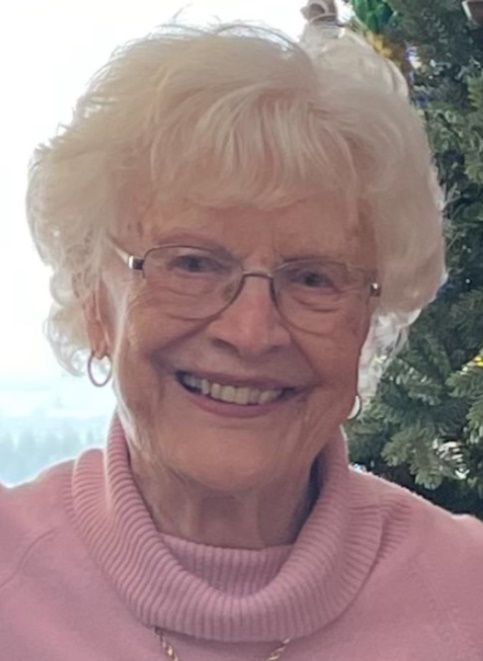 Dorothy F. McKee, 92, passed away February 15, 2023, of age-related causes in Gresham, Oregon. She had been lovingly taken care of by her family.
Dorothy was born in August of 1930 in Laverne, Oklahoma, to parents Henry and Nora Henson. As a young girl, she and her family moved from Oklahoma to Oregon. She graduated in 1948 from Amity High School, where she met her husband, Richard McKee. They had three children, Michael Duane, Vicki Lee and Cindi Lou. In 1962, Dorothy and Richard built and operated Riteway Meat Company in Dundee, Oregon, until their divorce in 1970. She moved to Sherwood in 1970 and remained there until 2018. She will be remembered by her positive attitude toward life, her warm smile and sense of humor.
Dorothy volunteered over 10,000 hours at Legacy Meridian Park Hospital in Tualatin, Oregon, from 1991 until 2015. Prior to that, she worked for many years at Village Drug in Lake Grove. In 2018, she moved to Huntington Terrace Senior Living in Gresham to be closer to her family.
Dorothy is survived by two daughters, Vicki McKee and Cindi Hill (Gordon); three grandchildren, Lindsay Al-Shaibani (Salim), Kailee Hill, and Megan Hill; and two great-grandchildren. She was preceded in death by her son, Michael Duane McKee, in January of 1991.
Our family would like to share our gratitude and thanks to the entire staff at Huntington Terrace who provided exceptional and loving care to our mother.
Private interment will be at Evergreen Memorial Park Mausoleum in McMinnville, Oregon. Memorial contributions may be made to Huntington Terrace Employee Recognition Fund c/o Macy & Son, 135 N.E. Evans Street, McMinnville, OR 97128, or to a charity of your choice in memory of Dorothy F. McKee.
To leave condolences, visit www.macyandson.com.