Sheriff releases cause of death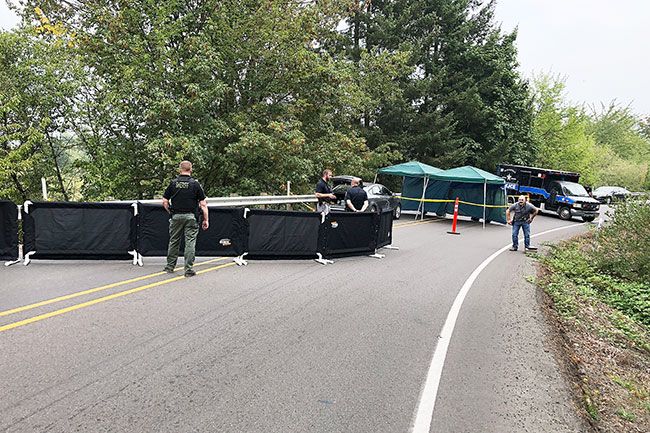 UPDATE, 3:30 p.m. Friday:
Meighan Cordie died of blunt force trauma, according to the autopsy conducted by the Oregon State Medical Examiner's Office.
Yamhill County Sheriff's Office announced the cause of death Friday afternoon. However, the YCSO said no additional details will be released, since officers are continuing to investigate how the trauma occurred and the circumstances surrounding her death.
Cordie was last seen alive on Grand Island late Saturday, Aug. 18. Her body was discovered Thursday morning down an embankment near the Dayton exit on Highway 18.
------
UPDATE, Friday morning, Aug. 24:
Yamhill County District Attorney Brad Berry said the Meighan Cordie case has moved from "one of a missing person to a death investigation."
An autopsy will be conducted today at the state Medical Examiner's Office in Clackamas.
"Hopefully, that will yield the cause and manner of death," Berry said. "From there, investigators will work to figure out what happened."
Berry said investigators have no information to suggest that there is, or is not, a continued threat to the community at large.
"Evereyone should be diligent about being aware of their surroundings, and in particular, when walking on rural roadways late at night," Berry said.
The investigation is in its early stages, according to Berry, so little information will be released as a means to maintain the integrity of the investigation.
A vigil for Cordie will be held at 7 o'clock tonight at Courthouse Square Park in Dayton, according to Clackamas Fire District spokesperson Lt. Brandon Paxton.
Tony Cordie, a captain with the agency, is Meighan's father.
------
---
DAYTON — The family of Meighan Cordie, the 27-year-old Clackamas woman who went missing Saturday on Grand Island, has confirmed that her body has been found.
Clackamas County Professional Firefighters Union Local 1159 — Cordie's father, Tony, is a Clackamas fire captain — posted the family's statement on its Facebook page.
"It is with very heavy hearts that we are sharing our beloved daughter Meighan has been found deceased by the Yamhill County Sheriff's Office," the family wrote. "The pain our family is experiencing is unimaginable and we ask for privacy as we process this information and continue to grieve as a family."
The firefighters' union added its own statement: "With heavy hearts we are saddened to share the news about Meighan Cordie. Our hearts are broken and we will continue to support brother Cordie and family."
Joggers discovered the young woman's body at the on-ramp that leads from Wallace Road to Highway 18 near Dayton about 10:30 a.m. Thursday. Yamhill County Sheriff's Office spokesperson Chris Ray said early Thursday afternoon that it appeared to be Cordie, based on physical descriptions and clothing.
Her family issued the statement later that afternoon.
Investigators from the Yamhill County Major Crimes Response Team spent Thursday on the scene where the body was discovered. They are continuing the investigation.
The Oregon State Field Investigations Team is assisting with forensic evidence recovery.
This case is still in its early stages. Details that could compromise the investigation are not being released at this time, officials said.
Cordie was last seen about 10:30 p.m. Saturday, Aug. 18, on Grand Island, about eight miles south of Dayton.
After attending a wedding, Cordie got into an argument with her mother and got out of their vehicle. She took off on foot, leaving her phone and shoes behind.
It's believed she got out of the car at the intersection of Southeast Grand Island Road and Upper/Lower Island Road, Ray said.
Friends and relatives conducted the initial search. Relatives reported her missing Sunday because they had not heard from her overnight.
The sheriff's office then launched an intense air and ground search that took place for several days on Grand Island.
"There is nothing left to search on the island," Ray said. "We will continue to have patrol deputies and marine deputies checking the area but there were 300 people searching over the last two days."
Many of Cordie's father's firefighter colleagues joined the search.
"Our search and rescue and contingent of firefighters who were the bulk of the volunteer searchers are confident in the search," Ray said. "It doesn't mean something wasn't missed, because that's always a possibility in rural areas."
Ground searchers have been supplemented with drone flights, marine patrol, a helicopter and a fixed wing plane equipped with FLIR thermal imaging. The effort was then refocused to canvassing residences and businesses on Wallace Road, both north and south of its intersection with Grand Island Road.
"This was an incredible show of support for Meighan," Sheriff Tim Svenson said. "The volunteer searchers, many of whom are professional firefighters, were extremely organized and worked seamlessly with our search and rescue members."
Anyone with information regarding the case should contact the sheriff's office at 503-434-7506 or the Yamhill Communications Agency at 503-434-6500.