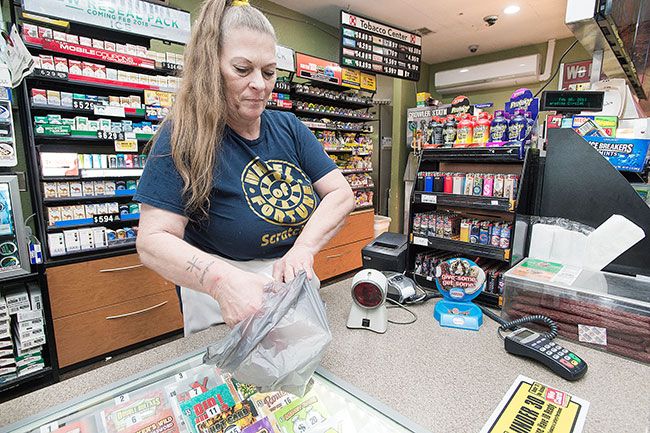 Bag ban soon to hit small retailers
With more than $100 in the cart, an elderly customer made his way through the checkout lane at Safeway when he was told he'd have to pay an additional 5 cents for every paper bag he used.
In his case, that would have been about 30 cents.
He initiated an obscenity-laden tirade against the cashier and the store before delivering an equally colorful speech about how Marxism occurs a plain brown wrapper. He then stormed off without his groceries.
That scene, witnessed by a News-Register reporter, happened in September, when large retailers in McMinnville were required to quit offering plastic bags. Instead, customers could bring their own bags or buy paper bags for 5 cents each.
The second phase of the bag ban goes into effect March 1 when it is extended to all local retailers.
Ramsey McPhillips is bracing for more hostility.
A leader of Zero Waste — whose mission is to make McMinnville the state's first zero waste city — McPhillips and the group originally proposed the bag ban. Miscommunication led to mixed reviews when the ban first went into effect, McPhillips said.
"It's been tough on the cashiers, and we've done our best to back anyone who wants to talk with customers," he said.
However, he added, the reaction was no surprise.
"There was the expected conflicts and usual SNAFUs when it first rolled out," McPhillips said. "In general, though, the ban is going really, really well."
Rumors spread nonetheless, especially among people resenting the idea of city officials padding their coffers with every nickel spent for a paper bag. That was a giant misconception, McPhillips said.
"The 5-cent fee was not sent to the city," he said. "It is used by the stores to compensate them for the expense of the paper bags. No money is going to the city."
Dan Hilbert has been fighting the ban, passed unanimously by the city council Feb. 14 last year, since it was first proposed. He doesn't care who gets the money; no one is getting any of his nickels.
"I don't use my dishwasher because it's full of plastic bags," he said. "I have 400 bags in there, and I just use them."
Hilbert called the ban a complete disaster.
"It's not going very well at all," he said. "I don't see any people purchasing the paper bags. They're walking out with cardboard boxes and regular plastic bags. They're just carrying their items without any bags or anything."
Don Brown, manager of the Big Apple Market on Lafayette Avenue, said his customers are adjusting to the ban — slowly.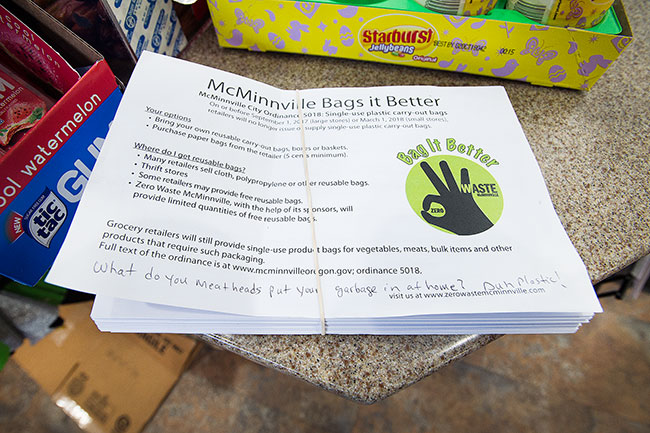 "Eventually, they'll start bringing their own bags, but many of them are still complaining," he said. "I talk to a lot of people who walk into my store. That's why I run into problems. A lot of them get worked up."
Meanwhile, his stock of plastic bags is dwindling. "I have a small supply of plastic bags, but I'll be done with them by the end of the month," he said.
Dan Sayers, owner of the Merri Artist on Third Street, said he doesn't think about the ban that much.
"We're a small enough store that it doesn't affect us," he said. "We continue to offer higher-quality plastic bags. A lot of our customers like them because they keep things dry. We have a lot of stuff they want to keep dry."
But that ends March 1.
McPhillips confirmed that even higher-quality plastic bags will be banned beginning next month.
"We are a 100-percent plastic bag ban," he said. "We're not allowing heavy plastic recycling bags. We've gone cold turkey."
Sunny Singh, who owns the Circle K on Southwest Hill Road, worries about how the ban will affect him as a small merchant.
"We sell a lot of beer and beer containers, those are a big problem," Singh said. "Also, customers can bring their own bags and stuff whatever they want into them. At big stores, they can be tracked. But smaller stores? I don't know. There are a lot of issues, I guess. I don't know what to do."
Ian Hancock, a clerk at the Circle K on Third Street, wishes city councilors had put the ban up for a vote by local residents.
"It's kind of rotten how they forced this on all of us without putting it to a vote of the people," he said.
Other retailers contacted by the News-Register refused to comment, saying only corporate policies forbid them from talking to the press.
For all people's complaints, McPhillips said, the advantages of the bag ban continue to outweigh any problems. Besides, it's hardly revolutionary, he added.
"The entire state of California bans plastic bags."
While the ban extends to small retailers March 1, business owners still have some leeway in charging for the paper bags. "There is an exemption for small stores with less than 10 employees," McPhillips said. "They don't have to charge the 5 cents."
Retailers can also offer small paper bags for free, and they will be allowed to work through their stock of plastic bags before making the switch permanently.
"We're not ardently militant people about this," McPhillips said. "They just have to make a good faith effort in ordering their bags."
Zero Waste members will be outside numerous storis Feb. 28 to March 2 as the second phase of the ban goes into effect, he added. They will distribute free cloth bags and answer people's questions.
Meanwhile, Hilbert will continue to reach into his dishwasher and keep using his old plastic bags. Overall, he said, Zero Waste has won this particular battle.
"I haven't met too many people who are for this thing, but they're just nonchalant and say, 'What can we do?'" he said. "All the grocery stores have to enforce it. There are some fights you can win and some you just better stay out of."