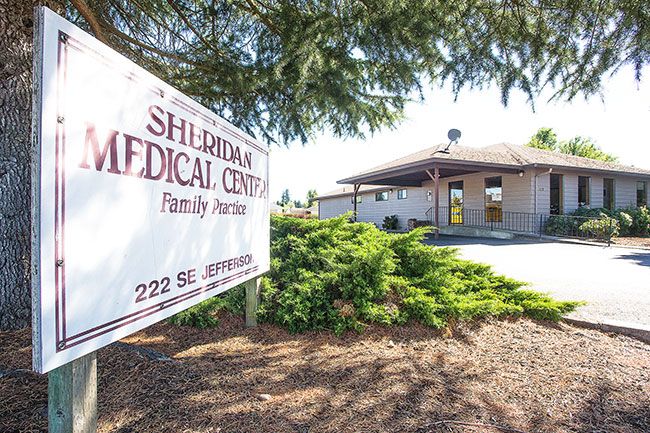 Sheridan Medical Center set to close on Sept. 1
SHERIDAN — The Sheridan Medical Center, located at 222 S.E. Jefferson St., is scheduled to close Sept. 1.
The operator, McMinnville's Willamette Valley Medical Center, is attempting to find a new provider for the clinic's approximately 1,200 patients.
However, it will experience at least a temporary closure, according to the hospital's director of physician services, Aurora Ronning.
"A lot of this has to do with the state we are in," Ronning said. "There is a real shortage of primary care physicians. We're having a hard time finding physicians going into primary care."
Nurse practitioner Amanda Mehlhoff has been seeing patients at the hospital's Sheridan clinic for about 2 1/2 years. She is taking a maternity leave, and isn't planning on returning afterward.
In the interim, Ronning said, "Our public providers are covering, and patients with immediate needs are being seen."
She added, "As of Sept. 1, we will no longer take care of patient needs at that clinic."
Mehlhoff saw patients at The Confederated Tribes of the Grand Ronde Clinic and one in the Salem Health network before taking the Sheridan position.
"She is wonderful," Ronning said. "She's very good.
"No one blames her. She just doesn't want to be there by herself any longer."
Ronning said the challenge is finding enough family practice providers in an era or increasing specialization, both locally and nationally.
She said Yamhill County is about 10 physicians short when it comes to family practice.
"Unfortunately, it's something that is happening," she said. "It's more than we want to see in our community. There are a lot of people to serve."
She said nurse practitioners and physicians' assistants are increasingly being required to fill the gap. They do not have all the qualifications of a physician, however, and are also in short supply.
Sheridan patients who haven't been able to secure a new provider are being advised to seek help from their insurance carrier. Some have been placed on waiting lists by doctors not currently able to accept additional patients.
"Because we are down so many providers, there is limited access for people to transfer their care," Ronning acknowledged.
Dr. James Molloy, a longtime Sheridan physician who has seen patients in the West Valley for years and operates Willamina's Western Yamhill Medical Center, is a viable option for Sheridan patients.
"I've had some people express an interest," said Molloy, who was the first Sheridan Medical Center tenant. "I'm sure it's going to happen. A woman just asked for a transfer of her medical records."
Molloy opened his Sheridan practice in the summer of 1987. For the first six months, he said he operated out of a 20-by-13-foot office divided in half. He said there was a waiting room with two chairs, and a single examination room.
"A contractor in town wanted to help us out, and we built the building on Jefferson Street," Molloy said. "It was a gravel road at that time. There were three houses on it, and we looked out onto an open field."
It was a full service facility, built to Molloy's specifications. There were five examination rooms, one pediatrics exam room, X-ray capability and a small emergency/treatment room with an ambulance entrance.
Molloy operated out of the building and worked by himself for the first three years before being joined by Dr. David Breitkreuz.
He left the Sheridan practice for a job with the tribe, where he served patients until the spring of 2002.
When Molloy left the tribe, he went to work for Willamette Valley Medical Center in July 2002. Leaving the hospital two years later, he worked in the urgent care field for two years before deciding to return to private practice.
"I had to go back and do it my way," said Molloy, who opened the Western Yamhill Medical Center in July 2006 in an area where Highway 18 and Sheridan Road intersect.
Having reestablished himself in Sheridan, Molloy said he was contacted by a group of Willamina Kiwanians, who inquired if he was interested in serving patients in the community.
There was interest on Molloy's part, and he scheduled appointments on Tuesday and Thursday each week.
When he learned the Sheridan property was going to be sold, he began operating solely in Willamina on July 1. The medical center is located at 149 N.W. First St., just north of Coyote Joe's Restaurant.
Molloy said he is the only private medical provider between Lincoln City and McMinnville.
While he does not accept Medicare and Medicaid patients, he does welcome Medicare enrollees and will review their individual contract with them. There is a substantial discount for cash payments.
Molloy said he is the only provider of Tricare in Yamhill County, a health insurance program offered to active duty members, retirees, activated guard and reserve members and families.
"I feel that is my duty to be involved in this federal program, but I have no issues with not participating in Medicare and Medicaid," Molloy said.