Mac's Barnes, Dayton's Henry, Willamina's Allen win state wrestling titles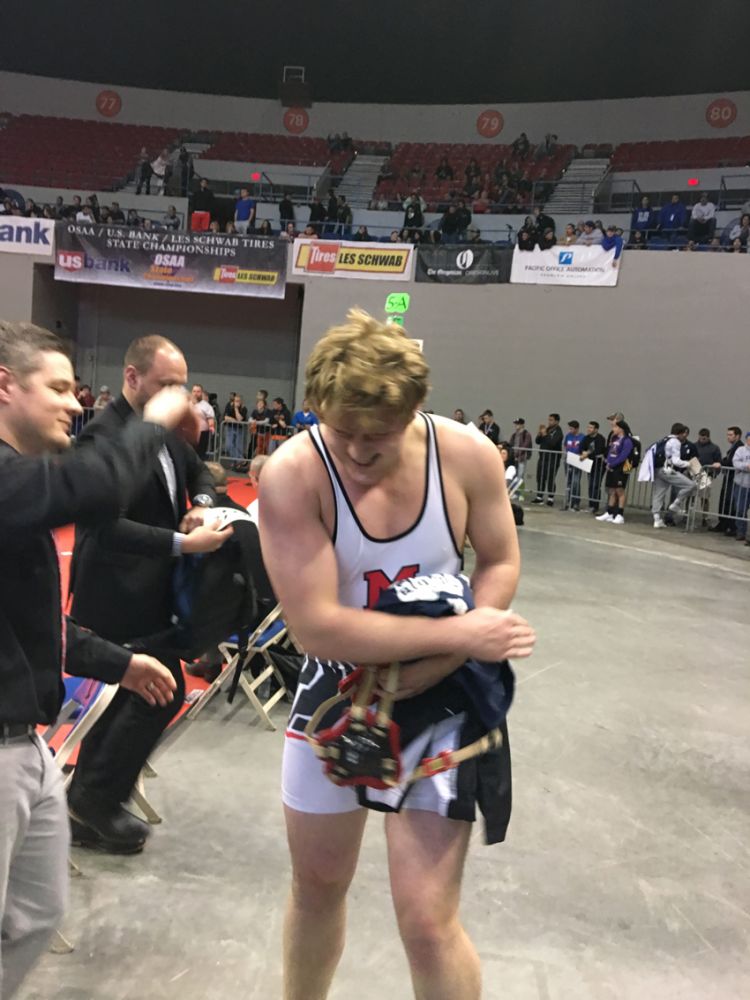 PORTLAND – Yamhill Valley wrestlers captured three state titles Saturday evening.
The first came when Dayton's Jared Henry topped Nyssa's Ryan Vineyard in the 138-pound weight class. The second came from Willamina's Chandler Allen in the 170-pound class. And the final championship was from McMinnville's Brian Barnes, who pinned Newberg's Dallas O'Bryan at the 1:17 mark of the first period.
Willamina finished second in the team competition,
Henry, entering the tournament as the number-one seed in his weight class, topped Ryan Vineyard of Nyssa with an 8-3 decision.
Henry is the son of the Pirates' head coach Rob Henry. The two shared a long hug after the match was complete.
Chandler, in a hard-fought match with the number-two seed, Layten Briggs of Harrisburg, had a late takedown to earn the decision.
Barnes, who has worked out with O'Bryan for four years, stuck with what got him to the finals in the first place. He was quick and aggressive, with a single-leg takedown, and then rolled O'Bryan to hit back for the fall.
The Yamhill Valley had a number of other chances for state titles, but came up short.
McMinnville's Michael Abeyta fell to his nemesis from North Salem, Ian Carlos, by decision, 7-4. Abeyta lost to Carlos at the district meet last week, by a 13-2 margine, but the Viking was too much for the Abeyta again.
Willamina entered the tournament with 14 state qualifiers and had three get through to the championship rounds. Second place finishers are:
* 103 pound Jordan Reyes had perhaps the most disappointing championship match, though no one likes to lose. Reyes was in command of the match with Derek Kerr of Lapine one moment, when a reversal happened and he was pinned at the 2:49 mark.
* Remi Tapia-Bravo lost a tight match, a 1-0 decision to Chance Hendrickson of Harrisburg. Hendrickson's lone point came on an escape in the second period.
* Justin Fasana at 126 pounds ran into a buzzsaw of a wrestler in David Kerr of La Pine, who finished an undefeated season (26-0) with a 17-6 decision over Fasana.
Dayton entered the tournament with 12 qualifiers.
At 160 pounds, Cody Stahl was decisioned by Wyatt McCarthy of Coquille in a tight battle, 6-5.
At 220 pounds, Josue Martinez had perhaps one of the most exciting matches of the evening, losing in extra time to Ryan Mask of Scio by a fall at 7:33.
In the 3A tournament, the point totals are as follows:
1. Nyssa.......................287
2. Willamina.................167
3. Dayton.....................134
17. Amity .................... 18
McMinnville, with just five wrestlers entered, finished in 12th place in the 6A division, scoring 66 points, but just five points out of a top 10 finish.
Yamhill-Carlton, in the 4A division, with three entries, scored 21 points, finishing 21st.