Three Yamhill County residents killed in crash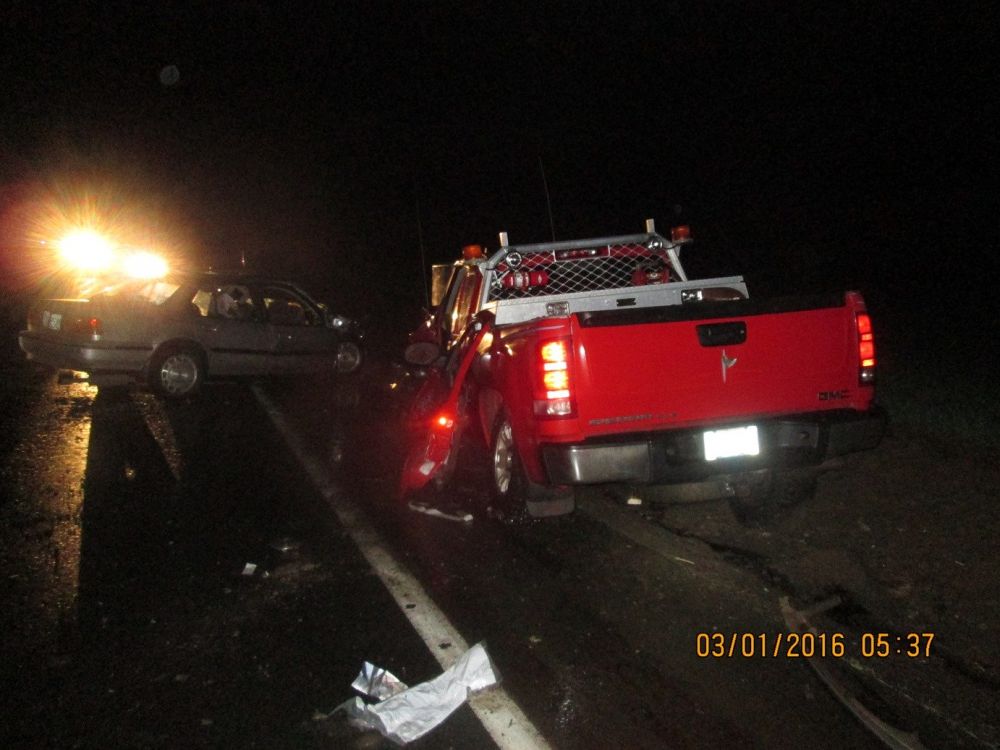 CARLTON - Three Yamhill County residents - two from McMinnville and one from Sheridan - were killed in a two-vehicle head-on crash early Tuesday morning north of Carlton on Highway 47. Two others, including a 4-year-old boy, were injured.
Jennifer Ann Heath, 39, of McMinnville; Johnny Eldon Highley, 45, of McMinnville, and Teven Ray Stone, 24, of Sheridan, were pronounced dead at the scene of the 4:30 a.m. crash, the Oregon State Police said.
OSP gave this account:
Stone, whose license was suspended, according to OSP Lt. Doug Shugart, was driving a 1992 Honda Accord northbound. Heath was sitting in the front passenger seat and Highley in a rear passenger seat.
Stone's 4-year-old son was also in the vehicle. He was transported by McMinnville Fire Department ambulance to Willamette Valley Medical Center, and transferred by ambulance to Oregon Health & Science University in Portland with life-threatening injuries.
The Honda crossed the centerline and collided with a 2008 GMC Sierra pickup driven by Jeff Morgan, 64, of Yamhill. He was the lone occupant of the vehicle. Morgan was transported by McMinnville ambulance to Willamette Valley Medical Center and transferred to OHSU. He was reported in serious condition Thursday.
Distracted driving and/or controlled substance use related to Stone are considered factors in the crash, Shugart said. There was a cell phone in Stone's hand when he was removed from the car, according to the lieutenant.
Seatbelts were not being used by Heath and Highley, and the boy was not sitting in a rear child safety seat. Morgan and Stone were wearing seatbelts.
The fatalities bring to four the number of people killed on Yamhill County roads this year. A McMinnville woman was also killed in a crash on Wallace Road in Polk County.
Highway 47 was closed for about 4 1/2 hours with a detour in place while the crash was investigated and the scene was cleared.
The Carlton Fire District, Yamhill County Sheriff's Office and Oregon Department of Transportation also responded to the crash.