Lloyd Beachy 1934 - 2023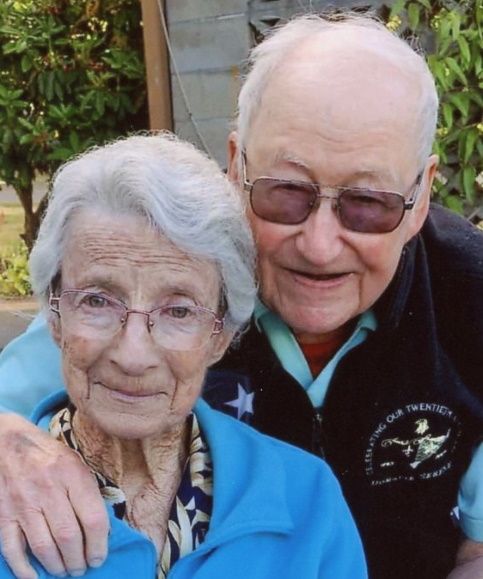 Lloyd Beachy, our beloved loving father, husband, grandfather and great-grandfather, left us all heartbroken when he passed away on Wednesday, January 4, 2023. He was a hard worker all his life, and he loved all of his family with all his heart. He was always a peacemaker, and his greatest desire was that all of us would always get along and love each other. He was the most selfless person I have ever known.
Lloyd was born February 7, 1934, in Garnett, Kansas, to Jonas and Lizzie Beachy. He was the eighth of 10 children born into an Amish household, and he remained Amish until he left to join the Navy as a young man. He served his country in the Navy from September 12, 1952, until September 11, 1956. Afterward, he left the Navy to marry his beloved Lydia Miller, and they moved to Oregon to start their new lives. They were soon blessed with two children, Wilma and Mahlon, who added much adventure and intrigue to their lives!
Lloyd initially worked in trailer factories in Oregon, but then he went to school at Chemeketa Community College and received a degree as an engineer's assistant. Following this, he was hired by the city of McMinnville and worked for the street department for 30 years. For his last years with the city, he became their BEST street sign maker, and many of the street signs around McMinnville were made by Lloyd. He and a fellow street department worker also were the ones who laid out the trails at Airport Park and put in many hours clearing brush so paths could be created. Whenever I walk those trails, I always think of my dad as a young man, putting in the hard work so many others could enjoy the beauty of Airport Park. After retirement, he and Mom bought a place in Florida where they stayed six months of the year and enjoyed many years traveling around and seeing the beauties of God's creation!
Lloyd is survived by his wife of 65 years, Lydia; his children, Wilma Chupp (Gordon) and Mahlon Beachy; grandchildren, Lisa Bounyavong (Thony), Julie Todd (Andy), Katie Mordhorst (Logan) and David Chupp; great-grandchildren, Anorah, Junie, Odie, Avanley and Alan; two sisters, Esther Yoder and Bertha Miller; and many nieces and nephews. He was predeceased by his parents, Jonas and Lizzie Beachy; sisters, Barbara Yoder, Susie Beachy, Minnie Yoder and Anna Beachy; and brothers, Simon Beachy, Alvin Beachy and Mahlon Beachy.
Services for Lloyd will be held at 2 p.m. Sunday, January 15, at River of Life Fellowship (formerly First Mennonite Church), 903 Cedarwood in McMinnville. There will be a viewing from 4 to 7 p.m. Friday, January 13, at the Chapel of Macy & Son Funeral Home, 135 N.E. Evans St., McMinnville, with a private interment after the service. To leave online condolences, please visit www.macyandson.com