Iconic Third Street buildings up for sale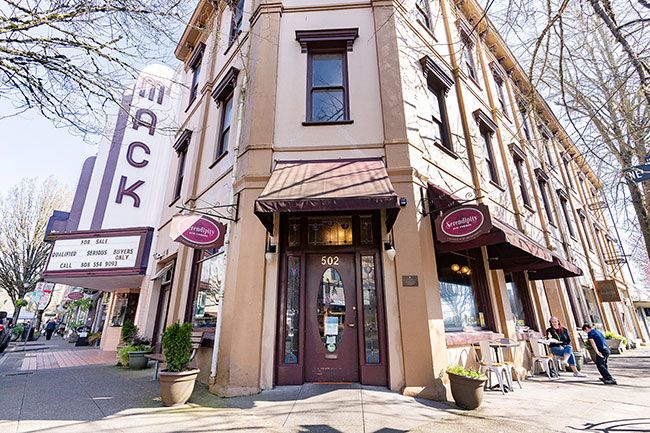 The 6,500-square-foot theater, 11,365-square-foot hotel and adjacent, 5,352-square-foot Macy Building, which houses several smaller businesses, make up the west end of the 500 block of Third and Second streets, bordering Evans Street.
Asking price is $2.3 million for all three, with an April 15 deadline for offers.
"It would be wonderful to see something happen there," said Dave Rucklos, manager of the McMinnville Downtown Association. "What an asset it could be to the downtown."
The 134-year old hotel could eventually offer a glimpse into what life was like in McMinnville at the turn of the century, he said. "That's exciting."
The buildings are owned by Anderland LLC. The firm's principal partner, Gary Anderson, died Sept. 25.
The long-closed hotel, which is on the National Register of Historic Places, was built by L.H. Cook in 1886, Kerwood said. It includes two floors of rooms upstairs and two retail spaces below that house the Serendipity ice cream shop and Thistle Restaurant.
Part of its ground floor was remodeled to create the theater lobby 80 years ago.
The theater also includes offices, a projector room, restrooms and the large auditorium where movies were shown until 2006.
Anderland closed the Mack that year because it could no longer compete with other movie venues in the area, Kerwood said.
"We wished we could keep it open," he said, "but we couldn't get people to show up and buy tickets."
He recalled that the last successful shows the Mack ran were the 2000 movie "O Brother, Where Art Thou" and the 2002 film "My Big Fat Greek Wedding." Both were first-run movies that had not yet become hits, he said; too often, he said, the small, single-screen theater wasn't able to obtain first runs.
Former MDA manager Patti Webb recalled when the theater closed, a group of citizens made an effort to raise money for its purchase and renovation. She also tried to attract a buyer who would repair both the theater and the hotel, although it didn't pan out.
"It's a special building," Webb said.
The theater and hotel have attracted plenty of interest over the years, Kerwood said.
In 2019, local entrepreneurs Drew and Quinn Millegan wanted to convert the space into high-end vacation rentals, dinner theater and a conference center. Negotiations fell through, he said, but other parties have looked at the property, as well.
"Whenever the (theater) lights are on, people stop by and press their noses against the glass doors," Kerwood said. Many have told him stories about seeing movies there or their first kiss in the back row.
He sent out a flier advertising the buildings on Monday, and placed a "for sale" notice on the theater's marquee, as well.
"It's a bittersweet feeling to let go of something that's been part of our lives for so long," Kerwood said.
He can be reached at garykerwood@gmail.com or at the number advertised on the marquee, 808-554-9093.