Margaret June Provost - 1930-2018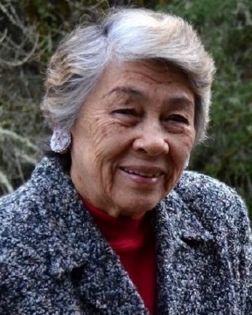 Margaret June Provost, 88, of Grand Ronde, Oregon, passed away Thursday, August 30, 2018, in Grand Ronde.
Visitation will be from 2:00 to 8:00 p.m. Thursday, September 6, 2018, at Dallas Mortuary Tribute Center, 287 S.W. Washington St., Dallas, Oregon.
Funeral services will be held 11:00 a.m. Friday, September 7, 2018, at the Confederated Tribes of Grand Ronde Tribal Gym, with Andy Jenness officiating and Cheryl Kennedy delivering the eulogy. Burial will follow immediately at The Confederated Tribes of Grand Ronde Tribal Cemetery and a meal provided at the Elders Activity Center in Grand Ronde. Arrangements are by Bollman Funeral Home.
Margaret was born June 11, 1930, in McMinnville, Oregon, to Loren and Nora (Warren) Kimsey. She went to school in Grand Ronde. On August 22, 1949, she married John "Jack" Provost in Skamania, Washington. She was a housewife and mother, and worked for a metal processing company, Teledyne Wah Chang in Albany, when her supervisor asked her why the Grand Ronde Tribe wasn't trying to get restored. She asked, "Who would do it?" and he said, "Why not you?"
Margaret convinced her younger brother, Marvin Kimsey, and Merle Holmes to help her lead in the efforts of restoration for the Confederated Tribes of Grand Ronde. This was her legacy, and she continuously worked every day for the betterment of the Tribal people.
Margaret was preceded in death by her husband, Jack Provost; her daughter, Sharon Provost-Carter; son, Daniel Provost; great-grandchild, Courage Leno; brother, Marvin Kimsey; and parents, Loren and Nora Kimsey.
Margaret is survived by her daughters, Kathy Provost, and her spouse, Don Hendricks, and Jackie Provost-Many Hides and her spouse, Duane Many Hides; sister, Myrna Brandon; grandchildren, Sheila Elting, Camille Mercier, Chris Provost, Jack Provost, Miranda Rodriguez and Kallie Provost; great-grandchildren, Dorthy Elting, Evie Elting, Kalim Mercier, Rowdy Leno, True Rimer, Promise Rimer, Future Leno, Memory Leno, Laila Holmes-Chaverria, Katana Garcia, Ebony Provost, Jack Provost, Tim Provost, Caden Mankins and Tatiana Rodrigues-Provost; and many beloved cousins, nieces, nephews and friends.