McMinnville police car struck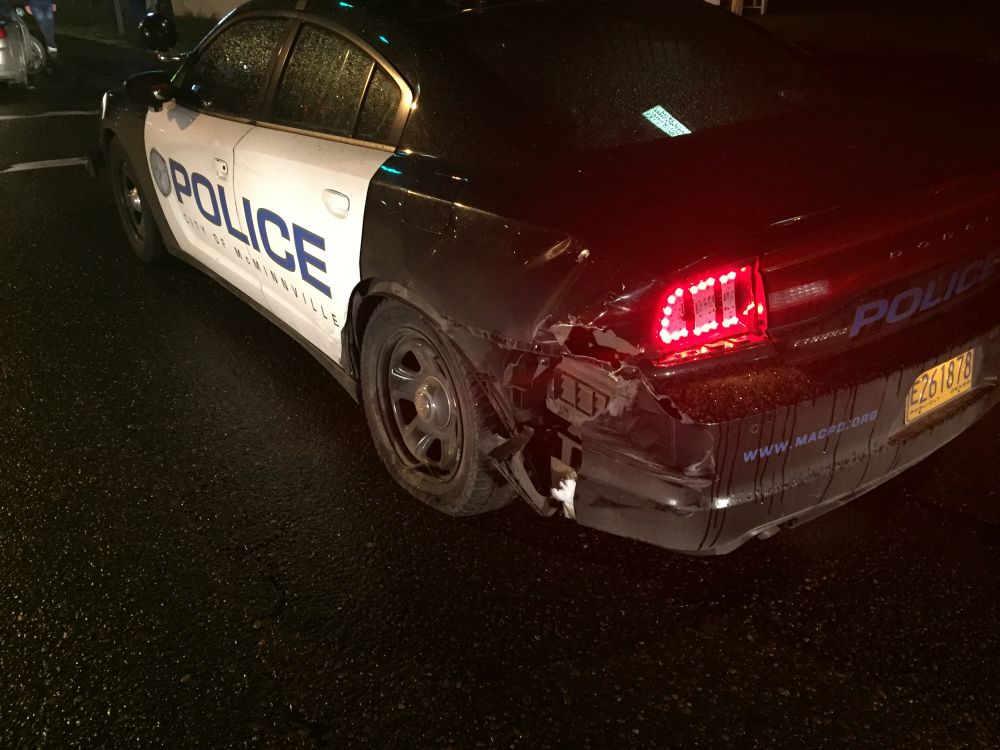 A McMinnville police officer sustained a bruised leg when his patrol vehicle was struck by another car Thursday night.
Capt. Tim Symons gave this account:
Shortly after 10 p.m., the officer, who was not identified, was on a traffic stop on Northeast Lafayette Avenue near Orchard Avenue.
The officer was sitting in the vehicle, a Dodge Charger, when it was sideswiped from behind by an Infiniti G35 driven by Austin Oliver Scarvie, 18, of Amity. He pulled over a short distance away.
The Oregon State Police was requested to investigate the incident. Trooper Brett Danner charged Scarvie with driving under the influence of intoxicants and minor in possession of alcohol. He was released at the scene. His blood alcohol content was .14. The presumptive level of intoxication in Oregon is .08.
The officer was treated and released from the Willamette Valley Medical Center.
At about 6 p.m. Wednesday, Dec. 13, an unidentified officer was on a traffic stop on Cumulus Avenue when a motorist ran into the driver side of the patrol car, according to Symons. The officer sustained a bruised leg.
In 2014, more than 3,800 officers were injured in crashes, according to the Bureau of Labor.
In 2016; 53 officers were killed in crash-related incidents, according to the National Law Enforcement Officers Memorial Fund Fifteen were struck and killed while outside of their patrol vehicles.
Prior to 2016, traffic related incidents were the No. 1 cause of officer fatalities in 15 of the last 20 years.
The McMinnville Police Department asks the public to remember that Oregon Revised Statutes require that vehicles remain a safe distance from an emergency vehicle, including police, fire, medical and roadside assistance vehicles, that are stopped and displaying emergency lights.