Events planned to mark Memorial Day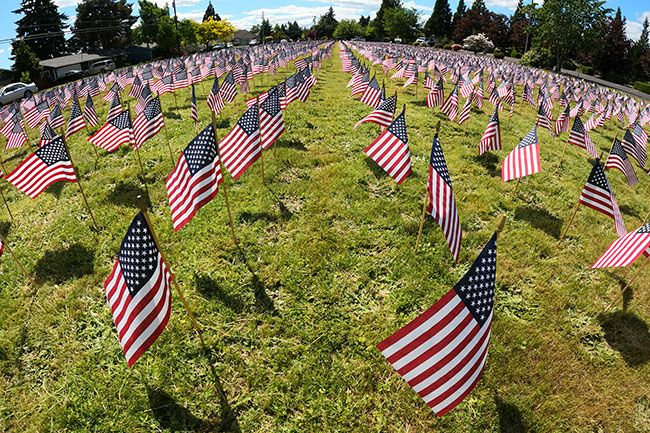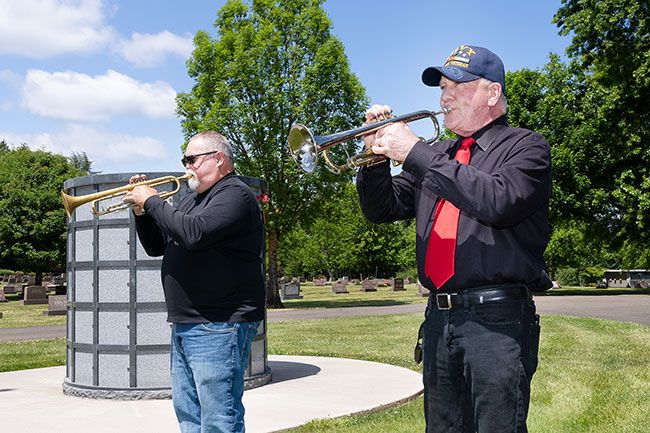 Several events are scheduled locally to celebrate Memorial Day weekend Friday through Monday, May 28 to 31.
Originally called Decoration Day, Memorial Day is the federal holiday honoring people who have served in the military, especially those who paid the ultimate price in order to protect the nation's freedoms.
It also has come to be a day for honoring everyone who has died. Many families make a point of visiting relatives' graves and decorating them with flowers and other symbols of affection.
Throughout the weekend, area residents will be able to drive or walk past a display of 5,924 American flags representing Oregonians who have died in military service since World War I.
Students and supporters at McMinnville Christian Academy will set out the flags on Friday. As they place each one, they will say "Thank you for your ultimate sacrifice."
This is the fourth year they have created the field of flags adjacent to Baker Creek Community Church, 325 N.W. Baker Creek Road in Northwest McMinnville.
Lighted at night and guarded by vets and first responders, the display will remain until Tuesday morning.
Teacher Tara Hessel, whose son served in the military, started the display in 2018 to help students learn the importance of the holiday. She said she intended to give them a visual representation of how many people have given their lives.
"I want them to know what freedom is all about," she said.
The Confederated Tribes will hold their usual Memorial Day event at 1 p.m. Monday in Grand Ronde. However, it will not be open to the public; rather, it's open to invited guests only with a limit of 50, because of the pandemic.
The public can listen to a different ceremonial event, though.
Two local trumpeters plan to play "Taps" at several sites over the weekend.
Bryan Shirley, a veteran who plays trumpet in the Second Winds Band, and Mark Williams, a trumpeter who is the band's director, will be part of a nationwide effort called "'Taps Across America."
Williams has been participating for a decade in the event, which is organized by Buglers Across America. The organization started its Memorial Day event to encourage the playing of "Taps" live, rather than using a recording.
He and Shirley plan to stand beside a flagpole at a veteran's grave when they play at each site.
They will bugle "Taps" at noon Saturday and the same time Sunday in Evergreen Memorial Park, McMinnville.
On Monday, they will play at 10 a.m. in Buck Hollow Cemetery, Willamina; 11 a.m. in Green Crest Memorial Park, Sheridan; noon at the Dayton Veterans' Memorial near Dayton City Hall; 2 p.m. at the Dayton Odd Fellows Cemetery on Wallace Road just south of town; and 3 p.m. at the Hopewell Community Cemetery at the junction of Lafayette Highway and Hopewell Road.
A virtual, statewide Memorial Day event is planned at 10 a.m. Monday, as well.
The Oregon Department of Veterans' Affairs will honor the nation's fallen service members with a program of speakers, a color guard ceremony, a wreath-laying ceremony and playing of the National Anthem and "Taps."
The program will be streamed on ODVA's Facebook page and YouTube channel.
The McMinnville American Legion post, its auxiliary and the Legion Riders have canceled their usual Memorial Day ceremonies for the second year due to the pandemic.
Usually, members caravan from cemetery to cemetery and to the flag display, as well. At each stop, they present the flag, discuss the meaning of service and honor their fallen comrades, finishing with a multi-gun salute and "Taps."
Thomas Clayton, chaplain of McMinnville Legion Post 21, usually leads prayers at the cemetery programs.
He said the day is important to him as a veteran of the Vietnam-era Army and later the Navy. Clayton usually offers prayers at the cemetery visits. "I made it home," Clayton said. Not everyone did.
He considers himself fortunate in another way. He and his wife, Jeanne, another Navy veteran, frequently hear "thank you for your service."
He said he is amazed at how much appreciation and patriotism he feels in the McMinnville area. "We didn't get that when I was in Vietnam, but now I get it constantly," Clayton said.