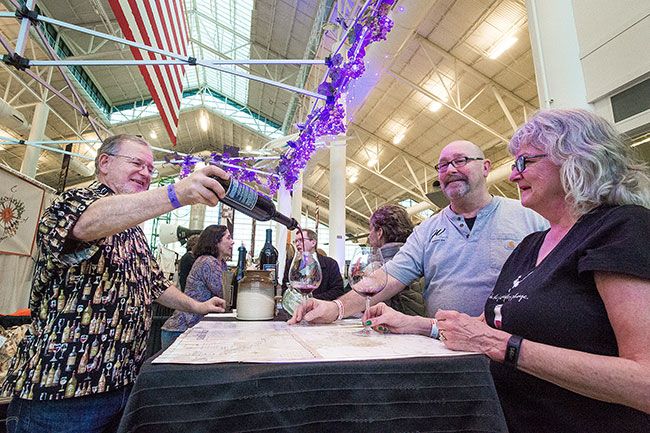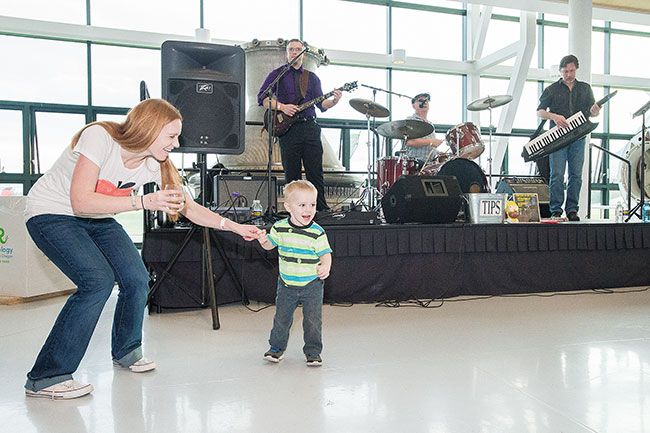 SIP! Wine & Food Classic will draw thousands this weekend
Thousands of wine and food lovers will visit McMinnville Friday through Sunday, March 8 to 10, for SIP!, a weekend of sipping, dining, listening to music, watching chef demonstrations, shopping for art and other items, and exploring the Evergreen Space Museum.
Also called the McMinnville Wine & Food Classic, or simply "The Classic," the event is a fundraiser for St. James School. Now in its 26th year, it's become one of McMinnville most anticipated and popular events.
"Everything about the event is centered upon having fun, and the venue is what really sets the Classic apart," said Jon Johnson, chairman of the.
Doors will open at 3 p.m. Friday, with activities continuing until 9 o'clock that night. Saturday hours are 11 a.m. to 8 p.m., and on Sunday, SIP! will be open from noon to 5 p.m.
Chef competitions are scheduled Friday and Saturday evenings. The Jake Blair Band will perform Saturday night, with additional musicians playing Friday and Sunday.
General admission includes entry to the museum, where the wine, food, art and gift booths will be set up, entertainment and demonstrations. In addition, the first 1,000 people Friday will receive stemmed crystal Pinot noir glasses, as will the first 1,500 entrants Saturday and 500 Sunday.
Tickets are $24 Friday, $28 Saturday and $16 Sunday. An "any day" ticket is available in advance for $28, allowing admission any of the three days. Three-day passes cost $44.
Children 12 and younger can attend free with their parents or guardians. Strollers are not available.
Beverage-tasting coupons are available for $1 to $3 each from individual wineries and breweries. Food, from candy to barbecue to seafood, will be available for purchase.
Parking is available at the museum for $7 per vehicle on a first-come, first-served basis.
Alternatively, attendees can ride a free shuttle from the corner of Third and Evans streets or from the Chemeketa Community College lot on Norton Lane. Shuttles stop at each location every 30 minutes.
SIP! will feature 75 Oregon wineries, including Archery Summit, Beaux Frères, Dobbes Family Estate, Domaine Roy, Pike Road Wines, Torii Mor, Lenné Estate, Yamhill Valley Vineyards and Youngberg Hill.
Six distilleries will present liquors. Local beer and cider makers will be serving, too.
More than 25 food vendors will tempt visitors. Many are returnees, such as the popular oyster booth and another booth offering tamales. Newcomers include the Ribslayer BBQ, Carlton Farms, Pacific Crab Company, Asiatico Waterfront Fusion Sushi and Lajitama Greek Cuisine.
Artists and crafts makers will offer photos, paintings, jewelry, furniture and garden items.
Many of the featured wineries will be displaying medals won in the Wine & Food Classic's annual competition open only to Classic participants.
The competition was revamped this year, with additional categories, such as best dessert wine and "double gold."A panel of wine buyers, wine educators, winemakers, writers and chefs made the selections.
"A major goal of the competition is to introduce Oregon's great wines to the consumer," said Rolland Toevs, competition coordinator.
"Our efforts begin with selecting influential and well-credentialed judges who can effectively communicate the results to consumers. As the competition gets more rigorous, we attract more and more esteemed wineries to participate, in an upward spiral."
Taking top honors for 2019 was Cardwell Hill Cellars, which claimed Best of Show, Best Red, Best Pinot Noir and Double Gold for its 2014 Estate Pinot Noir Dijon Blocks, as well as Best Chardonnay for its 2017 "Bard Chard." Best White and Double Gold went to Chris James Cellars for its 2017 Cuvée Blanc. Apolloni Vineyards claimed Best Dessert Wine and Double Gold for its 2015 Muscat Lacrima D'Oro.
The full list of winners can be found on the event website, at macclassic.org/wine-competition.
Winemakers and brewers will be throughout the Classic to pour beverages and talk with visitors about how they go about producing award-winning products. For convenience, people who buy bottles or cases can have their purchases stored at a valet counter. Volunteers will help carry and load the bottles in their vehicles when it's time to leave.
A unique aspect of SIP! is its all-volunteer staff.
Several hundred people organize and run the Classic each year. Many have been volunteering annually since the event started in 1994.
The volunteers always draw praise from vendors, many of whom say they keep returning because of the wonderful treatment they receive during the festival. They appreciate having volunteers help them unload and set up their booths, fill in when they need a break, and staff a hospitality room.
Having a volunteer-driven event also maximizes fundraising for St. James School.
School officials said SIP! proceeds are essential to running the private Catholic school, founded in 1906. Last year, they said, the event represented 12 percent of their budget.
"We very much rely on and appreciate the support from this great event," said Father Mike Walker, the priest at St. James.